Futures have consolidated some gains overnight, currently trading at 4445. As expected gamma was significantly reduced by Fridays OPEX, but still remains strongly positive.  With that positive gamma reading, we anticipate a fairly low volatility day with an SG max est. move of 0.74% for the SPX.  Resistance is at 4475, with support at 4427.
The Call Wall holds at 4500 which is our upside target for November OPEX (11/19). If the S&P can get up into the 4470 area that would serve to increase the level of positive gamma and help support these higher prices. We note that the vanna profile of the SPX shows some upside resistance due to dealer hedging, but QQQ's are still poised higher volatility (aka we see more movement in QQQ relative to S&P).
While markets hold a positive stance to start the week, there is little room for error. Our gamma flip levels have slid up to the 4415 area,  and we hold 4400 as critical support (due to large interest held at that line).  A break of that line likely signals a quick move down to 4340. Further we'd note that demand for downside protection was zapped last week which suggests traders would need to scramble for hedges.
This is evident with the ~16 handle VIX, but also made clear in our Risk Reversal [RR] metric (shown below). An RR of -.10 shows that the pricing of puts relative to calls is high, suggesting trades want downside protection. With great speed that concern was unwound, reflecting a RR reading of -0.05. This indicates put prices reduced sharply relative to calls.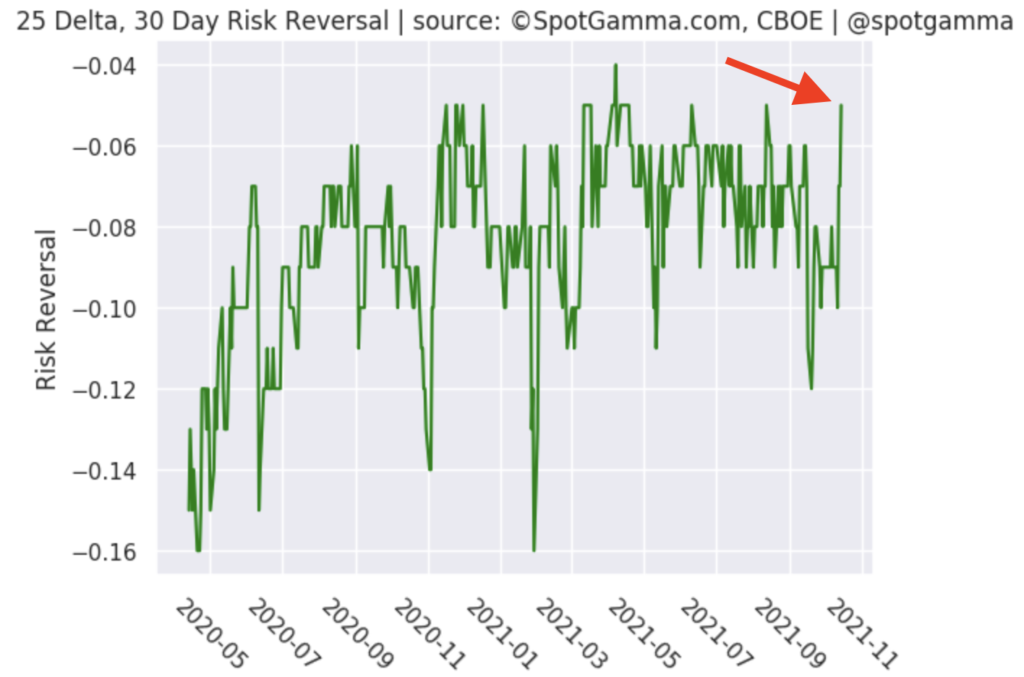 We default to the view that positions will now fill in around the 4450 area, which should provide support for a retest of the 4500 line. Its clear that the volatility sellers that were absent for the past several weeks rushed in on Thursday & Friday – and their flows have been a clear mechanism for higher equity prices.
Model Overview:
4400 is critical support, with an upside target of 4500 into 11/19 expiration.
SpotGamma Proprietary Levels
Latest Data
Previous
SPY
NDX
QQQ
Ref Price:
4449
4463
445
15134
368
SpotGamma Imp. 1 Day Move:
0.74%,
33.0 pts
Range: 4416.0 | 4482.0
SpotGamma Imp. 5 Day Move:
1.66%
4449 (Monday Ref Px)
Range: 4375.0 | 4523.0
SpotGamma Gamma Index™:
1.43
1.57
0.09
0.01
-0.04
Volatility Trigger™:
4420
4400
444
15000
369
SpotGamma Absolute Gamma Strike:
4500
4450
440
15500
370
Gamma Notional(MM):
$233
$728
$486
$2
$-172
Additional Key Levels
Latest Data
Previous
SPY
NDX
QQQ
Zero Gamma Level:
4411
4392
0
0
0
Put Wall Support:
4300
4300
430
14000
350
Call Wall Strike:
4500
4500
450
15125
370
CP Gam Tilt:
1.44
1.34
1.15
1.16
0.88
Delta Neutral Px:
4295
Net Delta(MM):
$1,448,061
$1,543,511
$170,027
$44,486
$78,907
25D Risk Reversal
-0.05
-0.07
-0.05
-0.06
-0.05
Key Support & Resistance Strikes:
SPX: [4500, 4450, 4400, 4350]
SPY: [450, 446, 445, 440]
QQQ: [370, 368, 360, 350]
NDX:[15500, 15125, 15000, 14000]
SPX Combo: [4475.0, 4529.0, 4427.0, 4502.0, 4578.0]
SPY Combo: [448.43, 453.78, 443.53, 451.11, 458.69]
NDX Combo: [15110.0, 15050.0, 15306.0, 14899.0, 14703.0]