Futures have pushed to fresh all time highs past 4620. With this boost higher there is an incremental build in gamma, pressing our SG 1 day max move to 0.66%. We mark resistance at 4622 and 4650. Support lies at 4600.
460SPY is a very large gamma strike, and our expectation is the market holds this general area (4600SPX to 460SPY/4620SPX) in through the 11/3 FOMC. As noted above, there was a substantial build in gamma which implies smaller trading ranges.
Below we've posted our vanna model from Friday (left) vs today (right) wherein you can see the change in resistance which leads to tighter ranges. The sharper skew to todays model suggests larger resistance as the S&P rises higher due to dealers needing to increasingly short futures (as a hedge). Of course as the market declines dealers buy-back short futures, too. The increasing firepower (ie higher gamma) for "sell higher, buy lower" flow is what locks in the range.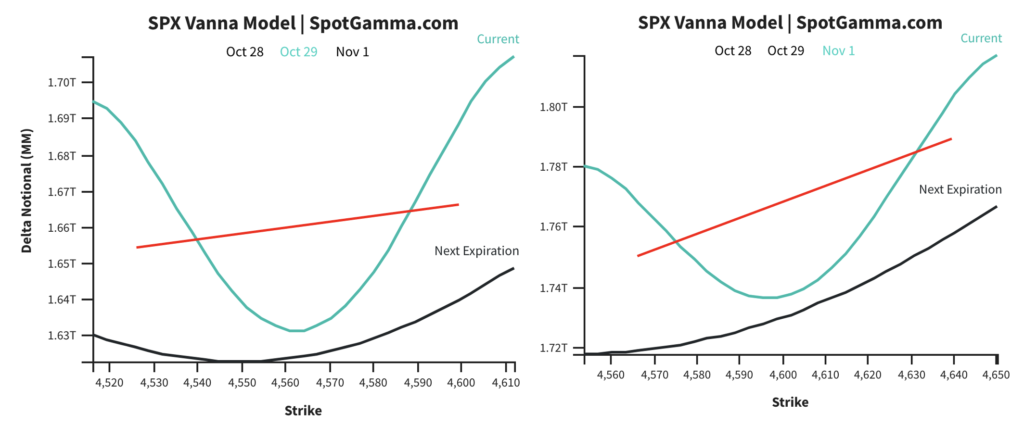 Model Overview:
As long as the S&P500 holds 4500 we expect positive gamma flows and lower implied volatility to boost markets.
SpotGamma Proprietary Levels
Latest Data
Previous
SPY
NDX
QQQ
Ref Price:
4602
4601
458
15861
386
SpotGamma Imp. 1 Day Move:
0.66%,
30.0 pts
Range: 4572.0 | 4632.0
SpotGamma Imp. 5 Day Move:
1.89%
4602 (Monday Ref Px)
Range: 4515.0 | 4689.0
SpotGamma Gamma Index™:
1.99
1.26
0.05
0.04
0.01
Volatility Trigger™:
4445
4440
457
15025
384
SpotGamma Absolute Gamma Strike:
4500
4500
460
15500
380
Gamma Notional(MM):
$607
$755
$174
$6
$66
Additional Key Levels
Latest Data
Previous
SPY
NDX
QQQ
Zero Gamma Level:
4529
4528
0
0
0
Put Wall Support:
4000
4300
450
14000
370
Call Wall Strike:
4650
4650
460
15125
390
CP Gam Tilt:
1.64
1.46
1.05
1.54
1.05
Delta Neutral Px:
4344
Net Delta(MM):
$1,691,964
$1,576,902
$202,850
$54,056
$95,761
25D Risk Reversal
-0.07
-0.07
-0.06
-0.05
-0.05
Key Support & Resistance Strikes:
SPX: [4600, 4550, 4500, 4450]
SPY: [460, 458, 455, 450]
QQQ: [390, 385, 380, 375]
NDX:[16000, 15500, 15125, 14000]
SPX Combo: [4650.0, 4599.0, 4701.0, 4498.0, 4622.0]
SPY Combo: [463.84, 458.79, 468.89, 448.69, 461.09]
NDX Combo: [16029.0, 15871.0, 15823.0, 15902.0, 15950.0]