Futures are flat to last nights close at 4695. There was an impressive build in gamma overnight mainly due to the higher delta value (ie market up in 4700).  With that we look for a very small trading range today (0.58% max SPX move), with support at 4696 then 4680. Resistance is at the SPX equivalent of 470 SPY, which is  ~4719 in SPX terms.
You may note the Call Wall shifted higher this morning. There was a large add of "straddle volume" to the 4700 strike yesterday: 18k calls and 27k puts.  This means that the strike with the largest net call gamma is now 4750, but also implies that the strength of the 4700 bar has increased. We think that much of this positioning changes into Fridays OPEX. Regardless, this shift "validates" higher prices in our model, so 4750 is now the top of our range into Friday.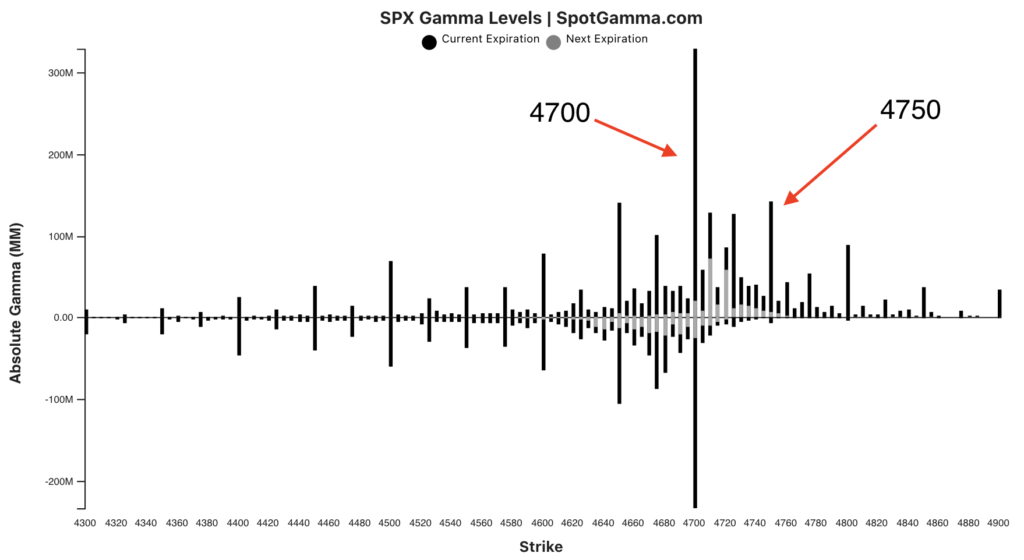 This morning is VIX expiration, which brings a large set of VIX puts to expiry. With this there may be some position shifts in the VIX, which remains solidly above 2021 lows (16.5 vs 15). The VIX is having to contend with SPX realized & at-the-money implied volatility that is quite low (~10%), and back dated VIX futures that have a steep contango. By default we believe this steep VIX structure (i.e. longer dated VIX futures at premiums to VIX index) helps provide a tailwind for equities as the higher priced, longer dated volatility comes for sale. However, it does contain some "jump risk". This jump risk is in VIX snapping 4pts higher.
We saw this last week wherein the S&P (which had robust positive gamma support) slid 1%, and the VIX very quickly ratcheted up to 20. The point here is that while bulls have the edge, if the S&P breaks that Vol Trigger strike coming out of 11/19 OPEX, it may lead to a rather violent drawdown of ~4% solely on the basis of options positioning (ie no macro catalysts).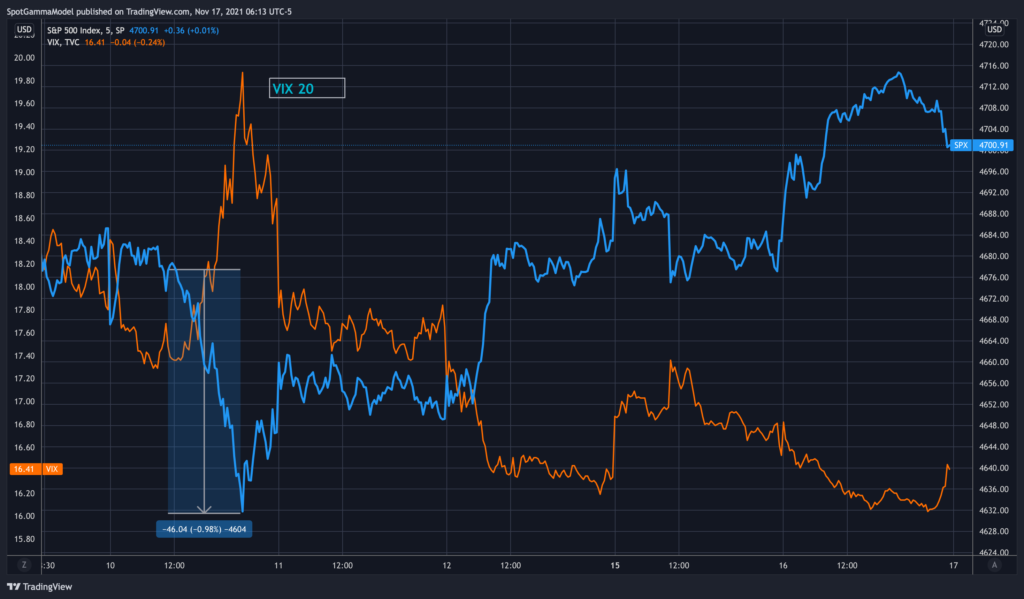 Model Overview:
Positive gamma means the market should be supported as long as SPX>4600.
SpotGamma Proprietary Levels
Latest Data
Previous
SPY
NDX
QQQ
Ref Price:
4695
4697
469
16293
397
SpotGamma Imp. 1 Day Move:
0.58%,
27.0 pts
Range: 4668.0 | 4722.0
SpotGamma Imp. 5 Day Move:
2.05%
4694 (Monday Ref Px)
Range: 4598.0 | 4791.0
SpotGamma Gamma Index™:
2.19
1.76
0.19
0.08
0.03
Volatility Trigger™:
4645
4640
467
15990
396
SpotGamma Absolute Gamma Strike:
4700
4700
470
16300
400
Gamma Notional(MM):
$591
$738
$933
$7
$92
Additional Key Levels
Latest Data
Previous
SPY
NDX
QQQ
Zero Gamma Level:
4652
4619
0
0
0
Put Wall Support:
4680
4640
466
15920
390
Call Wall Strike:
4750
4700
472
16320
400
CP Gam Tilt:
1.51
1.41
1.23
1.59
1.06
Delta Neutral Px:
4465
Net Delta(MM):
$1,973,236
$1,926,558
$234,609
$59,356
$111,289
25D Risk Reversal
-0.05
-0.05
-0.07
-0.06
-0.06
Key Support & Resistance Strikes:
SPX: [4710, 4700, 4675, 4650]
SPY: [470, 468, 467, 465]
QQQ: [400, 395, 394, 390]
NDX:[16320, 16300, 16200, 16000]
SPX Combo: [4742.0, 4705.0, 4719.0, 4696.0, 4714.0]
SPY Combo: [473.94, 470.19, 471.6, 469.25, 471.13]
NDX Combo: [16394.0, 16312.0, 16279.0, 16605.0, 16491.0]