Futures are holding steady overnight, basing just under 4700.  With the big shift higher in SPX prices we see a build in positive gamma, which shifts our volatility expectations much lower. With that we look for a tight 0.57% range on the day in the S&P (open to close). We look for resistance near 4715 (the SPY ~470 equivalent) with support at 4675.
You can see this volatility regime "state change" in the vanna model below. The tilt in the Dec 6 model shows high directional hedging requirements from dealers, which expands volatility. Todays model shows the mirror opposite, with a left skew that portrays dealers selling futures hedges above, and buying below. This suppresses volatility.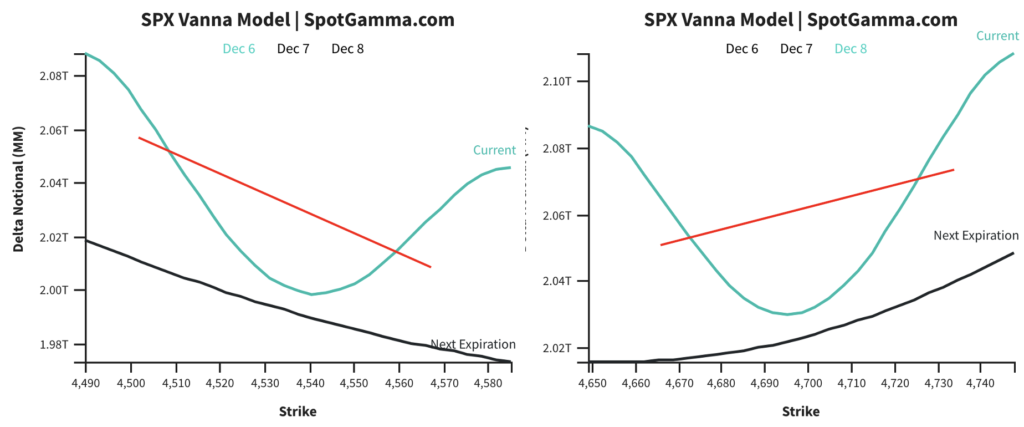 We do not expect a significant change in volatility or market prices into next week. 4700 currently holds the most amount of gamma, and we see 4750 filling in above as the Call Wall. We'd look for the implied volatility/VIX to hold relatively steady into next weeks main event(s): FOMC & OPEX.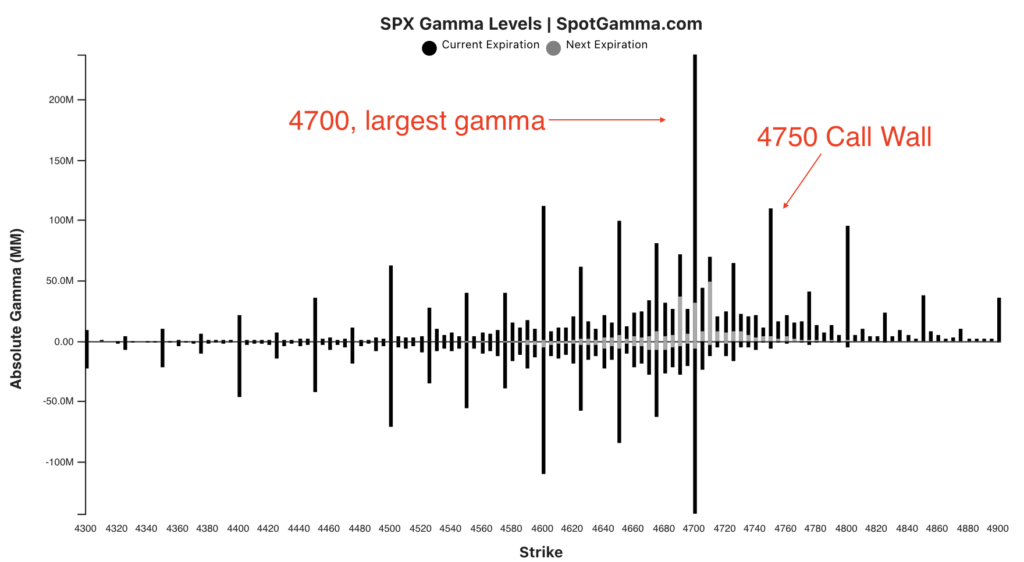 Model Overview:
4600 gamma flip level, 4550 critical support. 4750 overhead target.
SpotGamma Proprietary Levels
Latest Data
Previous
SPY
NDX
QQQ
Ref Price:
4694
4698
469
16345
397
SpotGamma Imp. 1 Day Move:
0.57%,
Est 1 StdDev Open to Close Range (±pts): 27.0
SpotGamma Imp. 5 Day Move:
4.1%
4559 (Monday Ref Px)
Range: 4373.0 | 4747.0
SpotGamma Gamma Index™:
1.37
1.37
0.15
0.07
0.00
Volatility Trigger™:
4615
4615
464
15810
397
SpotGamma Absolute Gamma Strike:
4700
4700
470
16575
400
Gamma Notional(MM):
$378
$410
$948
$8
$-11
Additional Key Levels
Latest Data
Previous
SPY
NDX
QQQ
Zero Gamma Level:
4650
4619
0
0
0
Put Wall Support:
4400
4400
450
15000
380
Call Wall Strike:
4750
4750
470
16575
400
CP Gam Tilt:
1.33
1.21
1.3
1.83
0.99
Delta Neutral Px:
4464
Net Delta(MM):
$1,965,638
$1,967,313
$225,588
$50,029
$108,948
25D Risk Reversal
-0.08
-0.08
-0.08
-0.08
-0.08
Key Support & Resistance Strikes:
SPX: [4700, 4675, 4650, 4600]
SPY: [470, 468, 465, 460]
QQQ: [400, 398, 395, 390]
NDX:[16575, 16500, 16400, 16000]
SPX Combo: []
SPY Combo: [474.37, 469.68, 479.52, 472.03, 470.62]
NDX Combo: [15704.0, 15911.0]