Futures pushed a bit higher to 4717 overnight. Total market gamma remains robustly positive, which should lead to a very tight SPX range for the day (SG est 0.50%). We see support at 4713 and 4700. Resistance lies at 4727 & 4732.
Due to the FOMC on Wednesday we expect little movement the next two days. Implied volatility is likely to hold, which slows the vanna trade but also put decay (charm).  We do expect a rather large move coming out of the FOMC, as the event combines with a large Friday options expiration.
This expiration should remove a large amount of the volatility-suppressing positive gamma, and allow larger trading ranges. When combined with post-FOMC & final year end flows, we see the potential for a lot of market movement (up or down).
For now, 470SPY/4700SPX remains the dominant gamma strike, as shown below. The market should hold near this level through Wednesday, with the 4750 Call Wall being resistance into 12/15. Both todays & tomorrows trading sessions are anticipated to be rather dull.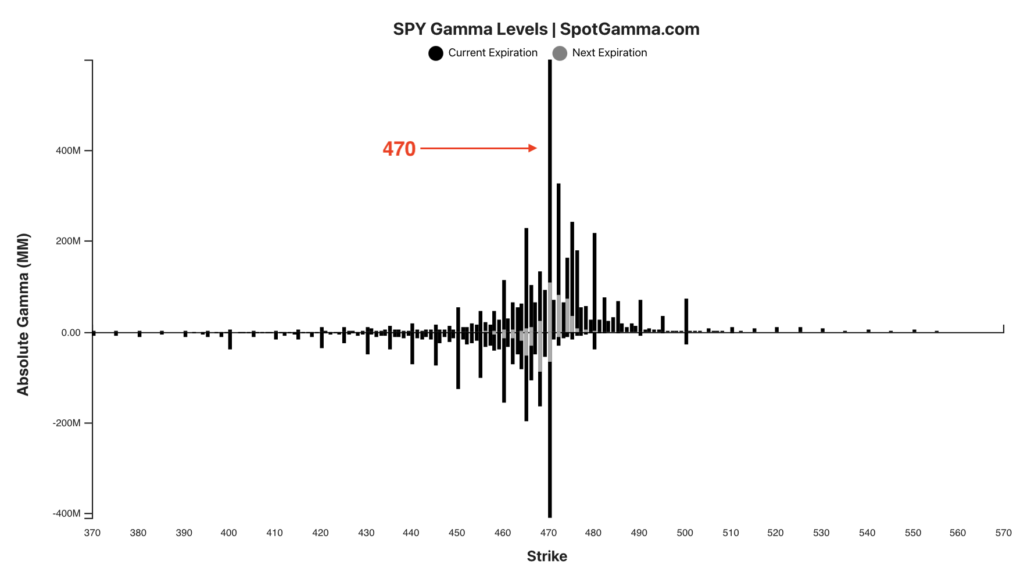 Two admin items:
We will be doing a webinar today, at 10AM ET with our friends at Bookmap. We will be covering the general topics of options flows and ES/NQ liquidity (HIRO, vanna, charm etc). Please join us here.
You may notice some new data in the "combo" field below under "Key Support". We've added a "percentile rank" to the S&P Combo level size. For example, the first set in the list is (4864, 91.53) which tells us that the total SPX+SPY gamma at 4864 ranks in the top 91% of gamma bars since early '21. Note the Combo Strike chart is here. We will be adjusting some formatting over the coming days.
Model Overview:
4600 gamma flip level, 4550 critical support. 4700 overhead target.
SpotGamma Proprietary Levels
Latest Data
Previous
SPY
NDX
QQQ
Ref Price:
4725
4711
470
16375
398
SpotGamma Imp. 1 Day Move:
0.5%,
Est 1 StdDev Open to Close Range (±pts): 24.0
SpotGamma Imp. 5 Day Move:
2.31%
4725 (Monday Ref Px)
Range: 4617.0 | 4835.0
SpotGamma Gamma Index™:
1.61
1.60
0.26
0.07
0.01
Volatility Trigger™:
4660
4660
464
15920
396
SpotGamma Absolute Gamma Strike:
4700
4700
470
16575
400
Gamma Notional(MM):
$528
$370
$1,284
$9
$8
Additional Key Levels
Latest Data
Previous
SPY
NDX
QQQ
Zero Gamma Level:
4655
4676
0
0
0
Put Wall Support:
4400
4400
450
16150
390
Call Wall Strike:
4750
4750
472
16575
400
CP Gam Tilt:
1.4
1.19
1.45
1.72
1.01
Delta Neutral Px:
4460
Net Delta(MM):
$1,975,104
$1,968,939
$213,488
$47,312
$108,407
25D Risk Reversal
-0.08
-0.07
-0.07
-0.07
-0.08
Key Support & Resistance Strikes:
SPX: [4700, 4675, 4650, 4600]
SPY: [472, 470, 468, 465]
QQQ: [400, 398, 395, 390]
NDX:[16575, 16500, 16250, 16000]
SPX Combo: [(4864.0, 91.53), (4841.0, 89.52), (4827.0, 73.45), (4822.0, 85.96), (4817.0, 98.52), (4808.0, 75.44), (4793.0, 83.46), (4789.0, 94.35), (4784.0, 82.27), (4779.0, 90.59), (4775.0, 88.94), (4770.0, 92.34), (4765.0, 99.38), (4760.0, 86.79), (4756.0, 76.25), (4751.0, 78.94), (4746.0, 80.63), (4741.0, 97.2), (4737.0, 76.4), (4732.0, 78.27), (4727.0, 75.61), (4723.0, 90.27), (4713.0, 97.22), (4689.0, 79.89)]
SPY Combo: [474.51, 479.68, 469.33, 472.15, 476.86]
NDX Combo: [15704.0, 15911.0]