Futures are near overnight lows of 4470 after a quiet overnight session.  Our gamma index registers at -0.7 which implies high volatility for today. Resistance is at 4500, then 4530.   To the downside we see support at 4458, 4445, then 4400.
While this drift lower does indicate we are in a regime with more negative gamma, we think that it will take some force to push markets away from 450SPY (4500 SPX). As shown below there is a lot of both call & put gamma tied to that 450 strike. Calls (positive gamma) are predominately above, and puts (volatility inducing negative gamma) predominately below.
Call strikes above remain fairly small in size for both the SPX/SPY, while put strikes remain significant. While this data shown below only goes back ~1 year, this chart implies we are still a ways from large call strikes (blue dots) building which brings positive gamma & low volatility regimes.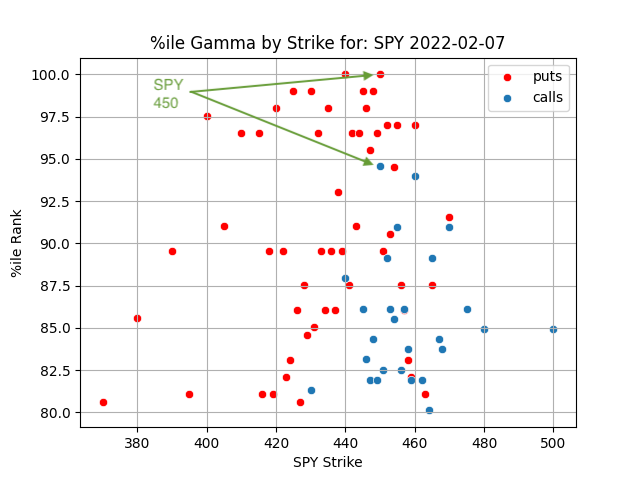 On this point we note the 350 put strike in QQQ is also predominant (& 99th %ile), and we watch that as a key downside level in Q's.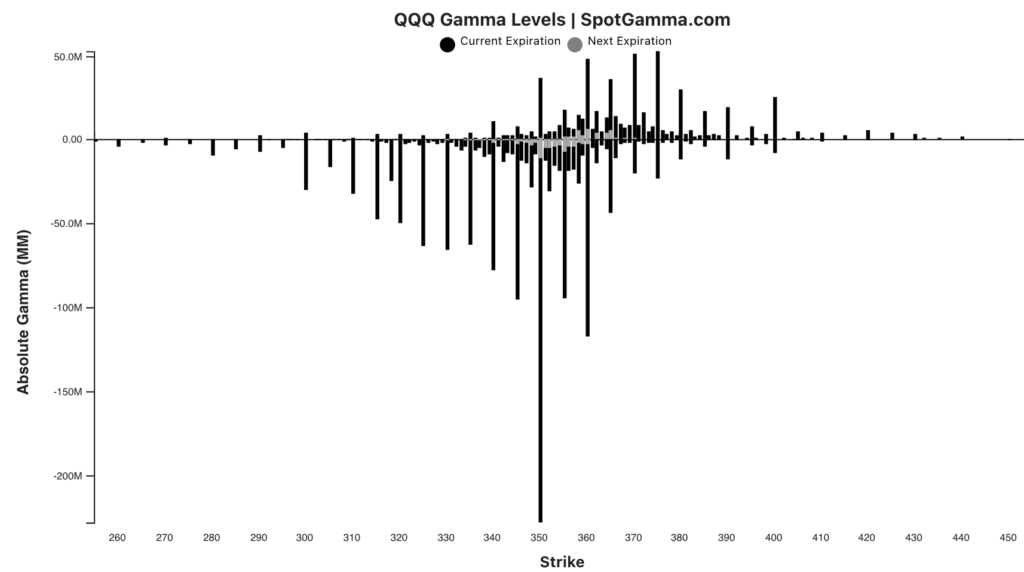 Our point here is that even while markets were somewhat quiet yesterday the volatility potential remains, primarily due to large put positions. As noted yesterday we view implied volatility[IV] as fairly valued, and so it will take real buying (calls or stock) to puts markets up out of this negative gamma position. We're not sure of an imminent catalyst to initiate "risk on", and barring that exogenous trigger (ex: positive Fed headlines) markets remain vulnerable to a shift higher in IV which pushes into a negative gamma dealer position.
In that scenario (ishift in IV or VIX>25) we see the S&P positioned for a quick move down into 4250, and QQQ into 340.
SpotGamma Proprietary Levels
Latest Data
Previous
SPY
NDX
QQQ
Ref Price:
4477
4489
450
14562
355
SpotGamma Imp. 1 Day Move:
1.81%,
Est 1 StdDev Open to Close Range (±pts): 81.0
SpotGamma Imp. 5 Day Move:
4.23%
4489 (Monday Ref Px)
Range: 4300.0 | 4679.0
SpotGamma Gamma Index™:
-0.71
-0.57
-0.21
0.01
-0.16
Volatility Trigger™:
4530
4520
450
14790
360
SpotGamma Absolute Gamma Strike:
4500
4500
450
14800
350
Gamma Notional(MM):
$-442
$-413
$-616
$1
$-815
Additional Key Levels
Latest Data
Previous
SPY
NDX
QQQ
Zero Gamma Level:
4541
4554
0
0
0
Put Wall Support:
4300
4300
440
13500
350
Call Wall Strike:
4700
4700
460
14800
370
CP Gam Tilt:
0.83
0.78
0.78
1.11
0.47
Delta Neutral Px:
4522
Net Delta(MM):
$1,565,824
$1,575,328
$162,706
$39,120
$85,209
25D Risk Reversal
-0.08
-0.1
-0.08
-0.09
-0.09
Key Support & Resistance Strikes:
SPX: [4700, 4600, 4500, 4400]
SPY: [460, 450, 445, 440]
QQQ: [360, 355, 350, 345]
NDX:[15300, 15000, 14800, 14000]
SPX Combo (strike, %ile): [4395.0, 4597.0, 4445.0, 4507.0, 4458.0]
SPY Combo: [441.64, 461.89, 446.59, 452.89, 447.94]
NDX Combo: [14363.0, 14800.0, 14144.0, 14566.0, 14770.0]