Futures currently near 4175, which is up from 4129 lows. Once again today we look for elevated volatility, with an SG 1 day implied move of 1.46% (open/close). Resistance is at 4201 & 4250. Support shows at 4151 and 4126. Our key views remain in line with those detailed yesterday.
Recall that the VIX expiry is this morning, for which we don't anticipate any significant trading impact. It is worth being aware of, though, in case some strange ES/SPX/VIX/VX prints come through.
Its also important to flag that markets added some more macro concerns yesterday, with Corona virus headlines re-appearing. With that the Shanghai Composite Index just closed down -5%. This news & related volatility just adds more uncertainty into the mix.
Tangentially linked is energy, with crude oil futures now down ~30% from 3/9 highs. This in turn has hit energy names, one of the few bright equity sectors.
Accordingly, we suspect today could be marked by spams related to various headlines as short term traders react. The main show kicks off tomorrow with the FOMC at 2pm ET.
SPX volume yesterday was heaviest at the 4000 and 4200 strikes (~60 & 100k respectively). Despite this, the overall distribution of gamma has not changed much since last week (chart here), with 4000 remaining the "monster" below. Currently 4000 registers as the largest gamma strike on the board – and that is with the S&P ~175 handles away (gamma is highest for at-the-money strikes).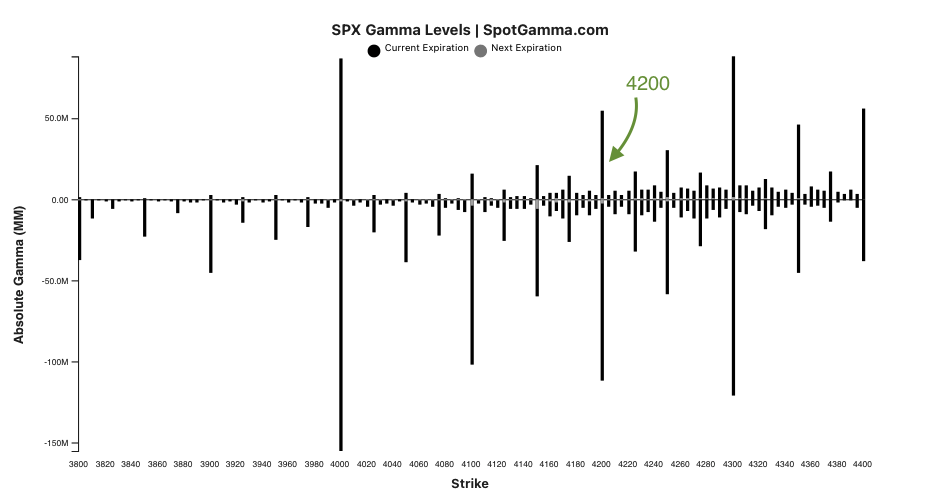 The size of this 4000 strike also comes through in this chart from Goldman. Again, this is plotted in notional values and the size is quite large given 4000 is still a ways from at-the-money (spot). Included in last nights note there were many other data points from various banks which seemed to support our "OPEX-bounce" thesis.
This size is why we look for the 4000 area to be an interim bottom in through Monday. 113k puts and 90k calls of the 4000 strike expire on Friday, which is the bulk of that position. Again, this is why we look for an interim rally (dealers cover put hedges) and longer term weakness (expiration removes hedges).
---
Please note that today at 3pm ET we will be live with Imran Lakha to discuss markets going into FOMC & OPEX. Join here.
SpotGamma Proprietary Levels
Latest Data
Previous
SPY
NDX
QQQ
Ref Price:
4177
4181
416
13073
318
SpotGamma Imp. 1 Day Move:
1.46%,
Est 1 StdDev Open to Close Range (±pts): 61.0
SpotGamma Imp. 5 Day Move:
3.52%
4224 (Monday Ref Px)
Range: 4076.0 | 4373.0
SpotGamma Gamma Index™:
-1.59
-1.60
-0.40
-0.03
-0.18
Volatility Trigger™:
4330
4350
435
13550
335
SpotGamma Absolute Gamma Strike:
4000
4300
420
13000
320
Gamma Notional(MM):
$-726
$-832
$-1,849
$-3
$-1,063
Additional Key Levels
Latest Data
Previous
SPY
NDX
QQQ
Zero Gamma Level:
4371
4441
0
0
0
Put Wall Support:
4100
4100
400
13000
315
Call Wall Strike:
4400
4500
500
14075
360
CP Gam Tilt:
0.59
0.57
0.4
0.63
0.32
Delta Neutral Px:
4316
Net Delta(MM):
$1,568,722
$1,625,539
$184,536
$28,952
$95,769
25D Risk Reversal
-0.08
-0.08
-0.09
-0.07
-0.08
Key Support & Resistance Strikes:
SPX: [4300, 4200, 4100, 4000]
SPY: [420, 415, 410, 400]
QQQ: [330, 325, 320, 315]
NDX:[14075, 14000, 13500, 13000]
SPX Combo (strike, %ile): [4101.0, 4201.0, 4151.0, 4251.0, 4126.0]
SPY Combo: [409.49, 419.5, 414.5, 424.51, 412.0]
NDX Combo: [12955.0, 13164.0, 12746.0, 13361.0, 13033.0]