Futures are up slightly to 4477 after a quiet overnight session. Our volatility estimates (0.86% from open) and key trading levels remain in line with yesterday. Resistance is at 4500-4510. Support lies at 4473 then 4450.
Last week we laid out the following map, and movement thus far is according to that plan. Its over 4500 wherein dealer resistance beings to increase, which means the market needs a catalyst to push higher. With gamma near zero and vanna drained off the market seems to have run out of steam.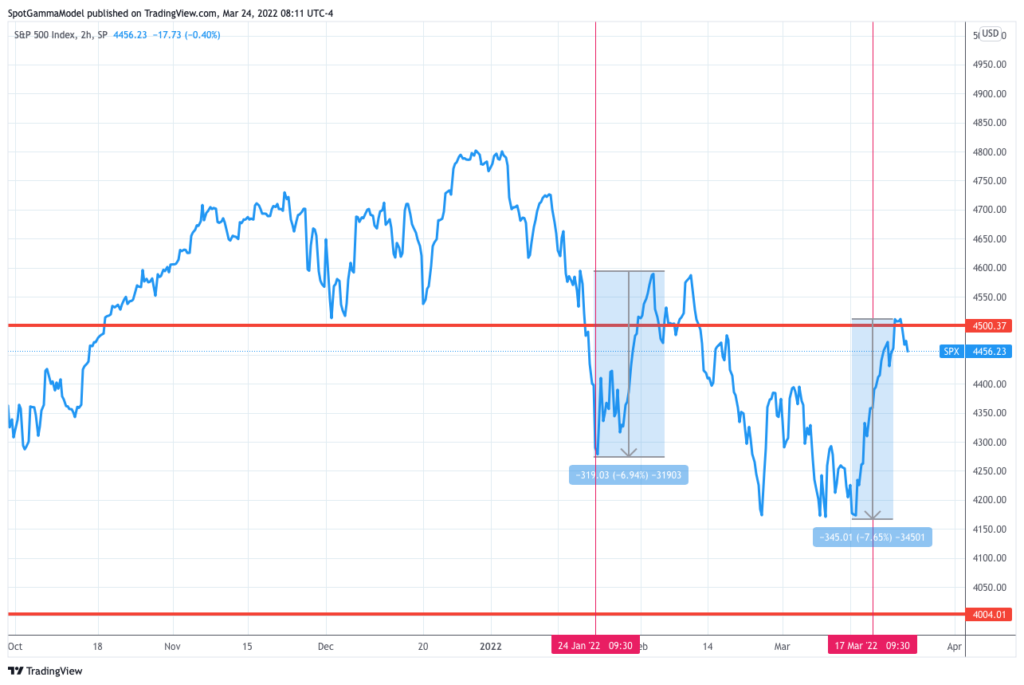 There is lots of talk around the 4510 JPM put-strike, and its implications for current prices. Our view on this is quite simple: by default the ~45k put contracts at 4510 here are decaying, and that will buoy/pin markets into 3/31. That, along with the other 450SPY/4500 area contracts supports the idea of looking for mean reversion back into 4500. However if sellers emerge, possibly though some exogenous geopolitical catalyst, then those high gamma puts will add a lot of firepower to a move lower. This is jump risk, and its material.
Along this general idea, we've added the VIX 1 day implied move to our dashboard below. You'll notice that the VIX 1 day implied move at 1.48% is quite a bit higher than our gamma-based forecast of 0.89%. The basic idea here is that this VIX/SG spread implies options may be rich, which is not terribly surprising due to "event vol" premium (geopolitics, higher rates, etc). Selling very short dated options (ie Friday) likely appeals to a fair number of traders and we think that can help add some support on drawdowns.
The end result is that we still give edge to markets holding near 4500 as laid out in the chart above. That being said there is little support below, and selling can pickup speed quickly. The trick, of course, is in assessing if the catalyst for that selling is "real".
SpotGamma Proprietary Levels
Latest Data
Previous
SPY
NDX
QQQ
Ref Price:
4477
4456
446
14447
353
SpotGamma Imp. 1 Day Move:
Est 1 StdDev Open to Close Range
0.89%,
(±pts):
VIX 1 Day Impl. Move:1.48%
SpotGamma Imp. 5 Day Move:
2.26%
4438 (Monday Ref Px)
Range: 4338.0 | 4539.0
SpotGamma Gamma Index™:
-0.07
-0.07
-0.20
0.03
-0.10
Volatility Trigger™:
4400
4400
445
14050
353
SpotGamma Absolute Gamma Strike:
4400
4400
440
14225
350
Gamma Notional(MM):
-73.0
-155.8
-468.0
4.0
-463.0
Additional Key Levels
Latest Data
Previous
SPY
NDX
QQQ
Zero Gamma Level:
4475
4487
0
0
0
Put Wall Support:
4100
4100
435
13000
340
Call Wall Strike:
4600
4600
450
14225
360
CP Gam Tilt:
0.98
0.89
0.82
1.56
0.7
Delta Neutral Px:
4421
Net Delta(MM):
$1,312,643
$1,306,538
$150,842
$38,398
$94,901
25D Risk Reversal
-0.09
-0.09
-0.07
-0.07
-0.07
Key Support & Resistance Strikes:
SPX: [4500, 4450, 4400, 4300]
SPY: [450, 445, 440, 435]
QQQ: [360, 350, 345, 340]
NDX:[15000, 14500, 14225, 14000]
SPX Combo (strike, %ile): [(4571.0, 88.18), (4522.0, 89.92), (4495.0, 77.01), (4473.0, 86.2), (4347.0, 9.05)]
SPY Combo: [451.25, 452.14, 456.16, 446.33, 443.21]
NDX Combo: [14029.0, 14578.0, 14534.0, 14173.0, 14448.0]