Futures were quiet overnight, holding near 4610. Our volatility estimate remains at 0.6% with little change in net gamma. 460SPY/4600SPX remain the key level(s) today, which should function as a support zone. Critically, the SPX Call Wall has shifted to 4650 (from 4600) which is the new top end of our range. In addition to strong 4600 support, there is light support at 4575.
The main focus for today will likely be around the JPM collar trade which should lead to some large SPX prints. We don't anticipate any net market impact today as hedgers position to mitigate impact. Look for some large SPX prints in the morning, and then another set of large SPX prints later in the afternoon as they adjust strikes.
More interestingly these new JPM positions should shift the gamma profile going forward. As you can see below, today's expiration will roll off a great deal of gamma overhead, which in theory allows for more market movement into next week.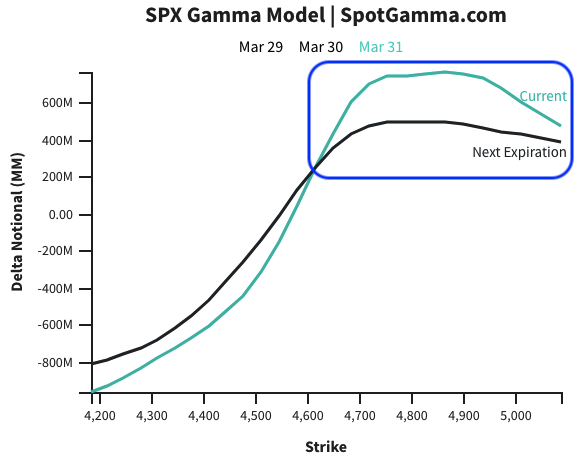 Placed in a more historical context, these SPX gamma levels are unimpressive. Shown below is the percentile rank (vs 1 year of data), and you can see the put & call strikes at 4600 are the largest, but the size around that remains small. The point here is that this expiration is going to net reduce the (already small) gamma & therefore drain the hedging flows pinning the market to this area.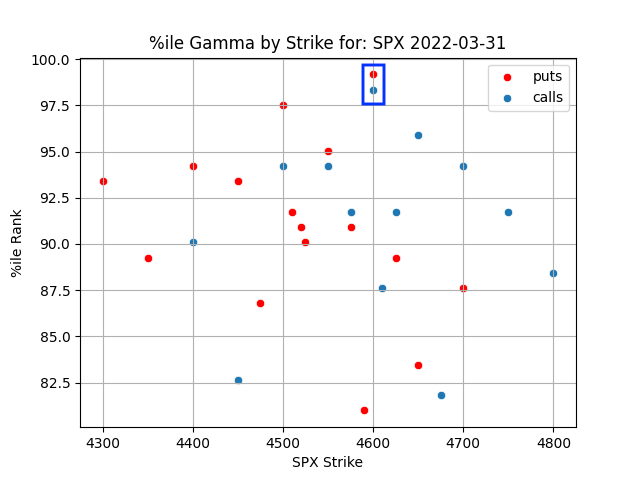 While is tough to assign a directional edge here, we do think that the market makes a move over the next few days. As you can see below the market has been tied to 4600 over the last few sessions, which syncs with our tight daily volatility estimates of ~0.6%. Coming off of today's expiration we should have expanded volatility and a wider trading range. 4650 makes sense if you are a bull and 4525 is the downside support area.
SpotGamma Proprietary Levels
Latest Data
Previous
SPY
NDX
QQQ
Ref Price:
4625
4625
458
15071
367
SpotGamma Imp. 1 Day Move:
Est 1 StdDev Open to Close Range
0.61%,
(±pts): 28.0
VIX 1 Day Impl. Move:1.23%
SpotGamma Imp. 5 Day Move:
2.26%
4543 (Monday Ref Px)
Range: 4440.0 | 4646.0
SpotGamma Gamma Index™:
0.80
0.8
-0.05
0.04
-0.07
Volatility Trigger™:
4525
4525
458
14050
368
SpotGamma Absolute Gamma Strike:
4600
4600
460
14225
360
Gamma Notional(MM):
309.0
309.30
-352.0
4.0
-390.0
Additional Key Levels
Latest Data
Previous
SPY
NDX
QQQ
Zero Gamma Level:
4550
4550
0
0
0
Put Wall Support:
4510
4510
440
13000
365
Call Wall Strike:
4650
4600
460
14225
380
CP Gam Tilt:
1.28
1.24
0.89
1.6
0.75
Delta Neutral Px:
4465
Net Delta(MM):
$1,435,642
$1,435,642
$169,914
$45,596
$101,583
25D Risk Reversal
-0.07
-0.07
-0.06
-0.01
-0.06
Key Support & Resistance Strikes:
SPX: [4650, 4600, 4550, 4500]
SPY: [462, 460, 455, 450]
QQQ: [370, 365, 360, 350]
NDX:[16000, 15500, 15000, 14225]
SPX Combo (strike, %ile): [4677.0, 4626.0, 4727.0, 4653.0, 4538.0]
SPY Combo: [463.29, 458.24, 468.33, 460.99, 449.53]
NDX Combo: [14981.0, 15403.0]