Futures are up slightly to 4555 after having held a 10 handle range overnight. The gamma position remains positive which implies a fairly tight max S&P500 move of 0.74% today. We note key support at 4548 with resistance at 4598.
Some market consolidation was/is warranted, and for today and into tomorrow the options complex seems supportive of equity prices. There are a few shifts taking place that make things interesting into next week.
First we note the SPX position which is currently flagging as a negative gamma position. This is due to a very large 450 put position, a great deal of which expires on Friday. In fact while only 15% of SPX expires on 10/29, we currently find that >30% of total SPY gamma rolls off. This is material enough to influence volatility into next week. This idea is supported by the QQQ's, too, which register >25% of gamma expiring.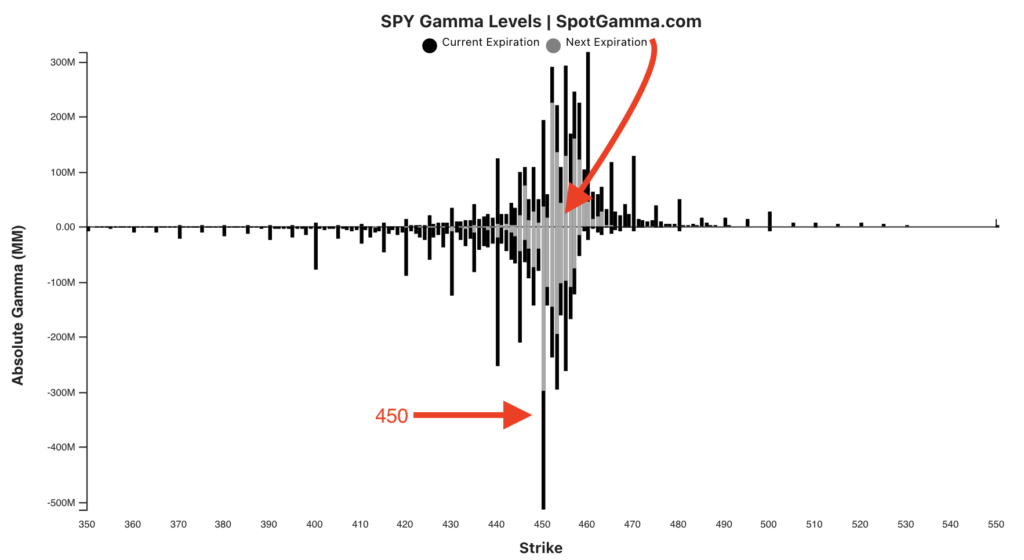 What we have our eye on here is implied volatility, which seems to be adjusting higher after tagging YTD lows. Yesterday the S&P saw a rather sharp ~30 handle selloff which led to a 17 print in the VIX. Just last week our Risk Reversal metric which was registering at a frothy -0.04 (aka high call demand) has moderated to a -0.07 suggesting less demand for upside.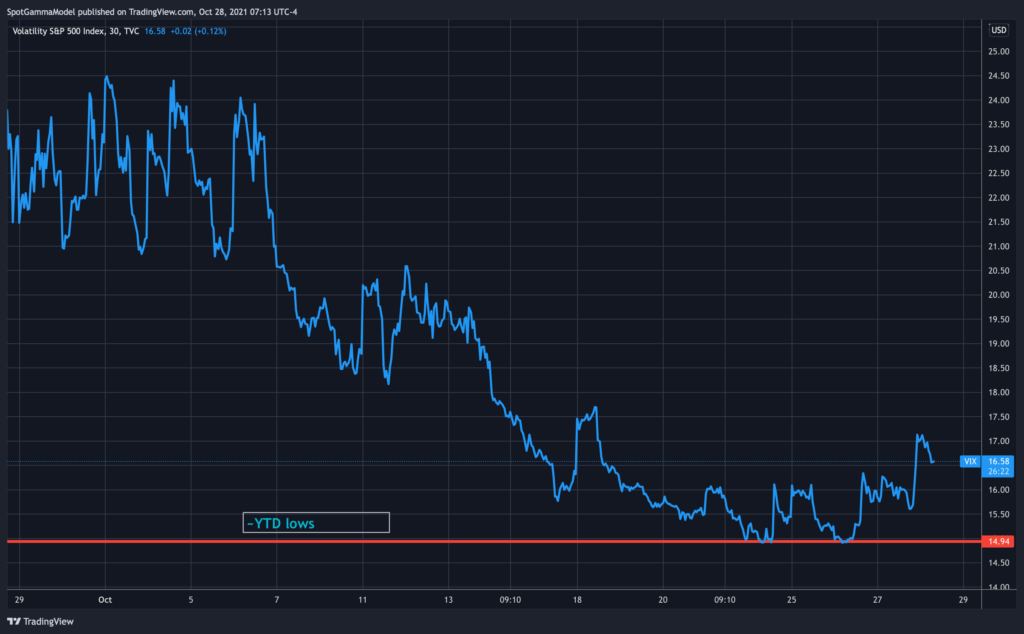 Model Overview:
As long as the S&P500 holds 4500 we expect positive gamma flows and lower implied volatility to boost markets.
SpotGamma Proprietary Levels
Latest Data
Previous
SPY
NDX
QQQ
Ref Price:
4551
4545
454
15603
380
SpotGamma Imp. 1 Day Move:
0.74%,
34.0 pts
Range: 4517.0 | 4585.0
SpotGamma Imp. 5 Day Move:
1.72%
4540 (Monday Ref Px)
Range: 4463.0 | 4619.0
SpotGamma Gamma Index™:
1.29
1.88
-0.08
0.04
-0.04
Volatility Trigger™:
4445
4440
454
15025
380
SpotGamma Absolute Gamma Strike:
4500
4500
450
15500
380
Gamma Notional(MM):
$348
$267
$-348
$4
$-206
Additional Key Levels
Latest Data
Previous
SPY
NDX
QQQ
Zero Gamma Level:
4513
4507
0
0
0
Put Wall Support:
4000
4300
450
14000
350
Call Wall Strike:
4600
4600
460
15125
385
CP Gam Tilt:
1.33
1.14
0.92
1.36
0.88
Delta Neutral Px:
4361
Net Delta(MM):
$1,652,399
$1,658,066
$208,580
$51,241
$96,285
25D Risk Reversal
-0.07
-0.07
-0.06
-0.05
-0.05
Key Support & Resistance Strikes:
SPX: [4600, 4550, 4500, 4450]
SPY: [455, 453, 452, 450]
QQQ: [380, 378, 375, 370]
NDX:[16000, 15500, 15125, 14000]
SPX Combo: [4598.0, 4498.0, 4548.0, 4648.0, 4607.0]
SPY Combo: [458.93, 448.95, 453.94, 463.93, 459.84]
NDX Combo: [15812.0, 16015.0, 15734.0, 15203.0, 15157.0]