Futures are at 4240 which is up from overnight lows of 4218. The VIX is currently holding near 30. The gamma index shifts down to -1.28 which corresponds to a 1.08% open/close move for the SPX. We are looking for support down at the 420SPY/4200SPX level, with resistance at 4300. Due to the large expiration on Friday (>25% of S&P gamma), we anticipate a morning overhang, but are watching for a short cover relief rally later today.
Two of our key levels shifted lower: the Put Wall (4300->4100) and Absolute Gamma Strike (4400-4000). These gaps lower in these levels are the result of very light SPX positioning from 4300 down to the 4000 level. This implies that there are smaller at-the-money options positions in the SPX from 4300 down to 4000.
Where there is some size is at the 420 SPY level, as shown below. On this point, the SPY volume was heavy on Friday, with net puts >=430 closed and rolled to lower strikes. Further we note a massive 550k volume at the 430 put strike. It may be that "same day" put sellers were possibly forced to cover on Friday, which spurred volatility.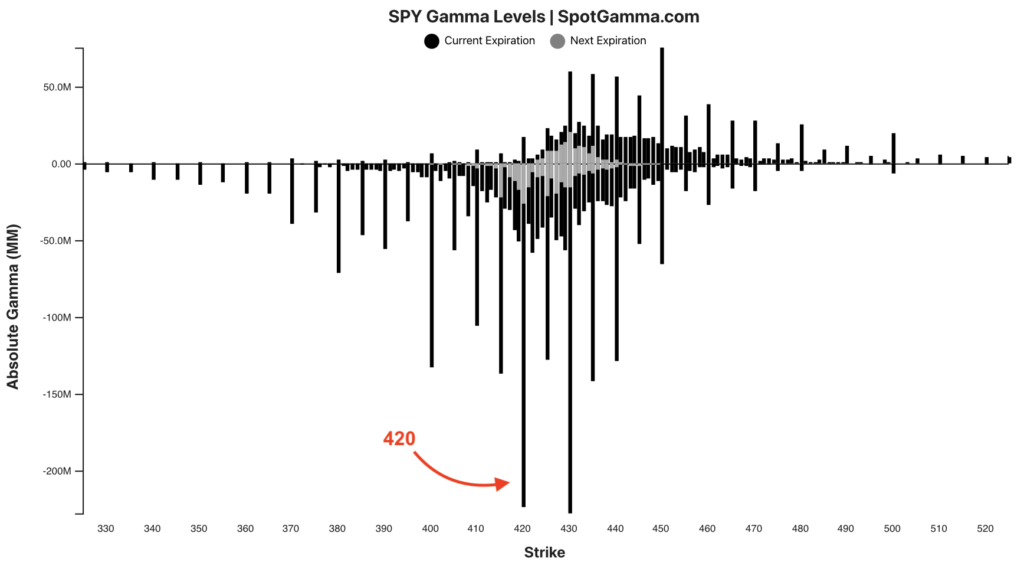 What we do have in the SPX Index is a meaningful level of in-the-money puts. This pushes our Delta Tilt indicator down towards a lower bound, as shown here. We believe that the tilt indicator reflects the market approaching a maximum put threshold (per whats outlined here). You may note that we are still slightly above the March '22 Tilt low. Another 1-2% down would likely push us to "maximum tilt". As a result we think that the next 10 days will be something like early March, wherein we have large swings, but no material break out/down.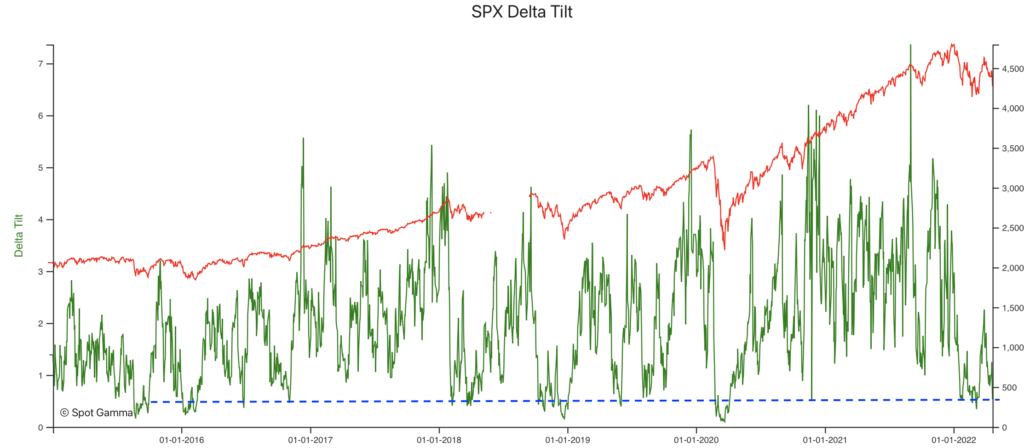 This is a market in control of put options. We believe dealers have needed to short futures as the market declined, and/or as implied volatility[IV] increases. Further, we believe dealers own tail hedges, which starts to invoke as the VIX >30. As a result this may reduce some of the delta hedging pressure. Conversely, rallies will be driven by short covering due to the expiration of puts, and/or declines in IV. These rallies may be violent but are unlikely to persist until the 5/4 event(s) as described above in the "Macro Theme" section. These events, we believe, will trigger the next large directional move.
For several weeks we've been highlighting the divergence between the VIX and the MOVE Index (aka Bond VIX). We think that this divergence reverts (either VIX up or MOVE down) into this May 4th date in response to the FOMC and/or Russian default.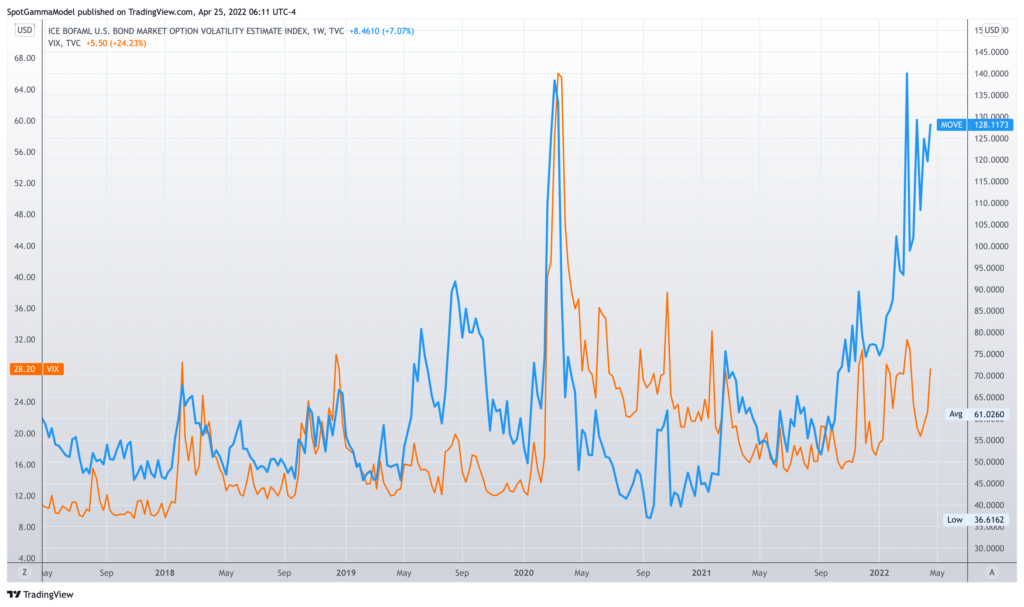 SpotGamma Proprietary Levels
Latest Data
Previous
SPY
NDX
QQQ
Ref Price:
4271
4272
426
13356
325
SpotGamma Imp. 1 Day Move:
Est 1 StdDev Open to Close Range
1.08%,
(±pts): 46.0
VIX 1 Day Impl. Move:1.77%
SpotGamma Imp. 5 Day Move:
2.67%
4271 (Monday Ref Px)
Range: 4158.0 | 4386.0
SpotGamma Gamma Index™:
-1.28
-0.69
-0.41
-0.01
-0.17
Volatility Trigger™:
4450
4450
445
14025
350
SpotGamma Absolute Gamma Strike:
4000
4400
430
14050
325
Gamma Notional(MM):
-645.0
-677.33
-1823.0
-1.0
-1001.0
Additional Key Levels
Latest Data
Previous
SPY
NDX
QQQ
Zero Gamma Level:
4497
4498
0
0
0
Put Wall Support:
4100
4100
420
13000
325
Call Wall Strike:
4750
4700
480
14050
352
CP Gam Tilt:
0.58
0.54
0.41
0.86
0.38
Delta Neutral Px:
4446
Net Delta(MM):
$1,309,733
$1,224,951
$172,905
$41,963
$111,569
25D Risk Reversal
0.0
-0.08
-0.09
0.0
-0.09
Call Volume
297,193
158,577
1,832,285
5,286
823,063
Put Volume
608,657
388,191
3,280,358
4,529
1,282,239
Call Open Interest
4,002,976
3,950,687
5,460,128
44,171
3,193,890
Put Open Interest
8,038,392
7,875,929
10,261,013
47,621
6,323,722
Key Support & Resistance Strikes:
SPX: [4400, 4300, 4200, 4000]
SPY: [440, 435, 430, 420]
QQQ: [340, 330, 325, 320]
NDX:[15000, 14050, 14000, 13000]
SPX Combo (strike, %ile): [4199.0, 4302.0, 4250.0, 4148.0, 4212.0]
SPY Combo: [418.8, 429.02, 423.91, 413.68, 420.08]
NDX Combo: [13344.0, 13130.0, 13544.0]