Futures are syncing back with yesterdays closing levels after a brief test of 3540 overnight. SG levels are mainly unchanged ahead of the AM SPX OPEX. As mentioned several times this week this SPX OPEX isn't particularly large, but there is a lot of single stock names with large expirations. We'd therefore anticipate some higher volatility today into Monday in many of those large OPEX names. Today we look for a fairly tight range in SPX,  with an increase in volatility on Monday as well.
The chart below marks these 3rd Friday expirations vs the SPX, and as of late they seem to occur (or produce?) turning points in markets.  Its interesting to note that one major pop (just under the "S" in the legend) peaked on the day to the AAPL/TSLA splits.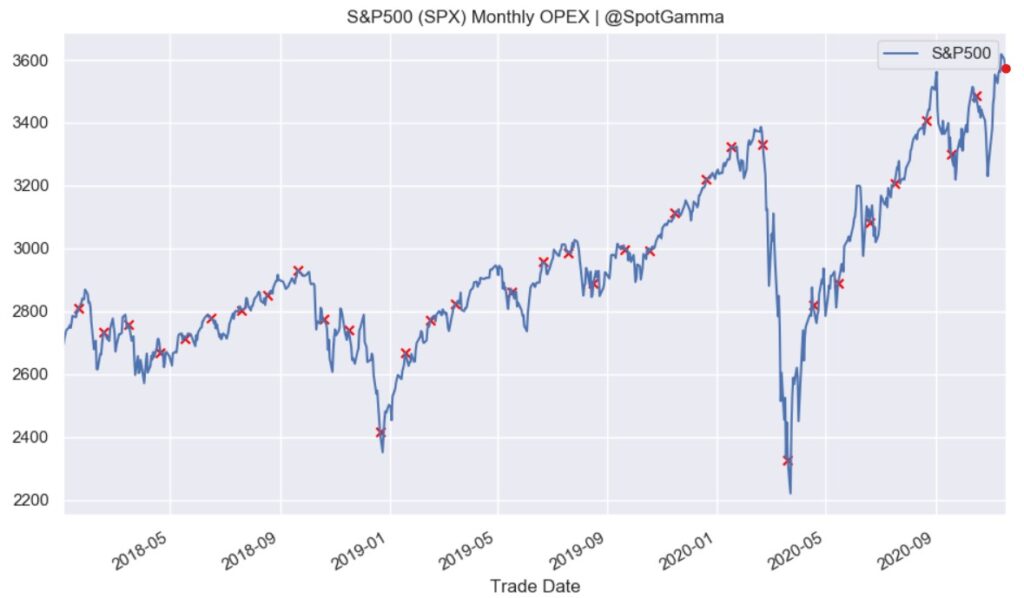 Looking at the DEC OPEX positions we hold a lot of puts down under 3500, with 3600 still the largest Call strike.  We will be watching closely to see if the OPEX rolling can boost the Call Wall back over 3600 to confirm higher SPX prices.
For today we anticipate the market holding the 3600-3550 range. There is a large Combo Strike at 3569 which may serve as the key pivot line.
Macro Note:
3500-3600 range into Nov OPEX.
SIGNAL NAME
LATEST DATA
PREVIOUS
SPY
NDX
QQQ
Ref Price:
3576
3576
357
11987
292
VIX Ref:
22.73
23.11
SG Gamma Index™:
0.95
0.72
0.24
0.02
0.00
Gamma Notional(MM):
$330.00
$327.00
$948.00
$2.00
$-56.00
SGI Imp. 1 Day Move:
1.02%,
36.0 pts
Range: 3540.0 | 3612.0
SGI Imp. 5 Day Move:
3618
2.39%
Range: 3532.0 | 3705.0
Zero Gamma Level(ES Px):
3514
3514
—
0
Vol Trigger™(ES Px):
3445
3445
356
11670
292
SG Abs. Gamma Strike:
3600
3600
360
12000
290
Put Wall Support:
3200
3200
320
11000
290
Call Wall Strike:
3600
3700
360
12000
300
CP Gam Tilt:
1.39
1.23
1.29
1.11
0.96
Delta Neutral Px:
3351
Net Delta(MM):
$14,048.00
$13,831.00
$2,295.00
$421.00
$701.00
25D Risk Reversal
-0.06
-0.06
-0.07
-0.07
-0.07
Top Absolute Gamma Strikes:
SPX: [3600, 3575, 3550, 3500]
SPY: [360, 357, 355, 350]
QQQ: [295, 292, 290, 285]
NDX:[12000, 11925, 11800, 10900]
SPX Combo: [3594.0, 3644.0, 3619.0, 3598.0, 3569.0]
NDX Combo: [11896.0, 11591.0, 11661.0]
The Call Wall has moved to: 3600 from: 3700
SPX resistance is: 3600 .Reference 'Intraday Support' levels for support areas.
The total gamma has moved has moved UP: $330.00MM from: $326.00MM
Gamma is tilted towards Puts, may indicate puts are expensive
Positive gamma is moderate which should lead to smaller market moves. Average Range on day is 1.5%