Futures are around 3625 with quite a range in futures overnight. The session opened at 3650, then trended immediately lower over the next several hours to 3602. With this we note that the VIX (which was near post-Covid lows on Friday) has shifted up 1.5pts (~7%) to 22.30. The gamma flip area continues to slide higher to 3550, with 3700 clearly established as the largest gamma area on the board.
These levels shifting up indicates the options structure is moving to higher SPX prices, which is a contrast to recent weeks wherein the market was outpacing its options structure (ex: breach of 3600 Call Wall). The issue with this is that the longer the SPX holds in this 3625 area, the more its positive gamma "padding" erodes which opens the door to high volatility on a drawdown.
Certainly the big options story from last week was the large call volumes in some of these retail heavy names. You can see in the chart below that call premiums were higher last week, despite the week being 1.5 days shorter. However, Ex-TSLA this call premium figure is likely lower W/W.  Our broad measurements of single stock gamma are trending higher, but not near recent highs. We need higher call volumes or a VIX breakdown to add some fuel.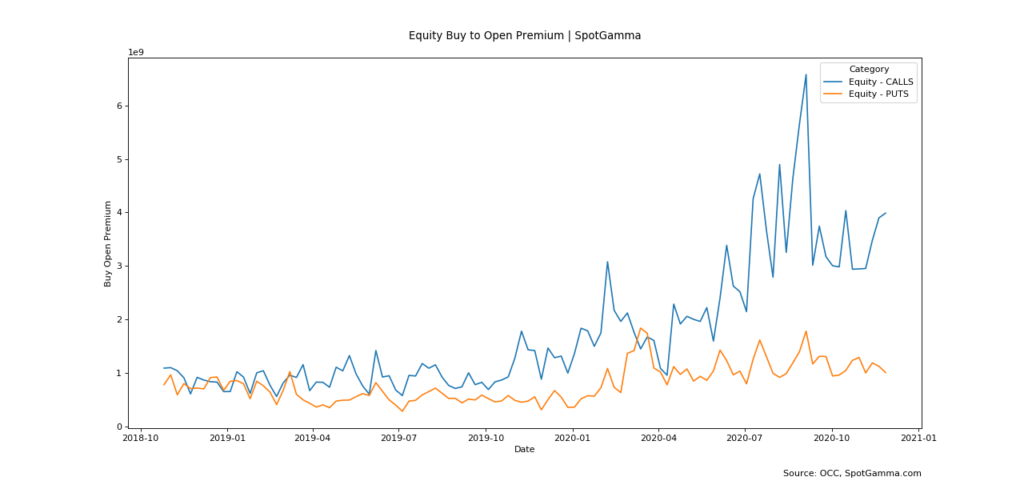 For today we note 3600 as key support, with 3643 resistance. We're watching closely to see if single stock call buyers step up with the holiday behind us.  It feels a bit like things have stalled here,  but bulls are given the benefit of the doubt as long as SPX > 3600.
Macro Note:
3500-3700 range into DEC OPEX.
SIGNAL NAME
LATEST DATA
PREVIOUS
SPY
NDX
QQQ
Ref Price:
3613
3637
361
12226
299
VIX Ref:
14
20.84
SG Gamma Index™:
0.91
0.95
0.27
0.01
0.02
Gamma Notional(MM):
$291.00
$519.00
$1,138.00
$2.00
$135.00
SGI Imp. 1 Day Move:
0.87%,
31.0 pts
Range: 3581.0 | 3644.0
SGI Imp. 5 Day Move:
3613
2.44%
Range: 3526.0 | 3702.0
Zero Gamma Level(ES Px):
3551
3547
—
0
Vol Trigger™(ES Px):
3470
3470
356
11750
294
SG Abs. Gamma Strike:
3600
3600
370
12000
300
Put Wall Support:
3300
3300
355
11000
265
Call Wall Strike:
3700
3700
370
12000
300
CP Gam Tilt:
1.48
1.45
1.47
1.18
1.18
Delta Neutral Px:
3360
Net Delta(MM):
$13,317.00
$13,373.00
$2,047.00
$391.00
$639.00
25D Risk Reversal
-0.06
-0.07
-0.06
-0.05
-0.06
Top Absolute Gamma Strikes:
SPX: [3650, 3600, 3550, 3500]
SPY: [370, 363, 360, 350]
QQQ: [300, 295, 290, 280]
NDX:[12000, 11600, 11000, 10900]
SPX Combo: [3694.0, 3592.0, 3643.0, 3698.0, 3669.0]
NDX Combo: [12399.0, 12192.0, 12083.0]
SPX resistance is: 3700. Support is: 3600 .Reference 'Intraday Support' levels for support areas.
The total gamma has moved DOWN: $290.79MM from: $518.00MM
Gamma is tilted towards Puts, may indicate puts are expensive
Positive gamma is moderate which should lead to smaller market moves. Average Range on day is 1.5%