Futures have bounced higher to 3685 as we enter what should be a busy week. Gamma levels remain fairly large at ~$1.2bn S&P notional. This should increase, and provide "buoyancy", if markets pull closer to our 3700 Call Wall resistance point. 3650 remains key support.
Historically OPEX week tends to favor tight ranges near large OI strikes, and we therefore anticipate 3700 playing as the main level into 12/18. We'd then look for an "unpinning" the week of 12/21, into year end.
That being said there are a slew of catalysts this week:
FOMC: 12/15-16
VIX Expiration: 12/16
Quad Witching OPEX: 12/18
TSLA Index add: 12/18
While call buying in equities held a torrent pace, it was ETF's that caught our eye. Note the chart below which depicts the notional amount of options buying premium. It appears that SPY was the culprit as you can see on this table. This was likely a response off of the late week market drawdown, however this buying did not appear to materially effect our options metrics.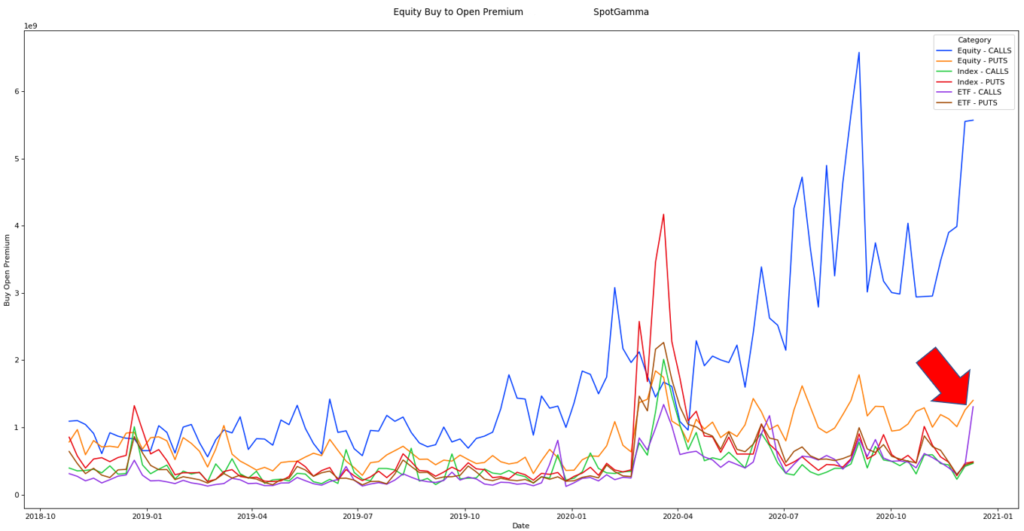 Finally, we've seen this chart passed around which is rather amazing. Unfortunately we don't have the original source, but it syncs with this Robinhood article depicting the "gamification" of retail trading (as sent in our weekly roundup).
While we are not sure how much longer retail trading can continue this exponential growth, we are sure that the next market drawdown will be particularly painful for main street.
Macro Note:
3650 critical support, 3700 top into 12/18 OPEX.
SIGNAL NAME
LATEST DATA
PREVIOUS
SPY
NDX
QQQ
Ref Price:
3669
3661
366
12392
301
VIX Ref:
14
23.31
SG Gamma Index™:
0.67
0.65
0.11
0.00
-0.01
Gamma Notional(MM):
$337.00
$172.00
$959.00
$0.00
$-30.00
SGI Imp. 1 Day Move:
.89%,
33.0 pts
Range: 3632.0 | 3706.0
SGI Imp. 5 Day Move:
3669
2.24%
Range: 3587.0 | 3752.0
Zero Gamma Level(ES Px):
3605
3625
—
0
Vol Trigger™(ES Px):
3645
3645
362
11975
299
SG Abs. Gamma Strike:
3650
3650
370
12000
300
Put Wall Support:
3300
3645
360
10900
280
Call Wall Strike:
3700
3700
370
12000
310
CP Gam Tilt:
1.25
1.1
1.32
1.03
0.97
Delta Neutral Px:
3437
Net Delta(MM):
$14,778.00
$14,755.00
$2,223.00
$471.00
$732.00
25D Risk Reversal
-0.07
-0.08
-0.08
-0.07
-0.08
Top Absolute Gamma Strikes:
SPX: [3700, 3650, 3625, 3600]
SPY: [370, 365, 360, 350]
QQQ: [310, 305, 300, 290]
NDX:[12600, 12500, 12000, 10900]
SPX Combo: [3706.0, 3732.0, 3710.0, 3681.0, 3655.0]
NDX Combo: [12321.0]
The PutWall has moved to: 3300 from: 3645
SPX resistance is: 3700. Support is: 3650 .Reference 'Intraday Support' levels for support areas.
The total gamma has moved has moved UP: $336.00MM from: $171.00MM
Gamma is tilted towards Puts, may indicate puts are expensive
Positive gamma is moderate which should lead to smaller market moves. Average Range on day is 1.5%