ES is at 3665 with futures at the highs of the overnight session.  After yesterdays trading we are essentially left with one large positive gamma strike at 3700, then a "void" of sorts down to 3650. The most interesting open interest changes were the addition of ~40k 3400 strike calls, and ~50k 400 strike SPY. From an OI perspective that now makes 3400 the largest strike >3700.
The Gamma & Delta Tilt metrics have seen fairly sharp reversals, which indicates some deterioration of he options structure. Said another way, we see options support crumbling. This obviously doesn't mean the market should sell off, but it does suggest its "easier" for it to sell off. Recall that its under 3650 wherein we think dealers actually add to selling.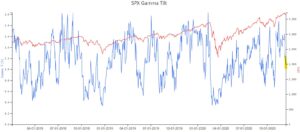 You can see in the chart below how large the 12/18 expiration is for SPX, we'd add that for single stocks about 45% of equities have their largest gamma concentration on 12/18, and about 25% have their largest delta concentration.  It does seem like is a pickup in the Jan expiration for single stocks but may also reflect a  a reduced "retail" interest as they tend to flood the nearest Friday expiration.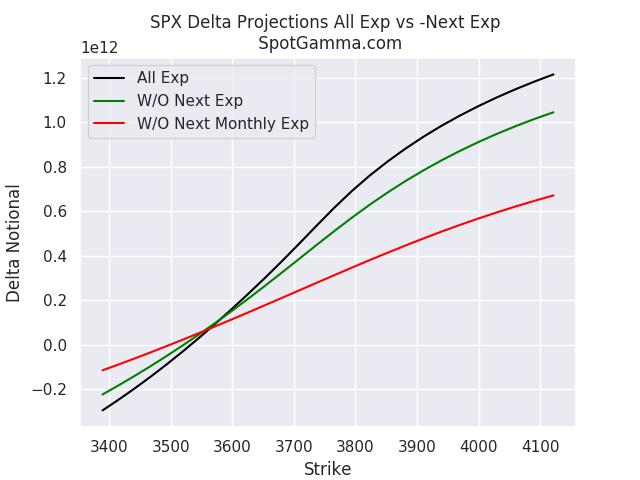 Macro Note:
3650 critical support, 3700 top into 12/18 OPEX.
SIGNAL NAME
LATEST DATA
PREVIOUS
SPY
NDX
QQQ
Ref Price:
3645
3643
364
12465
304
VIX Ref:
24.72
24.72
SG Gamma Index™:
0.28
0.66
0.11
0.01
0.00
Gamma Notional(MM):
$44.00
$100.00
$704.00
$2.00
$47.00
SGI Imp. 1 Day Move:
0.89%,
32.0 pts
Range: 3628.0 | 3692.0
SGI Imp. 5 Day Move:
3669
2.24%
Range: 3587.0 | 3752.0
Zero Gamma Level(ES Px):
3636
3607
—
0
Vol Trigger™(ES Px):
3645
3645
362
11975
299
SG Abs. Gamma Strike:
3650
3650
360
12000
300
Put Wall Support:
3500
3300
360
11500
280
Call Wall Strike:
3700
3700
370
12000
310
CP Gam Tilt:
1.09
1.06
1.23
1.14
1.05
Delta Neutral Px:
3441
Net Delta(MM):
$14,919.00
$14,672.00
$2,204.00
$486.00
$756.00
25D Risk Reversal
-0.07
-0.07
-0.1
-0.08
-0.08
Top Absolute Gamma Strikes:
SPX: [3700, 3675, 3650, 3600]
SPY: [370, 365, 360, 350]
QQQ: [310, 305, 300, 290]
NDX:[12600, 12500, 12200, 12000]
SPX Combo: [3696.0, 3674.0, 3649.0, 3707.0]
NDX Combo: []
The PutWall has moved to: 3500 from: 3300
SPX is below the Volatility Trigger™. The 3636.0 level is first level of resistance and is critical as its the negative gamma threshold.
The trigger level of: 3645 will act as overhead resistance.
Watching VIX is key, if volatility comes in dealers will start to buy back shares as their short puts lose value. This could start a rally.
The total gamma has moved DOWN: $43.66MM from: $100.00MM
Gamma is tilted towards Puts, may indicate puts are expensive
Positive gamma is moderate which should lead to smaller market moves. Average Range on day is 1.5%