Wide swings in futures overnight as they tested the 3650 level before catching a bid back to the large gamma area of 3700. Options data was little changed with 3650-3700 remaining the "neutral zone", which is really the effective SPX range extending back to early December.  Under 3650 is where gamma likely flips to negative which indicates high risk. 3700 SPX remains heavy resistance.
If you're looking for action, then view the ARKK ETF's. You can see here the large inflows into this product As the author points out this inflow was on the same day that SPX/SPY/QQQ had "Christmas quiet" volumes.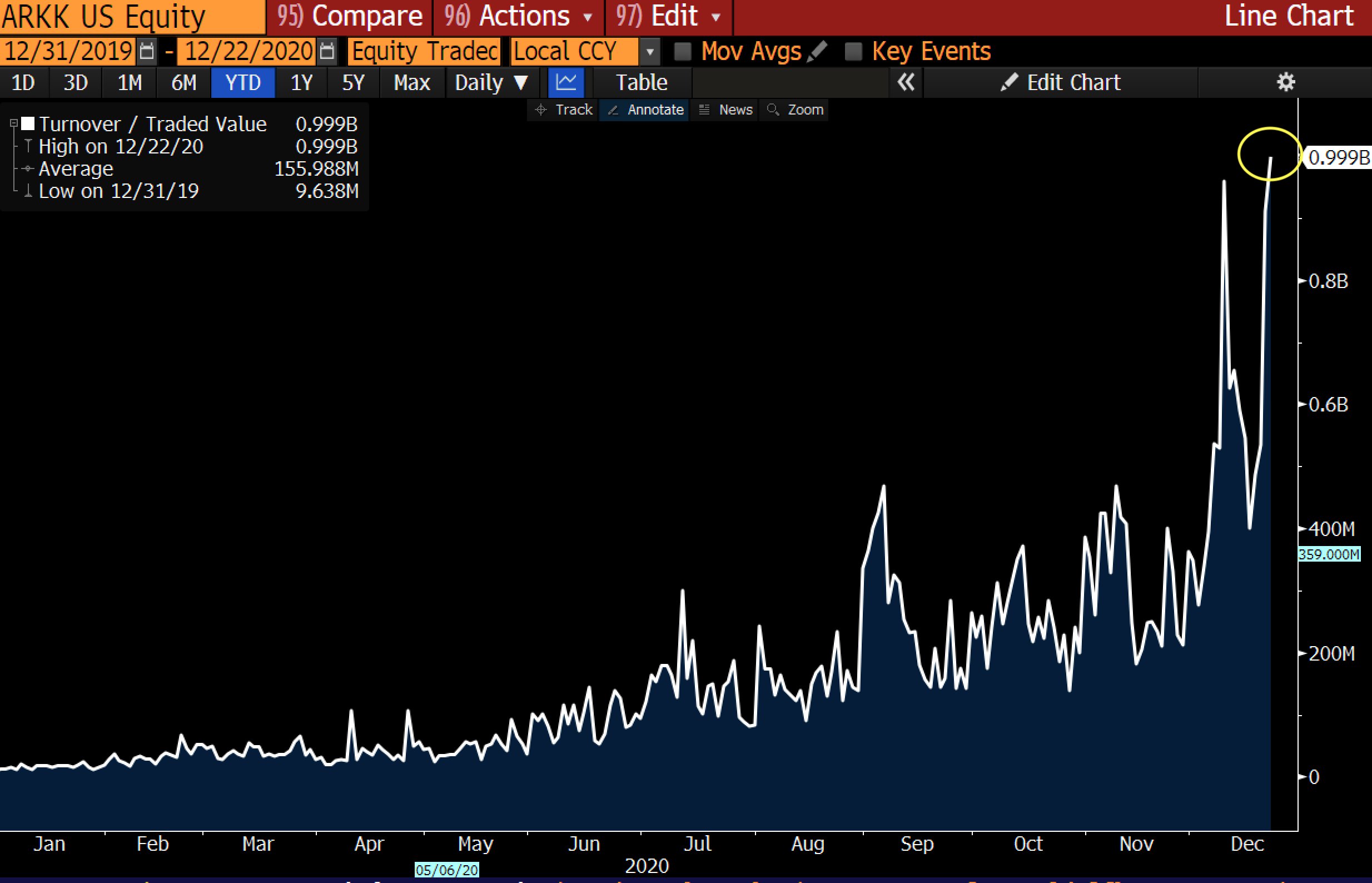 This seems to signal "risk on" activity,  but this behavior is selective. We continue to believe that a more broad based rally doesn't manifest until the VIX breaks lower. Realized volatility appears to be breaking higher as you can see below, which we think removes some pressure on implied volatility to decline. Coupled with the upcoming GA elections, we suspect the window for a lower VIX has phased out.
Our "risk on" metric is mainly based on a shift higher in the Call Wall to 3750, but we'd have much more confidence in a potential rally if the VIX could push break the 20 floor.
Macro Note:
Jan range TBD.
SIGNAL NAME
LATEST DATA
PREVIOUS
SPY
NDX
QQQ
Ref Price:
3672
3676
366
12703
309
VIX Ref:
24.23
24.23
SG Gamma Index™:
0.22
0.60
0.01
0.01
0.00
Gamma Notional(MM):
$54.00
$114.00
$19.00
$2.00
$-1.00
SGI Imp. 1 Day Move:
0.88%,
32.0 pts
Range: 3640.0 | 3704.0
SGI Imp. 5 Day Move:
3647
2.05%
Range: 3573.0 | 3722.0
Zero Gamma Level(ES Px):
3663
3640
—
0
Vol Trigger™(ES Px):
3695
3645
367
12275
307
SG Abs. Gamma Strike:
3700
3700
370
12800
310
Put Wall Support:
3500
3500
360
11500
290
Call Wall Strike:
3750
3700
370
12725
315
CP Gam Tilt:
1.1
1.11
1.01
1.3
1.0
Delta Neutral Px:
3546
Net Delta(MM):
$935,034.00
$943,382.00
$141,359.00
$27,953.00
$57,563.00
25D Risk Reversal
-0.09
-0.09
-0.08
-0.09
-0.08
Top Absolute Gamma Strikes:
SPX: [3700, 3675, 3650, 3600]
SPY: [380, 370, 365, 360]
QQQ: [320, 315, 310, 300]
NDX:[13000, 12800, 12725, 11500]
SPX Combo: [3737.0, 3686.0, 3711.0, 3700.0, 3641.0]
NDX Combo: [12932.0, 12843.0, 12729.0]
The Volatility Trigger has moved UP: 3695 from: 3645
The Call Wall has moved to: 3750 from: 3700
SPX is below the Volatility Trigger™. The 3663.0 level is first level of resistance and is critical as its the negative gamma threshold.
The trigger level of: 3695 will act as overhead resistance.
Watching VIX is key, if volatility comes in dealers will start to buy back shares as their short puts lose value. This could start a rally.
The total gamma has moved DOWN: $54.18MM from: $114.00MM
Gamma is tilted towards Puts, may indicate puts are expensive
Positive gamma is moderate which should lead to smaller market moves. Average Range on day is 1.5%