Futures have recovered from Friday lows to 3790. We had given edge to a lower market due to OPEX but 2AM and EU opening brought dip buyers. The window for volatility remains open into tomorrow due to the large reduction in options positions. Despite a really large change in position for single stocks (charted at bottom) and SPX, we see 3800 remaining as the dominant strike as seen here: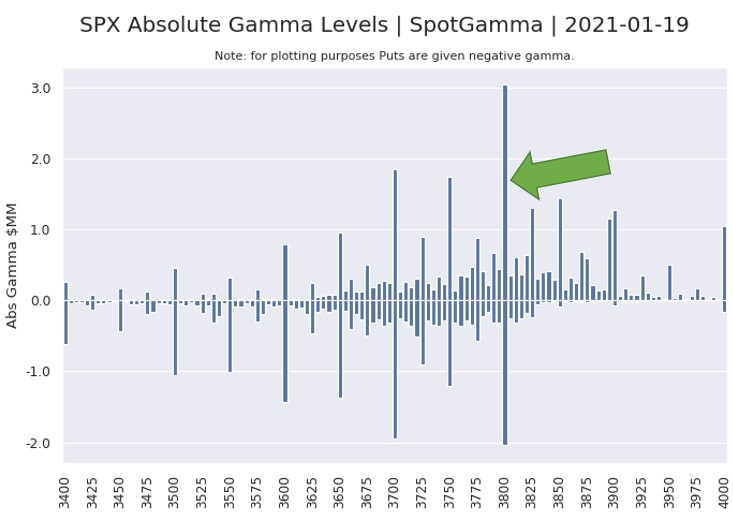 Note that the Call Wall for both SPX/SPY is at 3850/385. It appears that many of the 3750-3800 put positions have cleared out post-OPEX, leaving the critical risk line down at 3750 (vs 3775 Friday).
We will be watching VIX closely today with VIX expiration in the AM and the inauguration tomorrow at 12EST. We again think that there is a bit of an "event risk" premium to implied volatility due to the inauguration, and so a smooth inauguration may zap IV and bring a tail wind to stocks. If VIX does trend lower then we look for markets to shift to the 3850 Call Wall area.
We posted this chart of single stocks position change last night, and its quite a startling change. The question now is do call buyers step back in and "inflate" stocks further?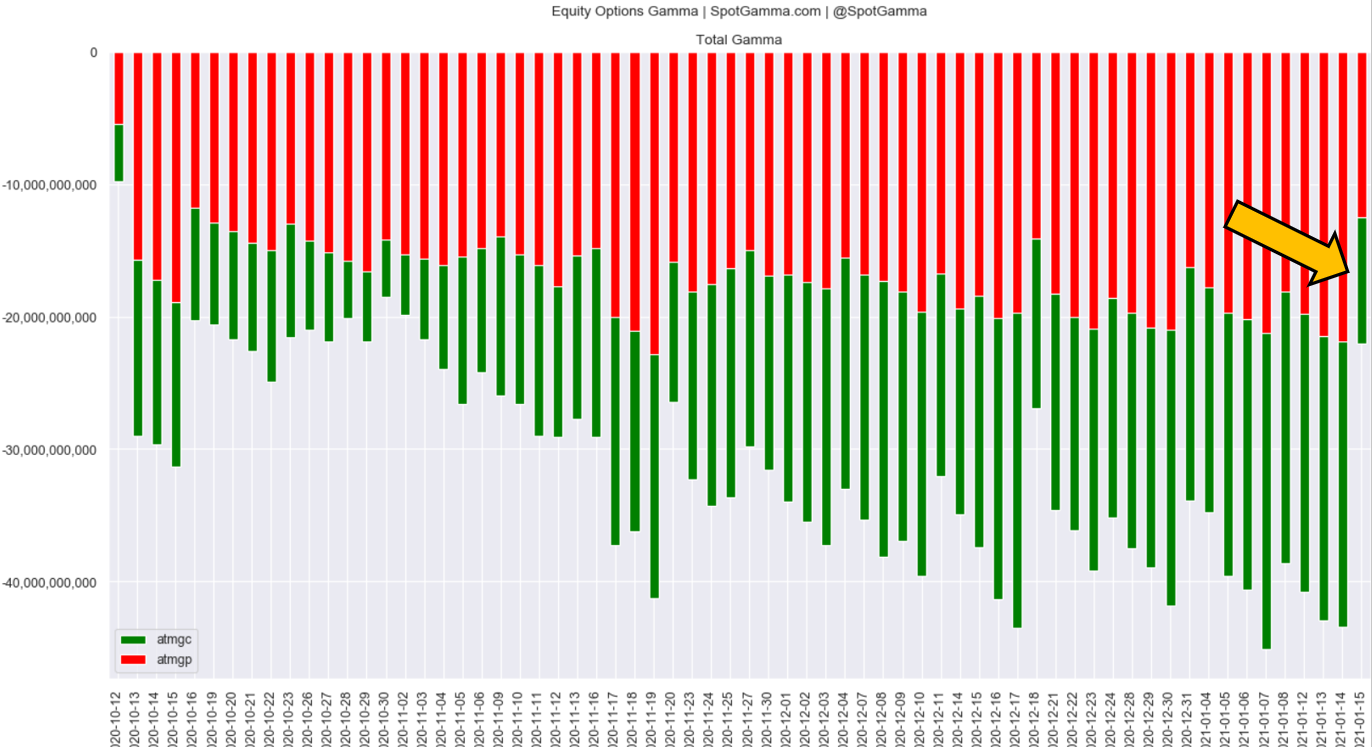 Call buyers showed no sign of pulling back last week, and may be further bolstered by "recency bias" (stocks only go up) and the anticipation of more stimulus. The chasm between equity call buying (blue line) and Index, ETF's and any type of put is startling.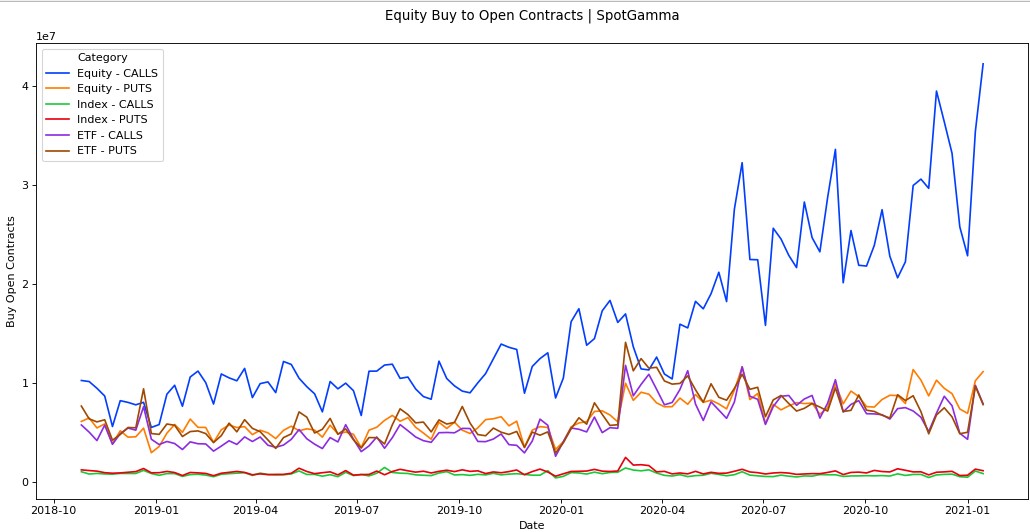 Macro Note:
New range set next week post Jan OPEX.
Signal Name
Latest Data
Previous
SPY
NDX
QQQ
Ref Price:
3791
3765
379
12929
311
VIX Ref:
22.69
14
SG Gamma Index™:
0.29
0.28
-0.04
0.01
-0.06
Gamma Notional(MM):
$176
$20
$397
$2
$-394
SGI Imp. 1 Day Move:
0.93%,
35.0 pts
Range: 3756.0 | 3826.0
SGI Imp. 5 Day Move:
3755
1.8%
Range: 3687.0 | 3823.0
Zero Gamma Level(ES Px):
3754
3755
—
0
Vol Trigger™(ES Px):
3745
3745
376
12575
311
SG Abs. Gamma Strike:
3800
3800
380
12800
315
Put Wall Support:
3550
3550
370
10500
300
Call Wall Strike:
3850
3850
385
12825
325
CP Gam Tilt:
1.14
1.02
1.17
1.28
0.63
Delta Neutral Px:
3661
Net Delta(MM):
$919,117
$912,633
$153,579
$29,850
$59,085
25D Risk Reversal
-0.09
-0.09
-0.1
-0.1
-0.1
Top Absolute Gamma Strikes:
SPX: [3800, 3750, 3700, 3650]
SPY: [385, 380, 375, 370]
QQQ: [320, 315, 310, 300]
NDX:[12825, 12800, 12600, 12500]
SPX Combo: [3871.0, 3845.0, 3818.0, 3894.0, 3890.0]
NDX Combo: [12763.0]
SPX resistance is: 3800 .Reference 'Intraday Support' levels for support areas.
The total gamma has moved has moved UP: $176MM from: $19.00MM
Gamma is tilted towards Puts, may indicate puts are expensive
Positive gamma is moderate which should lead to smaller market moves. Average Range on day is 1.5%