Futures have held 3800 overnight after a quiet session. Data from yesterday show a small build in call positions, with 3800 still holding as the large "base".  Gamma notional levels remain quite light across all indicies, with 3775 reforming as the critical risk level, and 3850 the upside target. The SG index implies a 1.18% move today due to that light gamma level.
As noted several times in recent days we are anticipating a reduction in volatility as the inauguration passes, which could provide a tailwind for equities and a push to the Call Wall 3850 area.
The call building in SPY is interesting as we see quite a build up at the 385 strike as seen here. There was a small tick up in 3900 strike SPX volume, too. We note little put interest for traders yesterday.
There is an interesting perspective of SPX offered by our EquityHub charts below. EquityHub uses a different model in that is assumes dealers are net short both calls and puts (vs SPX where dealers are long calls and short puts).  This depiction seems to frame the current SPX setup rather nicely.
The large green area tops out around 3850 (right yellow arrow) which indicates the pull of that call zone. Conversely to the left side there is a peak in the red area which indicates where the put induced selling could pick up – 3735 (left yellow arrow). The 3860 "Pivot" line is where this model picks up the transition line wherein a name shifts from being controlled by call gamma (green) to put gamma (red).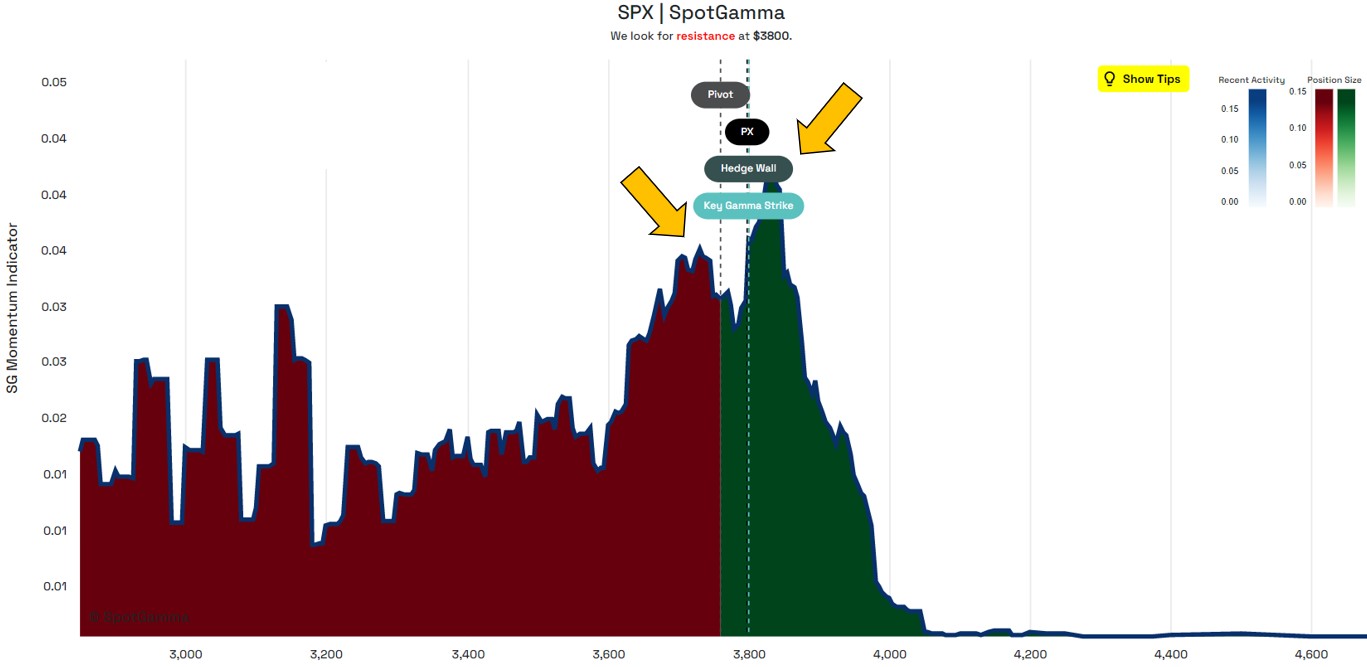 Therefore we have this natural pull up to 3850 now due to calls being added overhead, plus the anticipated volatility decline. The high risk level for SPX appears on a break of 3775 due to gamma flipping.
Macro Note:
Feb Range 3750-3850
Signal Name
Latest Data
Previous
SPY
NDX
QQQ
Ref Price:
3803
3794
380
13085
316
VIX Ref:
22.37
23.24
SG Gamma Index™:
0.37
0.29
0.03
0.01
-0.04
Gamma Notional(MM):
$148
$189
$451
$2
$-269
SGI Imp. 1 Day Move:
1.18%,
44.0 pts
Range: 3759.0 | 3847.0
SGI Imp. 5 Day Move:
3755
1.8%
Range: 3687.0 | 3823.0
Zero Gamma Level(ES Px):
3765
3756
—
0
Vol Trigger™(ES Px):
3790
3745
378
12575
314
SG Abs. Gamma Strike:
3800
3800
380
12800
315
Put Wall Support:
3600
3550
370
11500
300
Call Wall Strike:
3850
3850
385
12825
323
CP Gam Tilt:
1.18
1.18
1.19
1.33
0.74
Delta Neutral Px:
3644
Net Delta(MM):
$995,547
$919,662
$156,177
$31,037
$58,386
25D Risk Reversal
-0.08
-0.09
-0.08
-0.08
-0.08
Top Absolute Gamma Strikes:
SPX: [3825, 3800, 3750, 3700]
SPY: [385, 380, 378, 375]
QQQ: [320, 315, 310, 300]
NDX:[12825, 12800, 12600, 12500]
SPX Combo: [3853.0, 3906.0, 3830.0, 3868.0, 3899.0]
NDX Combo: [13359.0, 13437.0, 13228.0, 12822.0, 12730.0]
The Volatility Trigger has moved UP: 3790 from: 3745
The PutWall has moved to: 3600 from: 3550
SPX resistance is: 3850. Support is: 3800 .Reference 'Intraday Support' levels for support areas.
The total gamma has moved DOWN: $148MM from: $188.00MM
Gamma is tilted towards Puts, may indicate puts are expensive
Positive gamma is moderate which should lead to smaller market moves. Average Range on day is 1.5%