Futures are lower and currently testing the large 3800 gamma strike. Our critical risk lines jumped to 3820 overnight which is a function of put contracts added to the 3800 and 3850 strikes. Therefore 3800 is the critical "risk off" line in the sand. That being said we would be surprised to markets break materially below 3800 until the 2pm FOMC event today.
Below is our composite S&P 500 gamma snapshot. You can see that under 3838 there is little in positive gamma with light negative gamma strikes positioned below. The 3700 is where most put positions sit and we think there is something of an "air pocket" down into that area. The increased risk of course is that any new put positions foists short selling onto dealers for delta hedging purposes.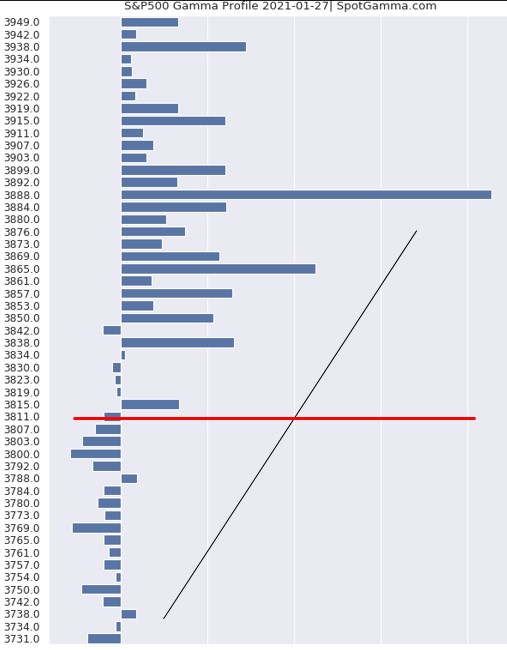 All that said, much tied to this Fed meeting is the volatility lever. Depending on how markets digest "Fed speak" there is room for either a quick recovery back to the 3875 area, or we break the zero gamma level and implied volatility expands. This event invokes "vanna" as implied volatility rises(falls) dealers have to short(buy) futures. This should be an interesting day.
---
We sent out a fairly extensive note detailing our concerns for the markets yesterday which summarizes much of what we've been discussing in our member notes. You can read that here.
Macro Note:
Feb Range 3750-3850
Signal Name
Latest Data
Previous
SPY
NDX
QQQ
Ref Price:
3839
3851
383
13560
328
VIX Ref:
23.02
23.02
SG Gamma Index™:
0.57
0.86
0.02
0.02
-0.01
Gamma Notional(MM):
$51
$255
$151
$3
$-95
SGI Imp. 1 Day Move:
0.92%,
35.0 pts
Range: 3804.0 | 3874.0
SGI Imp. 5 Day Move:
3849
2.0%
Range: 3773.0 | 3927.0
Zero Gamma Level(ES Px):
3829
3784
—
0
Vol Trigger™(ES Px):
3820
3785
384
12675
326
SG Abs. Gamma Strike:
3800
3800
385
12800
320
Put Wall Support:
3500
3550
380
11500
300
Call Wall Strike:
3900
3900
385
12825
330
CP Gam Tilt:
1.26
1.24
1.05
1.43
0.89
Delta Neutral Px:
3651
Net Delta(MM):
$1,093,493
$1,073,797
$171,320
$36,894
$66,373
25D Risk Reversal
-0.08
-0.09
-0.07
-0.04
-0.04
Top Absolute Gamma Strikes:
SPX: [3900, 3850, 3800, 3700]
SPY: [390, 385, 383, 380]
QQQ: [330, 325, 320, 315]
NDX:[13500, 12825, 12800, 12600]
SPX Combo: [3888.0, 3865.0, 3938.0, 3838.0, 3857.0]
NDX Combo: [13615.0, 13832.0, 13914.0]
The Volatility Trigger has moved UP: 3820 from: 3785
The PutWall has moved to: 3500 from: 3550
SPX resistance is: 3900. Support is: 3800 .Reference 'Intraday Support' levels for support areas.
The total gamma has moved DOWN: $51MM from: $255.00MM
Gamma is tilted towards Puts, may indicate puts are expensive
Positive gamma is moderate which should lead to smaller market moves. Average Range on day is 1.5%