Futures are holding 4180 ahead of todays FOMC. 4150 support and 4200 resistance are the two large strikes on the board, with an SG implied move of 1%.  While we are up against the Call Wall (4200) positive gamma has remained fairly light and you can see from the risk reversal reading that calls are moderately priced. This all suggests that while markets are at all time highs traders aren't heavily weighted to calls.
Obviously much of what happens in the days ahead will be determined by the FOMC,  but we read the current options data as the market well positioned for a push higher. It appears that ~10% of S&P gamma expires at todays close, and so its possible that several of the levels shift into tomorrow. Key to this will be in if the Call Wall shifts to 4250 which expands the top of our range.
If the FOMC severely disappoints, the downside line of 4100 remains critical support. As mentioned yesterday there are fairly sizable positions between 4180 and 4100 which should slow down any selling, but its under 4100 wherein a void exists down to 4000.
While the S&P has a neutral vanna setup, both QQQ and IWM have a "skew" to their models which (along with being flat gamma)  implies a dealer tailwind on rallies, but dealers shorting on weakness. So we again look for high volatility in those indices.  A fairly large 20% of QQQ gamma is set to expire Friday, which could add to tech volatility.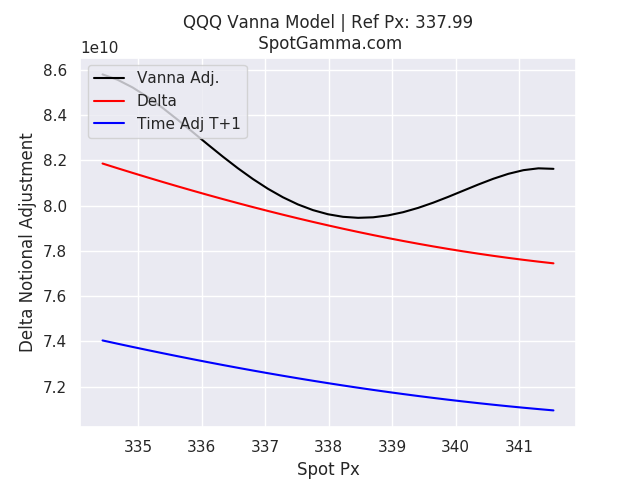 Model Overview:
4000 – 4200 range into May OPEX. Gamma is currently moderate, and we see fairly low volatility unless markets break the 4100 level.
Signal Name
Latest Data
Previous
SPY
NDX
QQQ
Ref Price:
4183
4178
417
13955
340
VIX Ref:
17.56
17.56
SG Gamma Index™:
1.17
1.17
0.05
0.02
-0.03
Gamma Notional(MM):
$361
$334
$219
$3
$-172
SGI Imp. 1 Day Move:
1.0%,
42.0 pts
Range: 4141.0 | 4225.0
SGI Imp. 5 Day Move:
4168
1.83%
Range: 4092.0 | 4245.0
Zero Gamma Level(ES Px):
4142
4106
—
0
Vol Trigger™(ES Px):
4095
4095
414
13700
339
SG Abs. Gamma Strike:
4150
4150
415
12850
330
Put Wall Support:
3900
3900
410
13375
335
Call Wall Strike:
4200
4200
420
14025
345
CP Gam Tilt:
1.45
1.26
1.06
1.3
0.87
Delta Neutral Px:
3949
Net Delta(MM):
$1,331,630
$1,317,362
$193,114
$40,173
$74,672
25D Risk Reversal
-0.07
-0.07
-0.06
-0.07
-0.07
Top Absolute Gamma Strikes:
SPX: [4200, 4175, 4150, 4000]
SPY: [420, 418, 417, 415]
QQQ: [340, 335, 330, 325]
NDX:[14025, 14000, 13750, 12850]
SPX Combo: [4197.0, 4247.0, 4209.0, 4222.0, 4297.0]
NDX Combo: [14028.0, 14154.0, 14363.0, 13958.0, 14280.0]
SPX resistance is: 4200. Support is: 4150 .Reference 'Intraday Support' levels for support areas.
The total gamma has moved has moved UP: $360MM from: $334.00MM
Gamma is tilted towards Puts, may indicate puts are expensive
Positive gamma is moderate which should lead to smaller market moves. Average Range on day is 1.5%