Futures have popped to new highs at 4205. The Call Wall did not shift higher for the SPX, but did bump to 422 for the SPY.  If we combine all of the S&P gamma, this gives us a "blended" Call Wall of 4216. You can see this total S&P gamma in the chart below, note the bulk of positive gamma strikes sit in the 4216-4240 area. We'd consider this area "fair value" from an options perspective. The Vol Trigger line also pushed higher to 4170 which is now considered critical support.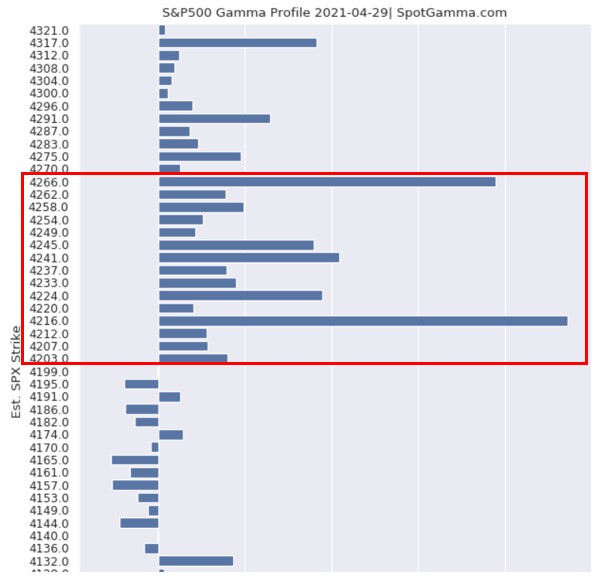 Overall gamma did not move higher suggesting there was not much call activity yesterday (in any index).  QQQ & IWM both start in a negative gamma position which as noted yesterday imply dealers will be trading along with the market, pushing in the prevailing direction and expanding volatility (in QQQ/IWM).
We still track ~20% of S&P gamma and ~30% of QQQ gamma expiring Friday. These are large amounts. Everything we're seeing seems to point to a fairly volatile period over the next several days, particularly to start next week. This volatility does not have to necessarily manifest in lower markets, it could also indicate a breakout to the upside. We are currently giving the "upside" an edge due to the negative gamma position in QQQ/IWM. Large amounts of puts expiring could lead to a vanna/charm induced dealer buyback.
Model Overview:
4000 – 4200 range into May OPEX. Gamma is currently moderate, and we see fairly low S&P volatility unless markets break the 4170 level.
SpotGamma Proprietary Levels
Latest Data
Previous
SPY
NDX
QQQ
Ref Price:
4199
4184
417
14004
339
SGI Imp. 1 Day Move:
1.1%,
46.0 pts
Range: 4153.0 | 4245.0
SGI Imp. 5 Day Move:
4168
1.83%
Range: 4092.0 | 4245.0
SG Gamma Index™:
0.83
1.17
0.04
0.03
-0.07
Vol Trigger™(ES Px):
4170
4095
414
13475
339
SG Abs. Gamma Strike:
4150
4150
415
14025
330
Gamma Notional(MM):
$409
$368
$72
$2
$-403
Additional Key Levels
Latest Data
Previous
SPY
NDX
QQQ
Zero Gamma Level(ES Px):
4157
4143
—
0
Put Wall Support:
3900
3900
410
13375
335
Call Wall Strike:
4200
4200
422
14025
345
CP Gam Tilt:
1.3
1.27
1.02
1.27
0.74
Delta Neutral Px:
3963
Net Delta(MM):
$1,333,554
$1,331,869
$189,616
$41,156
$74,267
25D Risk Reversal
-0.06
-0.07
-0.06
-0.05
-0.06
Top Absolute Gamma Strikes:
SPX: [4200, 4175, 4150, 4000]
SPY: [420, 418, 417, 415]
QQQ: [340, 338, 335, 330]
NDX:[14025, 14000, 13750, 12850]
SPX Combo: [4216.0, 4266.0, 4241.0, 4224.0, 4317.0]
NDX Combo: [14125.0, 13831.0, 13621.0, 14251.0, 13915.0]