A strong rally in futures overnight to 4385, indicating the SPX will open near our main resistance area of 4400.  We do not see another major level above that until 4450, with first support at 4375.
440SPY/4400SPX (this is the 4400-4410 SPX range) is the dominant strike today and we anticipate the market treating that as a pin/resistance area. In the chart below you can see how large 440SPY is relative to the other strikes. Also take note of how much of the gamma is set to expire tomorrow (light grey).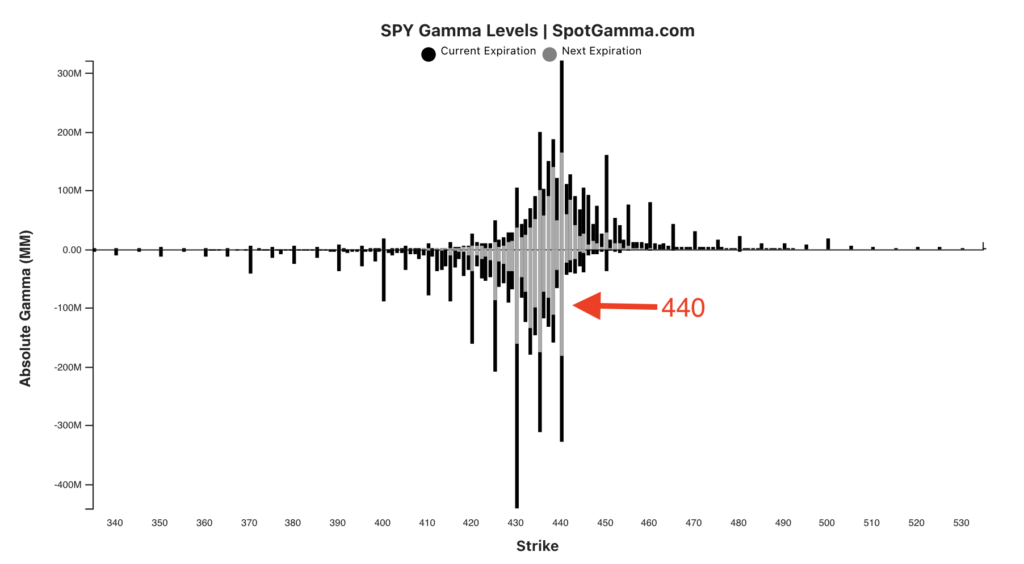 As we noted in last nights commentary the market seemed to tip its hand to a rally. Into yesterdays close we saw implied volatility (ie VIX) drop sharply and the put-laden QQQ outperform SPX handily (+75bps vs +30bps). With this move a lot of puts were "burned up", meaning their values have now declined dramatically. We think this implies that dealers could buy back a lot of short hedges, indicating this was a vanna/charm type rally back into major resistance. Said another way: we see this as a short cover rally, and the market is unstable.
This does not mean that the market has to decline sharply next week but we do believe that this move higher + OPEX removes substantial put support.
Model Overview:
Large negative gamma position forecasts large, volatility swings. This should continue until/unless the S&P recovers 4400.
SpotGamma Proprietary Levels
Latest Data
Previous
SPY
NDX
QQQ
Ref Price:
4383
4385
438
14849
360
SpotGamma Imp. 1 Day Move:
1.54%,
67.0 pts
Range: 4316.0 | 4450.0
SpotGamma Imp. 5 Day Move:
2.58%
4368 (Monday Ref Px)
Range: 4256.0 | 4481.0
SpotGamma Gamma Index™:
-0.51
-0.51
-0.22
-0.04
-0.16
Volatility Trigger™:
4375
4375
436
14830
364
SpotGamma Absolute Gamma Strike:
4350
4350
440
15500
360
Gamma Notional(MM):
$-106
$-80
$29
$-2
$-837
Additional Key Levels
Latest Data
Previous
SPY
NDX
QQQ
Zero Gamma Level:
4379
4440
0
0
0
Put Wall Support:
4300
4300
430
14725
350
Call Wall Strike:
4500
4500
450
16000
375
CP Gam Tilt:
0.88
0.96
1.01
0.91
0.58
Delta Neutral Px:
4296
Net Delta(MM):
$1,477,107
$1,477,780
$176,303
$42,987
$84,148
25D Risk Reversal
-0.07
-0.07
-0.07
-0.07
-0.07
Key Support & Resistance Strikes:
SPX: [4450, 4400, 4375, 4350]
SPY: [440, 438, 435, 430]
QQQ: [365, 360, 355, 350]
NDX:[15500, 15000, 14725, 14700]
SPX Combo: [4472.0, 4318.0, 4371.0, 4331.0, 4270.0]
SPY Combo: [446.76, 431.43, 436.69, 432.74, 426.61]
NDX Combo: [14457.0, 14665.0, 14784.0, 14873.0, 14620.0]