Futures have pushed higher to 4393, indicating the S&P500 will open at our near the 4500 Call Wall. We look for a fairly tight trading range today, with a max SG implied move in the S&P of 0.73%. Resistance is at that 4500-4510 range which is the SPX Call Wall (4500) and SPY Call Wall (450SPY/4510 SPX equivalent).  Support is at 4475 and 4451.
Note that we currently calculate the SPY has 2x the gamma notional of the SPX ($968mm vs $492mm), which when combined shows a profile as posted below. You can see how large the gamma bar is at ~4508 which is our blended (SPX+SPY) level. We do not raise the top of our estimated SPX range until/unless the Call Wall moves up (find data on Wall stats here).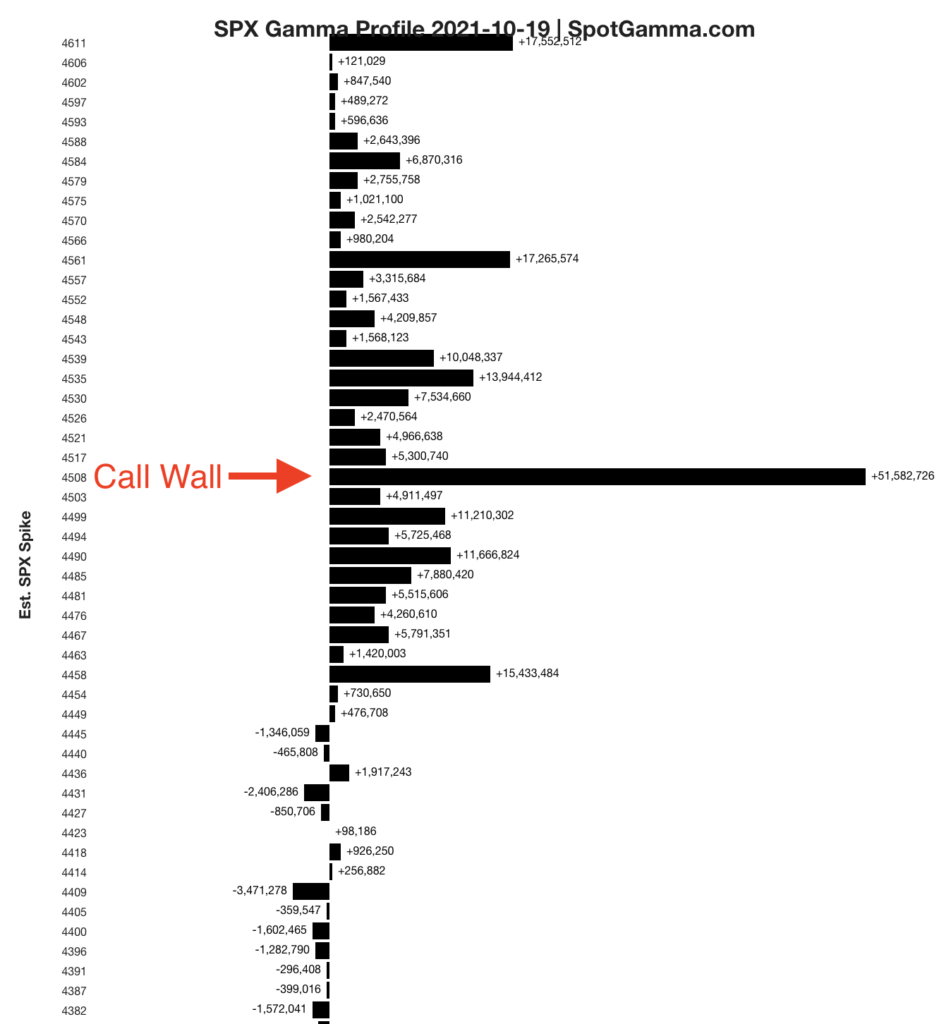 We also note that the Volatility Trigger (our proprietary gamma flip line) has shifted up to 4440. If you reference the gamma profile above, you can see that below ~4460 the gamma distribution shifts sharply to zero. Our Vol Trigger is picking this distribution up, and implies that if we break 4458 we could see a quick test of the 4400 area.
Overall we anticipate the 4500 area being sticky for a few sessions which should function to build gamma around these strikes. This in turn should decrease realized volatility which further supports market prices (through vanna flows/put decay leads to a light SPX bid).
For those looking for more volatility potential (ie movement up or down) you may elect to play the QQQ. We had anticipated a shift in the vanna model today to show resistance, but our update shows the QQQ still holds a tailwind due to is left skew – note the QQQ Call Wall is at $380.
Finally, we are hosting a YouTube Live today at 10:30 ET to discuss the SEC's report on January's GME event. Please join us by clicking here.
Model Overview:
Resistance holds at the 4500 Call Wall level into 11/19 OPEX> This is the top of our range until/unless the Call Wall shifts higher. Support is at 4450.
SpotGamma Proprietary Levels
Latest Data
Previous
SPY
NDX
QQQ
Ref Price:
4484
4474
447
15309
372
SpotGamma Imp. 1 Day Move:
0.73%,
33.0 pts
Range: 4451.0 | 4517.0
SpotGamma Imp. 5 Day Move:
1.66%
4449 (Monday Ref Px)
Range: 4375.0 | 4523.0
SpotGamma Gamma Index™:
1.54
1.45
0.21
0.03
-0.01
Volatility Trigger™:
4440
4420
444
15000
370
SpotGamma Absolute Gamma Strike:
4500
4500
440
15500
370
Gamma Notional(MM):
$492
$511
$968
$4
$-45
Additional Key Levels
Latest Data
Previous
SPY
NDX
QQQ
Zero Gamma Level:
4413
4403
0
0
0
Put Wall Support:
4300
4300
440
14000
350
Call Wall Strike:
4500
4500
450
15125
380
CP Gam Tilt:
1.47
1.33
1.32
1.29
0.97
Delta Neutral Px:
4329
Net Delta(MM):
$1,446,855
$1,456,279
$176,660
$46,520
$81,434
25D Risk Reversal
-0.05
-0.05
-0.06
-0.06
-0.05
Key Support & Resistance Strikes:
SPX: [4500, 4475, 4450, 4400]
SPY: [450, 448, 445, 440]
QQQ: [380, 370, 360, 350]
NDX:[15500, 15125, 15000, 14000]
SPX Combo: [4500.0, 4550.0, 4599.0, 4527.0, 4451.0]
SPY Combo: [448.53, 453.45, 458.37, 451.21, 443.61]
NDX Combo: [15152.0, 15627.0, 15412.0, 15382.0, 14999.0]