Futures are down a few handles to 4508. There was a small gamma build overnight which leads to a smaller estimated S&P500 range on the day of 0.67%. The Call Wall for the SPX & SPY remain at 4500/450. With that we note resistance today at 4515 (SPY equivalent of 450).  Support lies at 4475. VIX expiration is this morning, and we do not consider this expiration a meaningful event.
Below we've posted the gamma profile (calls with positive gamma, puts negative) and you can see how prominent the 450 strike is (the same profile exists for SPX 4500). The concentration of gamma at this strike is why we look for the market to hold this 450/4500 area, and consolidate some of the recent gains (SPX up ~4.5% over last four sessions).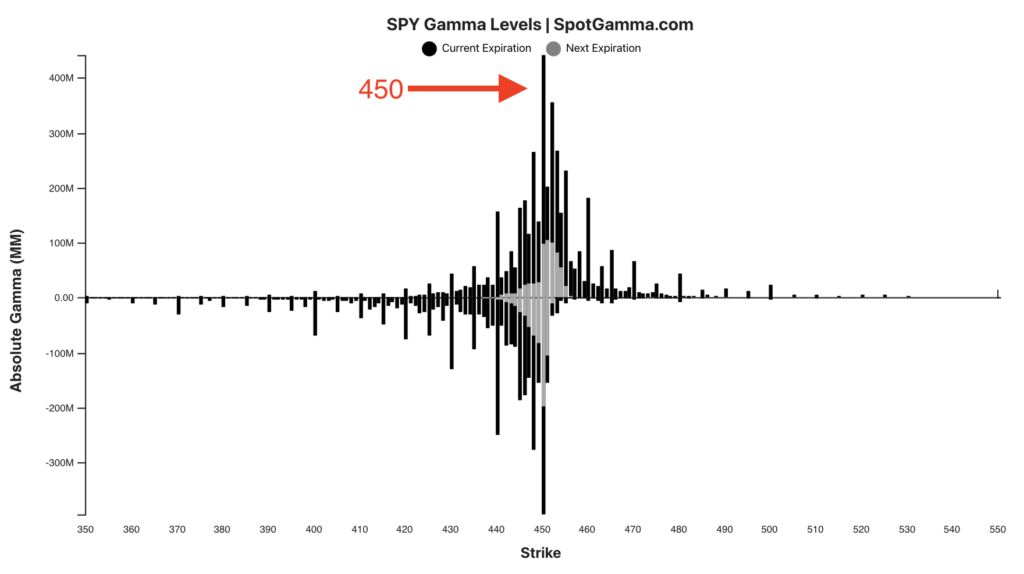 We noted last night that the VIX is approaching the August '21 lows of 15.25, which is the lowest mark since the March '20 crash. We also point out that our risk reversal metric has registered a -.04 which is a level only seen once since that March '20 crash. This is suggesting that traders are favoring calls over puts, and one could argue this indicates an "extreme" sentiment. We don't take this as a signal for a reversal, but more of a need for "cooling off" and, as noted above, consolidation.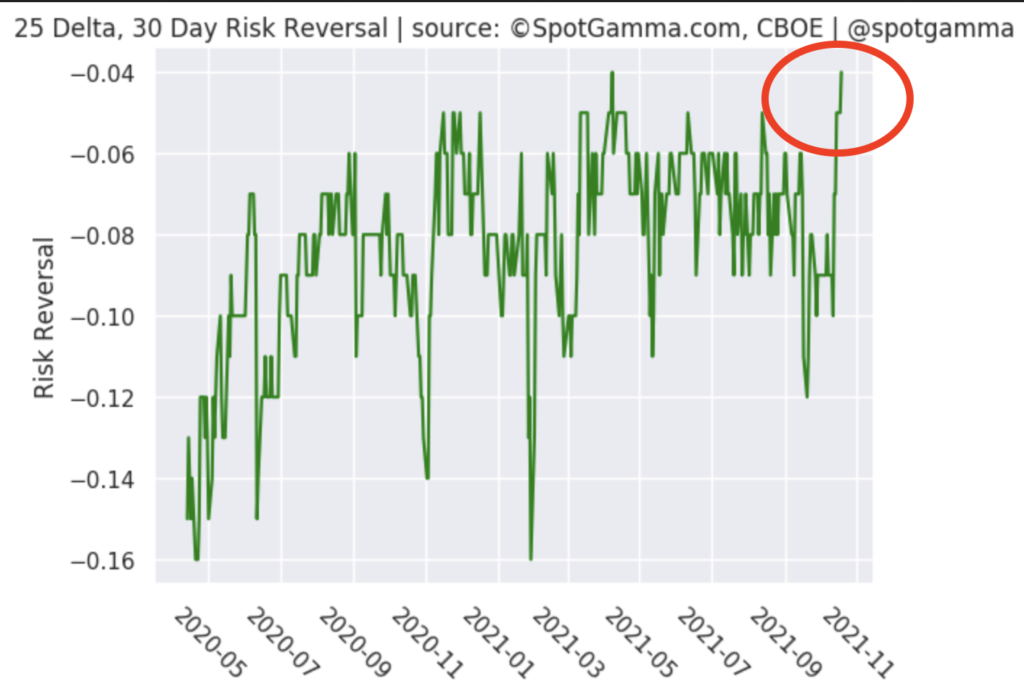 The last signal that syncs with this "consolidation" theme is our vanna model, which shows a heavy right skews. This model measures the estimated options delta exposure of the S&P500. As that delta exposure grows more positive, dealers may need to sell more futures to hedge themselves. Therefore as prices rise up over 4515, dealers have to start selling incrementally more futures which suggests resistance.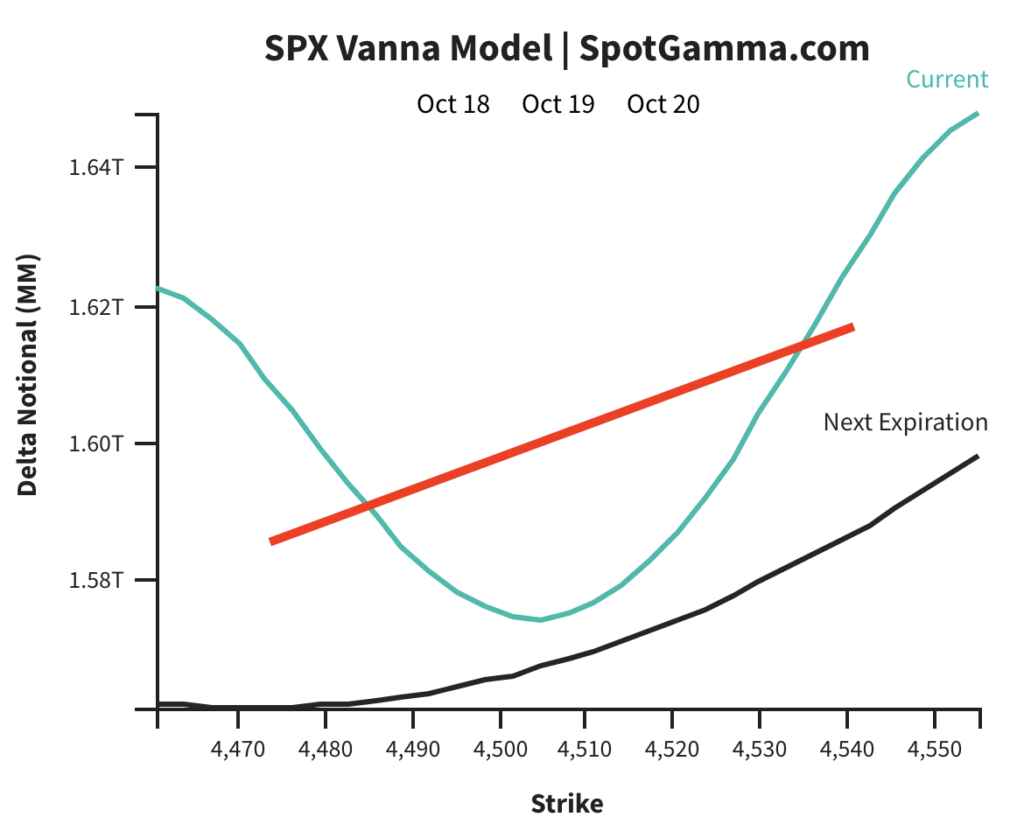 Model Overview:
Large negative gamma position forecasts large, volatility swings. This should continue until/unless the S&P recovers 4400.
SpotGamma Proprietary Levels
Latest Data
Previous
SPY
NDX
QQQ
Ref Price:
4510
4508
451
15393
375
SpotGamma Imp. 1 Day Move:
0.67%,
30.0 pts
Range: 4480.0 | 4540.0
SpotGamma Imp. 5 Day Move:
1.66%
4449 (Monday Ref Px)
Range: 4375.0 | 4523.0
SpotGamma Gamma Index™:
1.96
1.96
0.16
0.03
-0.02
Volatility Trigger™:
4440
4440
449
15000
374
SpotGamma Absolute Gamma Strike:
4500
4500
450
15500
375
Gamma Notional(MM):
$497
$476
$710
$3
$-119
Additional Key Levels
Latest Data
Previous
SPY
NDX
QQQ
Zero Gamma Level:
4438
4436
0
0
0
Put Wall Support:
4300
4300
440
14200
350
Call Wall Strike:
4500
4500
452
15125
380
CP Gam Tilt:
1.58
1.28
1.21
1.29
0.92
Delta Neutral Px:
4321
Net Delta(MM):
$1,530,576
$1,529,897
$185,359
$47,288
$83,460
25D Risk Reversal
-0.04
-0.04
-0.05
-0.04
-0.04
Key Support & Resistance Strikes:
SPX: [4550, 4500, 4450, 4400]
SPY: [452, 450, 448, 440]
QQQ: [380, 375, 374, 370]
NDX:[15500, 15125, 15000, 14200]
SPX Combo: [4494.0, 4543.0, 4593.0, 4516.0, 4525.0]
SPY Combo: [448.84, 453.79, 458.75, 451.09, 451.99]
NDX Combo: [15606.0, 15128.0, 15405.0, 15528.0, 15158.0]