Futures have pulled back slightly to 4515. Key support is at 4500, then 4479. Resistance lines up at 4529. We look for another fairly tight trading range today, with a max estimated range of 0.68%. As the Call Wall did not roll higher from 450SPY or 4500SPX, we look for the SPX to hold the 4500-4515(SPY450 equivalent) area. Todays view, along with overnight pullback is in line with yesterdays call for consolidation.
The S&P500 did attempt to break all time highs yesterday, but was rejected, and this corresponds with a test of recent lows in the VIX. Our updated data shows that open interest is starting to fill in through the 4500-4550 range, and we think its likely that the Call Wall shifts to 4550 by Friday. Should this metric move higher it would validate a market move up to 4550 and a new highs.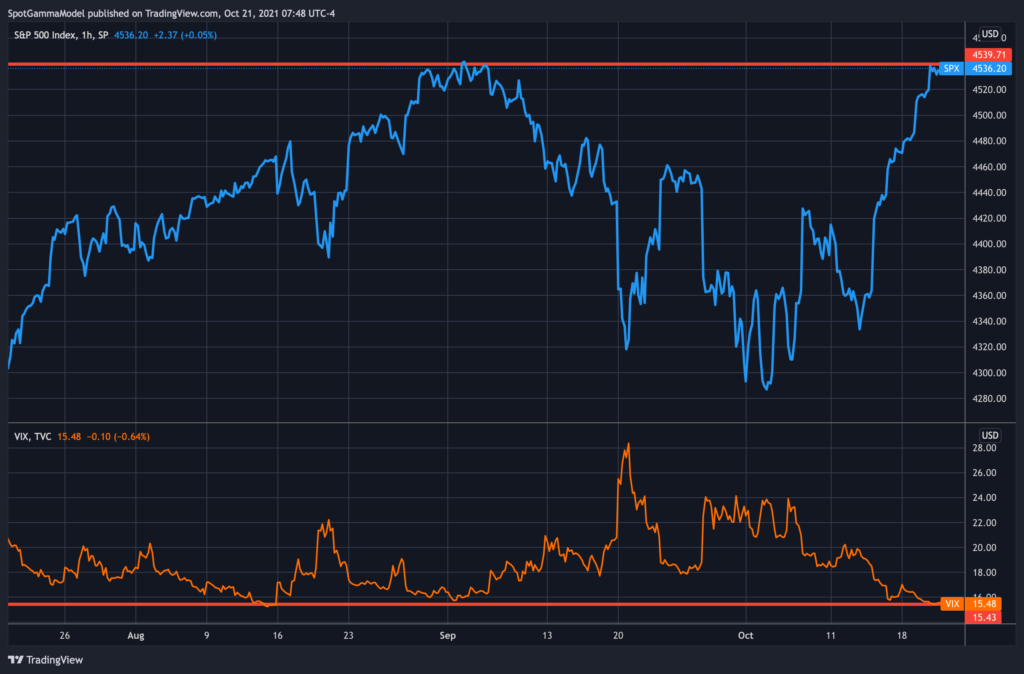 Those looking for a bit more action may again look to the QQQ, as our vanna models show more volatile potential. We also see that the SG Gamma Index for the QQQ is near zero, indicating less resistance overhead.
Finally, while we don't often mention single stocks here we did want to make mention of the BITO (Bitcoin Futures ETF) which launched options yesterday. Here is our EquityHub snapshot from today, which shows fairly light volume and open interest. 60 was the highest call strike available, and that is the call strike in which most traders are now positioned. This data is a bit underwhelming, but its likely that most "meme traders" are already active in crypto itself. Additional strikes and weekly options become listed today.

Model Overview:
Positive gamma and support lies at 4500, however we consider this level the top of our range until the Call Wall rolls to a higher strike.
SpotGamma Proprietary Levels
Latest Data
Previous
SPY
NDX
QQQ
Ref Price:
4517
4524
452
15329
374
SpotGamma Imp. 1 Day Move:
0.68%,
31.0 pts
Range: 4486.0 | 4548.0
SpotGamma Imp. 5 Day Move:
1.66%
4449 (Monday Ref Px)
Range: 4375.0 | 4523.0
SpotGamma Gamma Index™:
1.98
1.97
0.25
0.04
-0.02
Volatility Trigger™:
4440
4440
448
15000
373
SpotGamma Absolute Gamma Strike:
4500
4500
450
15500
375
Gamma Notional(MM):
$505
$646
$835
$4
$-107
Additional Key Levels
Latest Data
Previous
SPY
NDX
QQQ
Zero Gamma Level:
4445
4453
0
0
0
Put Wall Support:
4300
4300
440
14200
350
Call Wall Strike:
4500
4500
453
15125
380
CP Gam Tilt:
1.61
1.4
1.24
1.33
0.93
Delta Neutral Px:
4328
Net Delta(MM):
$1,546,665
$1,535,497
$186,495
$47,437
$85,555
25D Risk Reversal
-0.05
-0.04
-0.06
-0.06
-0.06
Key Support & Resistance Strikes:
SPX: [4550, 4500, 4450, 4400]
SPY: [453, 452, 450, 448]
QQQ: [380, 375, 373, 370]
NDX:[15500, 15125, 14200, 14000]
SPX Combo: [4479.0, 4529.0, 4579.0, 4511.0, 4520.0]
SPY Combo: [448.79, 453.77, 458.74, 451.96, 452.86]
NDX Combo: [15529.0, 15069.0, 15253.0, 15329.0, 15743.0]