Futures have drifted higher to 4488, implying the SPX will test the 4700 Call Wall figure today. With the lift in stocks on Friday, we see a both a build in gamma, and a decline in implied volatility. Both of these signals imply a tight trading range today, with an est. SG max move of 0.62%. Resistance lies at 4700 (SPX Call Wall) and 4707 (SPX equivalent to SPY 470 Call Wall). Support is at 4675 and 4650.
4700SPX/470SPY are still the largest gamma strikes on the board, and as we tick towards 11/19 expiration the strength of those bars should increase. With that our anticipation is the market should pin the 4700 area, and do that for the next few sessions. By Fridays expiration that pin should be removed, and the associated reduction in gamma should allow for more market volatility (i.e. movement up or down in markets).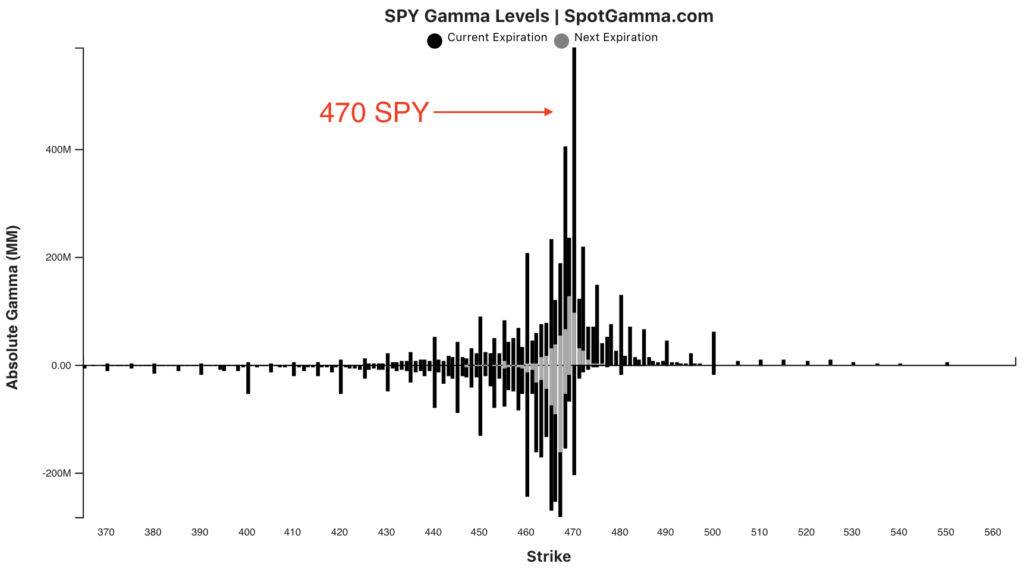 The reduction in implied volatility appears not on only in the VIX (down sharply into Friday) but also in our risk reversal metric. This shows the price of a slightly out-of-the-money call against an equivalent put and its recent rise suggests traders have little concern with current markets. This metric is not just a barometer of traders risk view, but also suggests that the vanna tailwind (i.e. selling implied volatility to buy S&P500) has lost its force.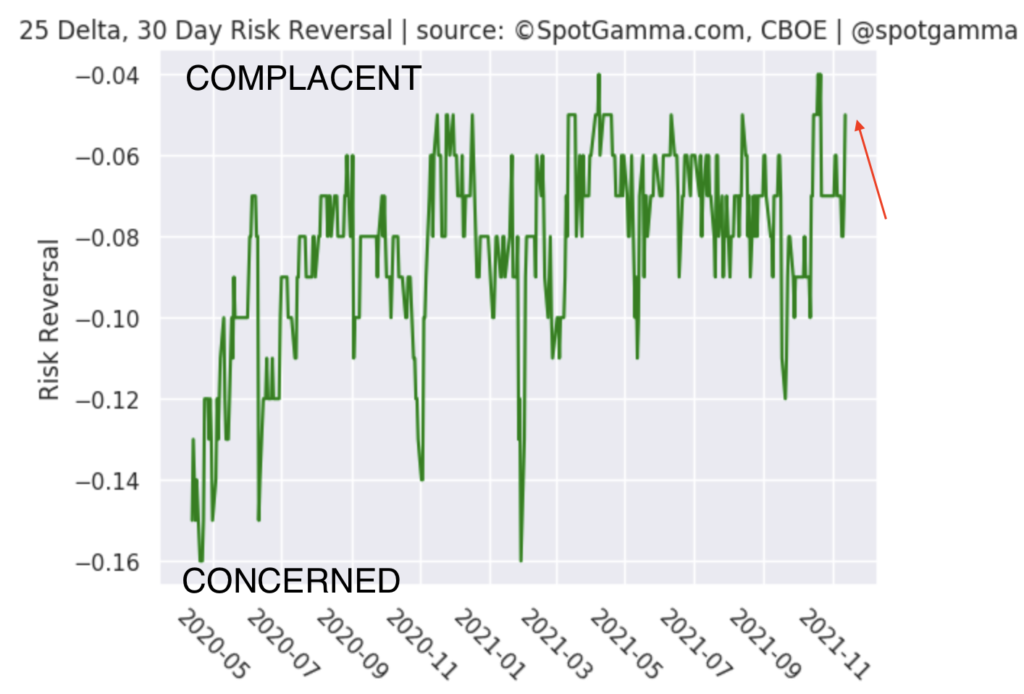 In summary we look for markets to pin this general area in through Wendesdays VIX expiration, and likely Fridays OPEX. Into week we would look for markets to break the 4650-4700 price range. If the Call Wall (currently 4700) shifts to a higher strike that would validate higher S&P prices, and if the market breaks the Vol Trigger level (currently 4620) then the door is open for a large market drawdown.
Model Overview:
Positive gamma means the market should be supported as long as SPX>4600.
SpotGamma Proprietary Levels
Latest Data
Previous
SPY
NDX
QQQ
Ref Price:
4680
4650
467
16226
394
SpotGamma Imp. 1 Day Move:
0.62%,
28.0 pts
Range: 4633.0 | 4727.0
SpotGamma Imp. 5 Day Move:
2.05%
4694 (Monday Ref Px)
Range: 4598.0 | 4791.0
SpotGamma Gamma Index™:
1.90
1.04
0.19
0.08
-0.00
Volatility Trigger™:
4620
4645
467
15800
394
SpotGamma Absolute Gamma Strike:
4700
4650
470
16320
400
Gamma Notional(MM):
$591
$320
$846
$10
$-15
Additional Key Levels
Latest Data
Previous
SPY
NDX
QQQ
Zero Gamma Level:
4603
4609
0
0
0
Put Wall Support:
4000
4000
466
13500
390
Call Wall Strike:
4700
4700
470
16320
400
CP Gam Tilt:
1.51
1.23
1.23
1.92
0.99
Delta Neutral Px:
4417
Net Delta(MM):
$1,901,980
$1,911,721
$225,224
$57,003
$107,364
25D Risk Reversal
-0.05
-0.07
-0.06
-0.05
-0.05
Key Support & Resistance Strikes:
SPX: [4700, 4675, 4650, 4600]
SPY: [470, 468, 467, 465]
QQQ: [400, 390, 385, 380]
NDX:[16320, 16300, 16000, 15500]
SPX Combo: [4697.0, 4744.0, 4707.0, 4796.0, 4721.0]
SPY Combo: [469.41, 474.09, 470.35, 479.23, 471.75]
NDX Combo: [16437.0, 16340.0, 16356.0, 16323.0, 16648.0]