Futures are down sharply to 4600.  Our models suggest that 4600 is major support, with resistance at 4640 (ZeroGamma/VolTrigger). The volatility estimate is similar to yesterday, with a max estimated move (open to close) of 0.70% (32pts).
There were only small positioned added to the S&P yesterday, with the largest change being 10k puts to the 4650 line. That was enough to shift the gamma flip point up to ~4640.  This highlights how neutral the gamma positioning is from 4600 up to 4675. We think dealers have little to hedge in that range due to changes in S&P500 price. However, there are hedge adjustments required to a change in implied volatility (vanna adjustments).  Since positions did not fill in underneath yesterdays price rise there isn't dealer based support, but if implied volatility rises dealers have to sell futures. Similarly as implied volatility[IV] declined yesterday AM, dealers had futures to buy.
This "neutral positioning" is best seen through the plot below, wherein you can see how thin the gamma bars are from 4650 down to 4550. Yesterday, the market appeared to stall right at where light positive gamma hedging kicks in (4665), and the overnight selling pushed things back through the "void" to the 4600 strike – a strike with high open interest. (Note the model below nets out gamma (call gamma – put gamma) which is why 4600 shows a very small gamma position. However there is relatively large open interest at 4600 which is why we view it as support).
In a way you could view the market setup as follows: High call positioning and dealer based support >=4700, high put positions and dealer negative gamma hedging (ie hedges that induce volatility) <4600.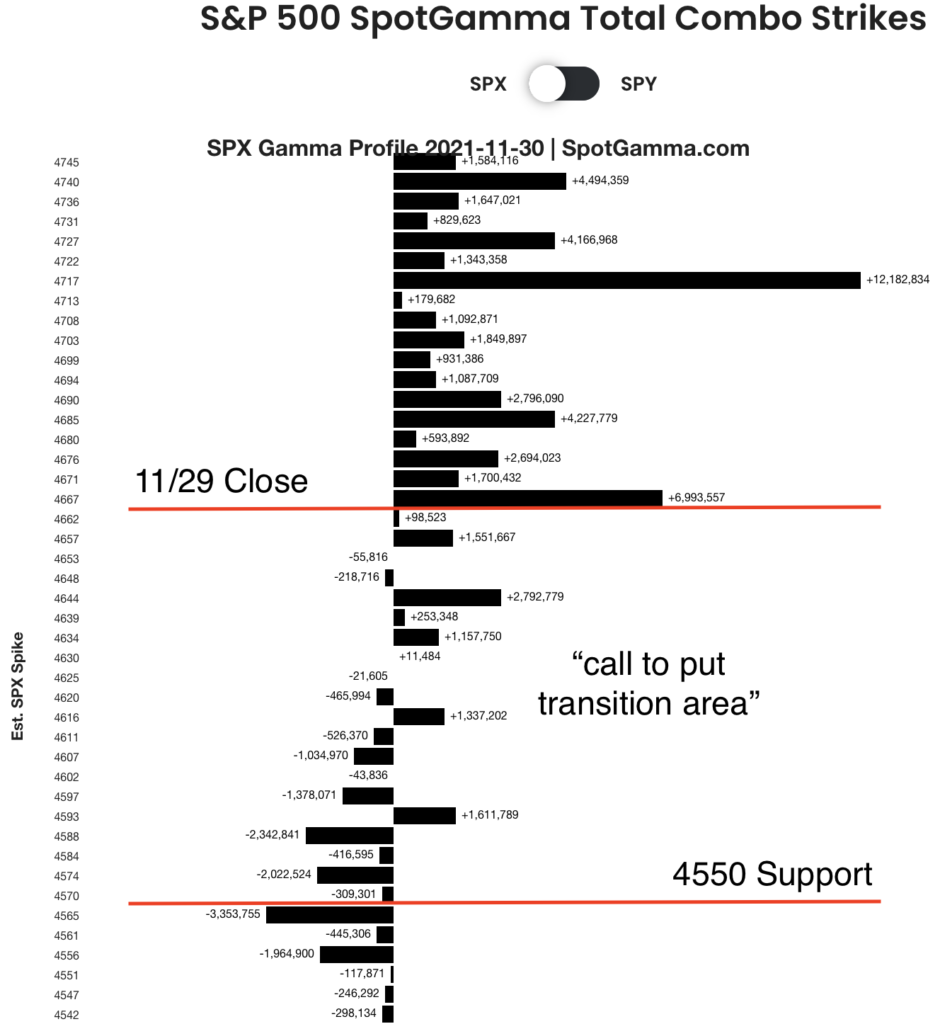 For today its critical to monitor implied volatility (ie VIX) as the risk signal. A drop in IV signals dealers buying futures and a push higher into the void mentioned above. Should IV increase it implies dealers need to sell futures. A break of 4600 likely means a test of 4550, and we see 4550 as major support. These figures come from the EquityHub model, which map out the change in gamma between strikes. You can see from 4600 to 4550 there is a sharp decline, and that implies dealers have a lot of hedging to do on a break of 4600.
Model Overview:
4600 critical support, 4750 upside target into Dec OPEX.
SpotGamma Proprietary Levels
Latest Data
Previous
SPY
NDX
QQQ
Ref Price:
4608
4655
462
16282
399
SpotGamma Imp. 1 Day Move:
0.7%,
Est 1 StdDev Open to Close Range (±pts): 32.0
SpotGamma Imp. 5 Day Move:
4629 (Monday Ref Px)
SpotGamma Gamma Index™:
0.47
-0.12
-0.01
0.05
-0.02
Volatility Trigger™:
4645
4595
465
15800
398
SpotGamma Absolute Gamma Strike:
4700
4700
470
16575
400
Gamma Notional(MM):
$-309
$44
$-175
$6
$-96
Additional Key Levels
Latest Data
Previous
SPY
NDX
QQQ
Zero Gamma Level:
4635
4648
0
0
0
Put Wall Support:
4400
4000
455
13500
395
Call Wall Strike:
4750
4750
472
16575
400
CP Gam Tilt:
1.11
1.02
0.95
1.66
0.93
Delta Neutral Px:
4449
Net Delta(MM):
$1,847,457
$1,727,871
$208,380
$47,758
$102,260
25D Risk Reversal
-0.1
-0.13
-0.1
-0.08
-0.08
Key Support & Resistance Strikes:
SPX: [4700, 4650, 4600, 4500]
SPY: [470, 465, 460, 450]
QQQ: [405, 400, 395, 390]
NDX:[16575, 16500, 16000, 15500]
SPX Combo: [4705.0, 4659.0, 4668.0, 4682.0, 4733.0]
SPY Combo: [473.89, 469.25, 470.18, 471.57, 476.68]
NDX Combo: [16502.0, 16339.0, 16747.0, 16534.0, 16126.0]