There was a sharp drop in futures overnight to 4750 – but they have staged a recovery to the 4775 area. Our data is little changed from the previous two days: we forecast a fairly tight trading range of 0.55%, with resistance at 4786 and 4800. Support lies at 4745.  There remains a substantial amount of gamma expiring in the S&P today(>35% in the S&P500), with 4800SPX/480SPY being the predominant strike.
There are several large trades that could take place today as traders roll quarterly exposure. We do advise to be on the lookout for "hidden" pockets of volatility, as hedges adjust in markets with thin holiday liquidity.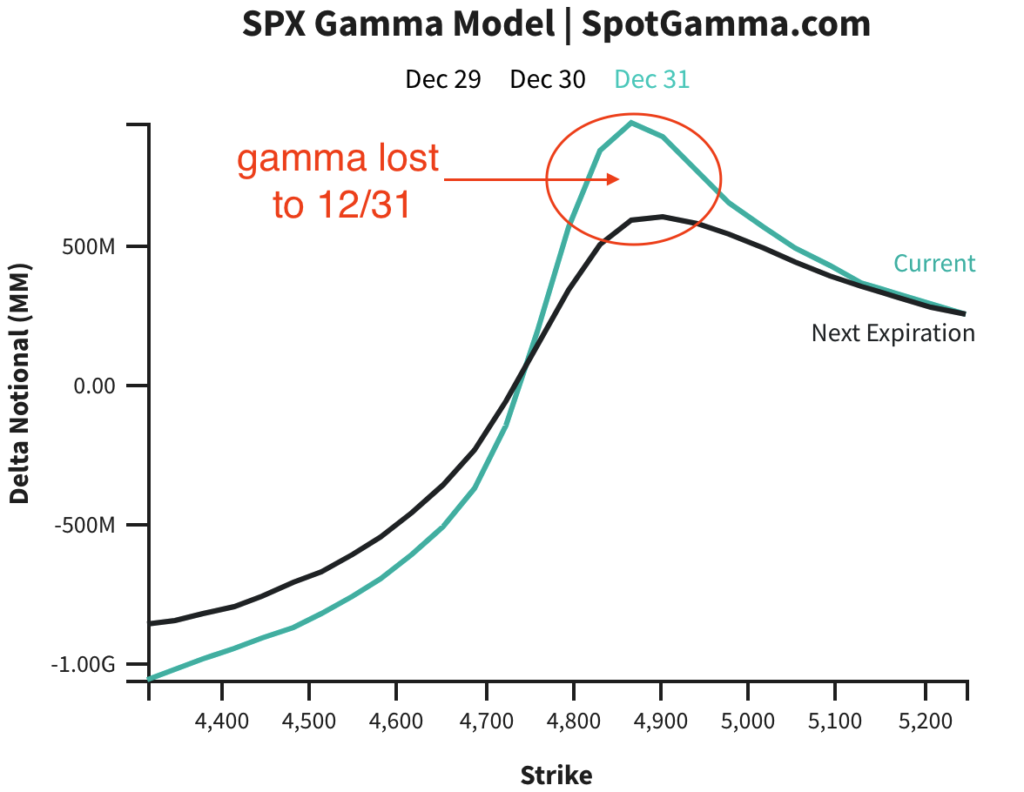 Note this is not a particularly large expiration for single stocks (only ~1% of stocks have their largest gamma in 12/31).
We saw a large shift higher in the Vol Trigger line to 4745 due to the addition of puts at 4800 (part of a 4800 straddle). This 4745 strike is where we detect gamma flipping from positive to negative, and if markets were to break below that line we'd look for a large spike in volatility.  We do not anticipate that happening today, but its something to watch into Monday.
This removal of gamma as noted above is the main catalyst for volatility (i.e. movement up or down in markets) next week. Our model has been forecasting trading ranges near 0.50% for the last several days, and we think trading ranges will shift towards 1% for Monday. This expiration greatly reduces overhead resistance at 4800, but also reduces the positive gamma support.  While we don't anticipate a large drawdown into Monday, we'd respect the break of 4750 as negative gamma could push markets lower.
Finally, recall that yesterday we highlighted some "seasonality" in the VIX, which showed that 12/30 and 12/31 often held higher shifts in implied volatility – and that implied volatility declines into next week. This is still our default view – that despite what happens today into Monday we may see a vanna-induced rally next week as implied volatility declines and year end hedges roll off. This rally could occur into the 4800 area which should have lower resistance.
SpotGamma Proprietary Levels
Latest Data
Previous
SPY
NDX
QQQ
Ref Price:
4768
4772
477
16402
399
SpotGamma Imp. 1 Day Move:
0.55%,
Est 1 StdDev Open to Close Range (±pts): 26.0
SpotGamma Imp. 5 Day Move:
1.67%
4728 (Monday Ref Px)
Range: 4638.0 | 4819.0
SpotGamma Gamma Index™:
1.32
1.32
0.14
0.01
.03
Volatility Trigger™:
4745
4745
473
15775
399
SpotGamma Absolute Gamma Strike:
4800
4800
480
15925
400
Gamma Notional(MM):
$274
$314
$992
$2
$135
Additional Key Levels
Latest Data
Previous
SPY
NDX
QQQ
Zero Gamma Level:
4732
4735
0
0
0
Put Wall Support:
4500
4500
455
13500
355
Call Wall Strike:
4800
4800
480
15925
400
CP Gam Tilt:
1.36
1.18
1.3
1.17
0.8
Delta Neutral Px:
4569
Net Delta(MM):
$1,499,185
$1,500,364
$175,023
$35,451
$69,627
25D Risk Reversal
-0.06
-0.06
-0.06
-0.04
-0.05
Key Support & Resistance Strikes:
SPX: [4800, 4775, 4750, 4700]
SPY: [480, 478, 477, 475]
QQQ: [330, 320, 315, 310]
NDX:[13750, 13000, 12850, 12500]
SPX Combo (strike): [4786, 4838,4815,4805]
SPY Combo: [478.3, 483.54, 480.2, 488.3, 481.15]
NDX Combo: [16698.0, 15943.0]