Futures have pushed higher over the weekend to 4785. After the large 12/31 SPX OPEX we see our models looking for moderately higher volatility today. The SG 1 day range is 0.69% (open/close), with first resistance at 4800, then 4818. Support lies at 4775 and 4750.
Into Jan OPEX our new effective range is: critical support 4750 – upside target 4850. This range updates as options positions adjust.
For today, while we do see first resistance at 4800, that resistance should be much lower than last week. The amount of gamma tied to the 4800/480 strike is 1/2 that of Friday (below: Fridays 480 strike gamma was ~$600mm vs $300mm today). Additionally, the Call Wall has now shifted up to 4850. The Call Wall is the maximum upside target from our model, and this has held at 4800 for some time.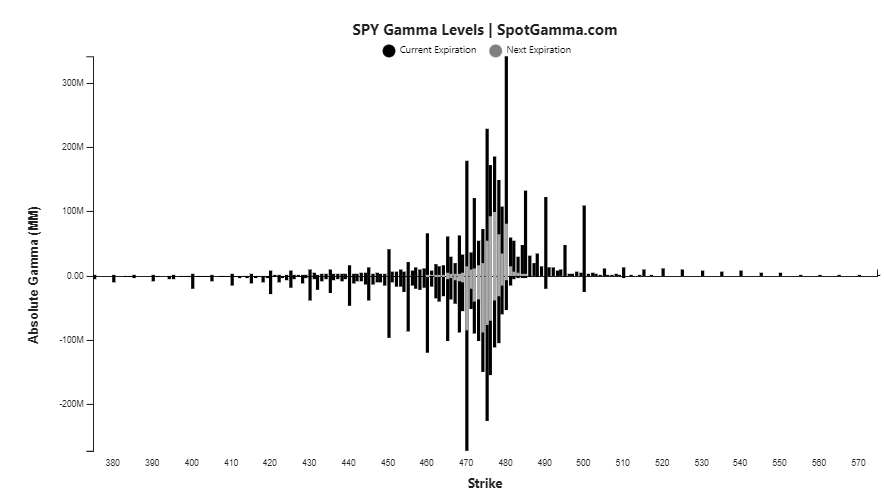 This reduction of gamma from OPEX was in line with expectations, as was the shift of the Call Wall metric. The final piece we forecasted was the reduction of implied volatility into this week. We believed that implied volatility would be sold after the year end, and large put hedges expiring.
It appears that the market is set to sell volatility today, as shown in the VIX term structure below. Compared to 11/17, you can see that todays VIX levels are nearly identical (we're using 11/17 here as it was just prior to fears around Omicron and Fed tapering). While the futures are matching, the VIX itself is still at 17.3, which is well above post March '20 lows of 15. This is a quick way of telling us that there is some "room" for volatility sellers to step in – and should they do so they may propel the S&P higher (aka the vanna trade).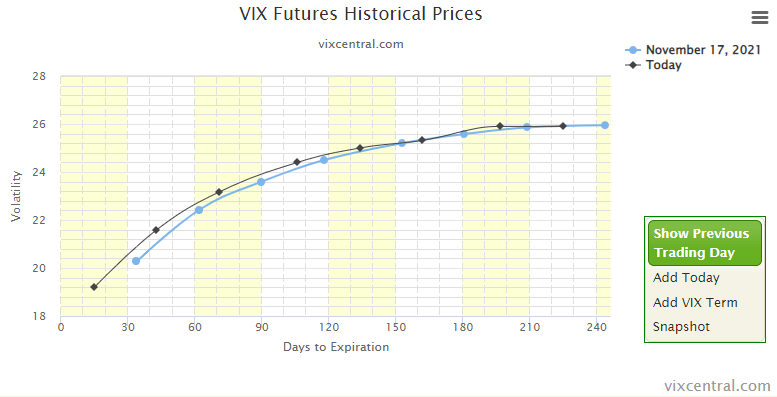 Going forward we are watching Jan OPEX (1/21) as a catalyst. We see a large number of deep in the money options positioned there and this could be a driver of volatility near that date. Flag that date as a possible turning point – with much more on this to come.
Best wishes for 2022!
SpotGamma Proprietary Levels
Latest Data
Previous
SPY
NDX
QQQ
Ref Price:
4785
4761
475
16436
397
SpotGamma Imp. 1 Day Move:
0.69%,
Est 1 StdDev Open to Close Range (±pts): 33.0
SpotGamma Imp. 5 Day Move:
1.92%
4785 (Monday Ref Px)
Range: 4693.0 | 4877.0
SpotGamma Gamma Index™:
0.50
1.32
0.04
0.04
-0.02
Volatility Trigger™:
4745
4745
474
15725
399
SpotGamma Absolute Gamma Strike:
4800
4800
475
15925
400
Gamma Notional(MM):
$252
$201
$395
$5
$-103
Additional Key Levels
Latest Data
Previous
SPY
NDX
QQQ
Zero Gamma Level:
4748
4725
0
0
0
Put Wall Support:
4600
4500
470
15000
355
Call Wall Strike:
4850
4800
480
15925
400
CP Gam Tilt:
1.14
1.12
1.14
1.7
0.91
Delta Neutral Px:
4585
Net Delta(MM):
$1,413,478
$1,497,063
$166,346
$36,608
$84,622
25D Risk Reversal
-0.06
-0.06
-0.06
-0.05
-0.06
Key Support & Resistance Strikes:
SPX: [4800, 4775, 4750, 4700]
SPY: [480, 476, 475, 470]
QQQ: [410, 400, 395, 390]
NDX:[16250, 16050, 16000, 15925]
SPX Combo (strike, %ile): []
SPY Combo: [483.51, 488.26, 478.28, 480.66, 479.71]
NDX Combo: [16042.0, 16518.0, 16732.0, 16108.0]