Futures are higher to start, near 4680. Our models look for more volatility today, with an SG implied move of 1.3%. We see resistance at 4700 then 4735. Support lies at 4650 then 4600.
Yesterdays ~70 handle drop and subsequent ~100 handle rally led to a lot of options volume & an implied volatility crush.  Our intraday metrics showed that options were likely a huge driver of yesterdays price action, particularly in the QQQ. Interesting, despite huge volumes, open interest levels in both the S&P and QQQ were little changed. As a result, or key levels are little changed.
As a result we still categorize yesterday as a "short cover rally" fueled by delta (puts closed/rolled) and vanna (implied volatility crush). Prices should continue to be unstable.  Further, our models will continue to suggest high volatility until the 4700 strike is recovered – and it is not until 4800 that we would see significant dealer based support.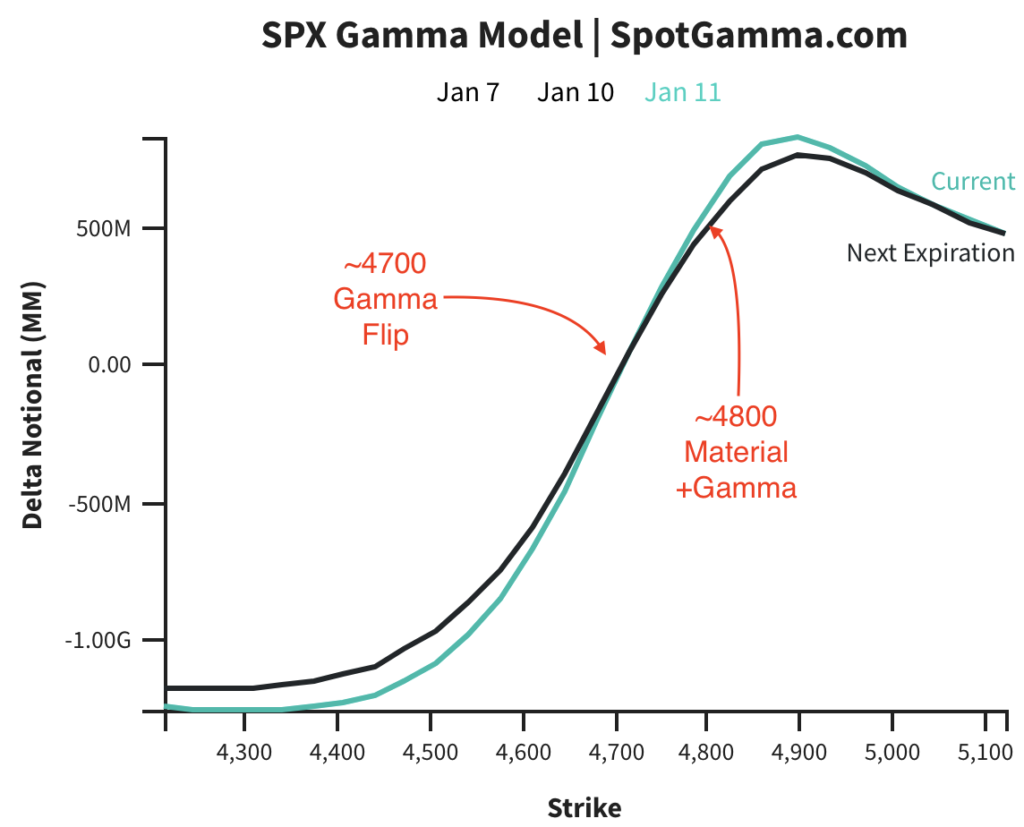 We would also need another 1% rally for the bulk of QQQ negative gamma to fade. Our vanna models show a very sharp skew in positioning, which suggests dealers still have material hedges to buy (to cover) as QQQ rallies, and plenty to sell as QQQ declines. This, we believe, should keep volatility high.
Finally, we wanted to call attention to that VIX reversal yesterday. Note the "wick" left in yesterdays candle, which was the result of VIX hitting an intraday high of 23.3 and closing near 19.5. These large wicks are often signals of a volatility high/market bottom. As such, if the S&P can break 4700 then we would look for an rather fast, extended rally into the 4750 area. A rejection of 4700 could lead to a quick test of 4650.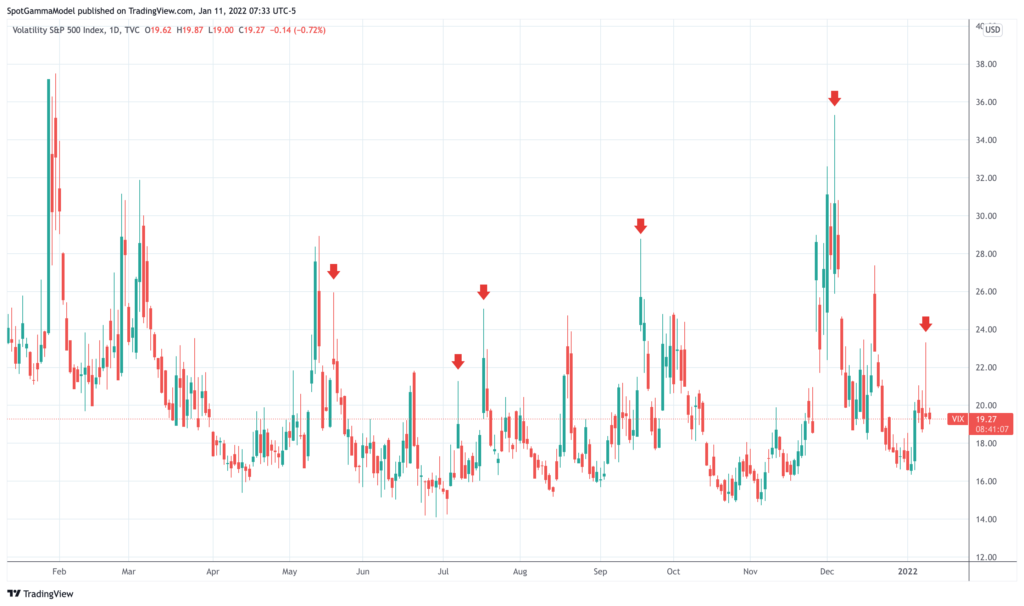 SpotGamma Proprietary Levels
Latest Data
Previous
SPY
NDX
QQQ
Ref Price:
4658
4662
465
15589
380
SpotGamma Imp. 1 Day Move:
1.3%,
Est 1 StdDev Open to Close Range (±pts): 61.0
SpotGamma Imp. 5 Day Move:
2.83%
4673 (Monday Ref Px)
Range: 4541.0 | 4805.0
SpotGamma Gamma Index™:
-0.35
-0.66
-0.15
0.01
-0.10
Volatility Trigger™:
4670
4705
465
15730
383
SpotGamma Absolute Gamma Strike:
4700
4700
470
15925
380
Gamma Notional(MM):
$-377
$-500
$-659
$1
$-517
Additional Key Levels
Latest Data
Previous
SPY
NDX
QQQ
Zero Gamma Level:
4693
4697
0
0
0
Put Wall Support:
4600
4600
455
15000
355
Call Wall Strike:
4800
4800
480
15925
400
CP Gam Tilt:
0.92
0.74
0.8
1.09
0.66
Delta Neutral Px:
4600
Net Delta(MM):
$1,450,579
$1,456,391
$173,679
$35,891
$98,802
25D Risk Reversal
-0.08
-0.07
-0.08
-0.08
-0.08
Key Support & Resistance Strikes:
SPX: [4800, 4700, 4650, 4600]
SPY: [470, 465, 460, 450]
QQQ: [390, 385, 380, 370]
NDX:[16250, 16000, 15925, 15000]
SPX Combo (strike, %ile): [4787.0, 4586.0, 4735.0, 4535.0, 4759.0]
SPY Combo: [478.54, 458.53, 473.42, 453.41, 475.75]
NDX Combo: [15893.0, 15160.0, 15378.0, 15581.0]