Futures are at 4715 after a quiet overnight session. We see a tighter estimated range for today, at 0.61%. Major support is at 4700, followed by 4650. Resistance is at 4734 & 4750.
4700SPX/470SPY is where the bulk of gamma is and what we'd consider "fair value" for the S&P. Yesterday, too, we saw traders getting long near 4700, and selling calls/buying puts (short delta) into the 4750 strike (shown also in open interest data).
As you can see below, 4700 is a strong strike in terms of put gamma, with a decent amount of call interest. We believe that most of the 4700 strike interest is short (both call & put), and as such if we break below 4700 that could provide some mean reversion back into 4700 (dealers long put vs long stock). Further we'd point out the fairly large gamma that remains at 4800, which would likely keep a cap on any large rally into Jan OPEX (1/21).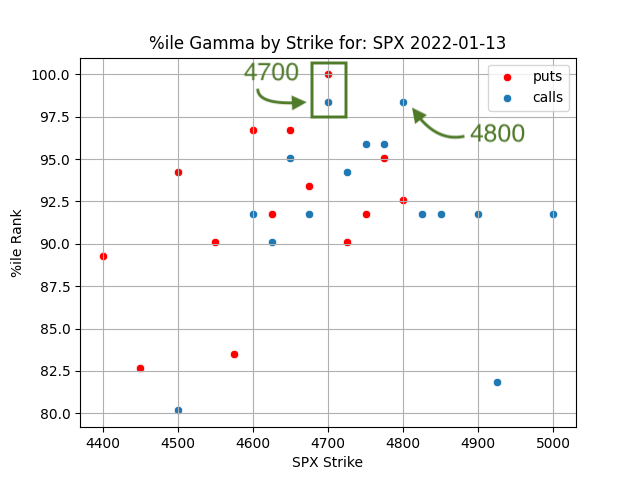 The net of this is that we think we have a fairly defined upside range, capped by 4800 for the next week.
SpotGamma Proprietary Levels
Latest Data
Previous
SPY
NDX
QQQ
Ref Price:
4711
4722
471
15844
387
SpotGamma Imp. 1 Day Move:
0.67%,
Est 1 StdDev Open to Close Range (±pts): 32.0
SpotGamma Imp. 5 Day Move:
2.83%
4673 (Monday Ref Px)
Range: 4541.0 | 4805.0
SpotGamma Gamma Index™:
0.61
0.52
0.01
0.05
-0.08
Volatility Trigger™:
4700
4670
470
15730
390
SpotGamma Absolute Gamma Strike:
4700
4700
470
15925
390
Gamma Notional(MM):
$-25
$131
$13
$4
$-393
Additional Key Levels
Latest Data
Previous
SPY
NDX
QQQ
Zero Gamma Level:
4710
4686
0
0
0
Put Wall Support:
4600
4600
450
15000
380
Call Wall Strike:
4800
4800
480
15925
400
CP Gam Tilt:
1.16
1.07
1.0
1.36
0.76
Delta Neutral Px:
4582
Net Delta(MM):
$1,488,487
$1,491,273
$175,821
$38,091
$95,673
25D Risk Reversal
-0.07
-0.07
-0.06
-0.07
-0.07