Futures where flat overnight to 4450, and we see a small reduction in our volatility expectations. The estimated open/close maximum move for today is 1.3%, with resistance at 4475 and 4500. Support lies at 4455 and 4406.
The market appears to be reducing its volatility [IV] expectations, as we see the VIX trending lower to <25. We see at-the-money SPX options expiring tomorrow trading near a 21% IV which is pricing something near a 1% move. That volatility expectation seems to sync with our model(s) (both SG implied move and major support and resistance at 4400/4500).
4500 remains the Call Wall and our key overhead resistance line. We note heavy volume at the 4500 call strike yesterday (70k) but only a 10k increase in open interest at that line. This implies heavy day trading, which is likely linked to yesterday having an expiration. Note, too, that our HIRO data indicated calls coming for sale as the market rallied to 450SPY/4500SPX.
Along with the prominent 4500 SPX strike, as shown below we see the large QQQ strikes as 350 & 360. We'd look for QQQ to remain in this "box" through tomorrow's OPEX. The light gray area of the bars highlight that there should be a large reduction in gamma at these strikes due to expiration, and we'd therefore look for a move in the QQQ out of the 350/360 range next week.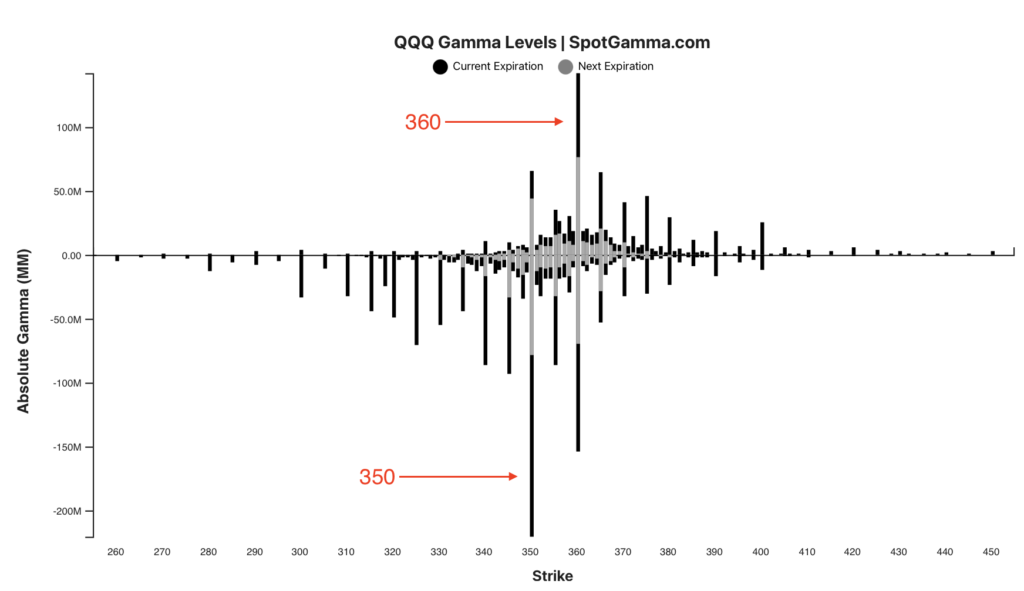 On that note, it appears there is a reduction in gamma expiring tomorrow for the SPX (<20%) but >35% of SPY & QQQ still expires tomorrow. As both the S&P and QQQ are in a negative gamma position, we continue to view tomorrows expiration as short term supportive of markets (put decay and/or expiration leads to deltas being bought, aka charm).
We view this support more as "positive drift" vs impactful "rally fuel". As Monday is a holiday we could also see some further put reduction as traders seek to avoid paying the holiday "theta tax".
All of this seems to align for a 4500 pin into Friday.
SpotGamma Proprietary Levels
Latest Data
Previous
SPY
NDX
QQQ
Ref Price:
4444
4451
446
14506
356
SpotGamma Imp. 1 Day Move:
1.3%,
Est 1 StdDev Open to Close Range (±pts): 58.0
SpotGamma Imp. 5 Day Move:
4.38%
4417 (Monday Ref Px)
Range: 4224.0 | 4610.0
SpotGamma Gamma Index™:
-0.57
-0.57
-0.27
0.05
-0.14
Volatility Trigger™:
4470
4470
449
14520
355
SpotGamma Absolute Gamma Strike:
4500
4500
450
14800
360
Gamma Notional(MM):
$-665
$-622
$-1,291
$3
$-797
Additional Key Levels
Latest Data
Previous
SPY
NDX
QQQ
Zero Gamma Level:
4542
4550
0
0
0
Put Wall Support:
4400
4400
440
14275
350
Call Wall Strike:
4500
4500
460
14800
375
CP Gam Tilt:
0.88
0.72
0.66
1.2
0.55
Delta Neutral Px:
4523
Net Delta(MM):
$1,550,303
$1,552,744
$181,558
$41,871
$101,363
25D Risk Reversal
-0.09
-0.09
-0.1
-0.09
-0.1
Key Support & Resistance Strikes:
SPX: [4600, 4500, 4450, 4400]
SPY: [450, 448, 445, 440]
QQQ: [365, 360, 355, 350]
NDX:[15000, 14800, 14600, 14500]
SPX Combo (strike, %ile): [(4580.0, 84.64), (4531.0, 76.36), (4504.0, 77.79), (4482.0, 91.95), (4459.0, 79.25), (4455.0, 79.51), (4406.0, 8.33)]
SPY Combo: [439.01, 449.28, 434.1, 439.9, 459.1]
NDX Combo: [14686.0, 14252.0, 14165.0, 14455.0]