Futures are down sharply to 4125 after geopolitical events escalated. Gamma is extremely negative across all indices/ETF's, and the VIX is near 37. This implies the market is pricing in a 2.32% daily S&P move. Overhead resistance shows lightly at 4200, then more substantially at 4300. Support is at 4064 and 4000.
We've been highlighting for several weeks 4050 area as a major support area, and the market is now poised within striking distance. Much of our data suggests we're near a lower bound, similar to what we saw in Jan.
The snapshot below from our EquityHub shows the rate of change of gamma. The large "node" at 4050 suggests gamma changes significantly into that strike, which could invoke a hedging response (and support). This change in gamma is due to large open interest at the 4,000 strike.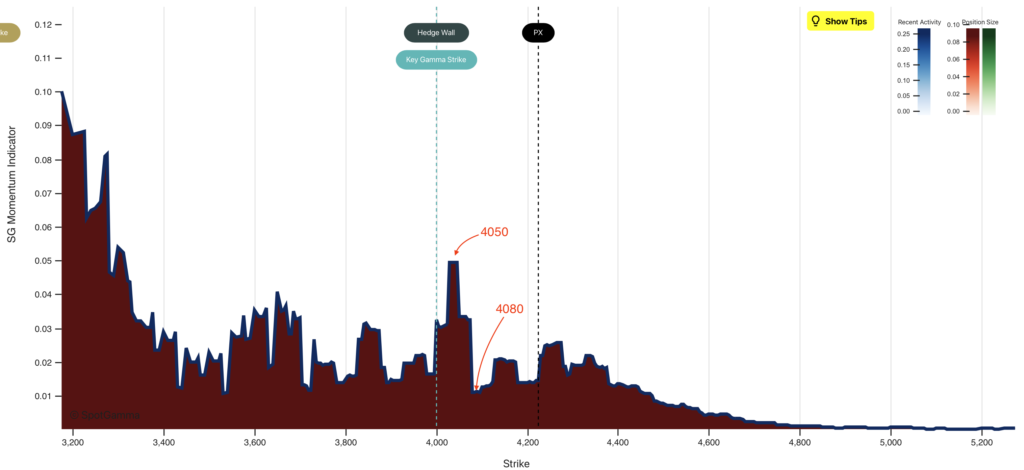 Near current market levels we also see the gamma profiles flattening out substantially. We read this as a signal that gamma is "maxed out" at current levels. In other words, put options have gone deep in the money (toward 1 delta) which reduces the downside gamma force. We also believe dealers are long tail risk, which is likely paying off now that implied volatility has surged higher (i.e. VIX near 40). This further reduces how heavily dealers need to "chase" downside.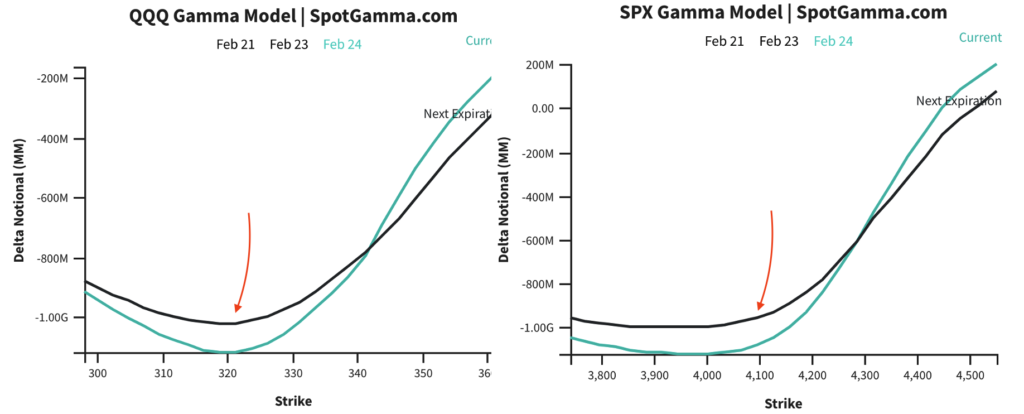 In sync with this "max out" idea is our Delta Tilt reading, which is now below the Jan '22 levels and just above Dec '18 and March '20. This depicts put delta – call delta, and essentially tells us that put positions relative to calls are just about as heavy as we've ever recorded.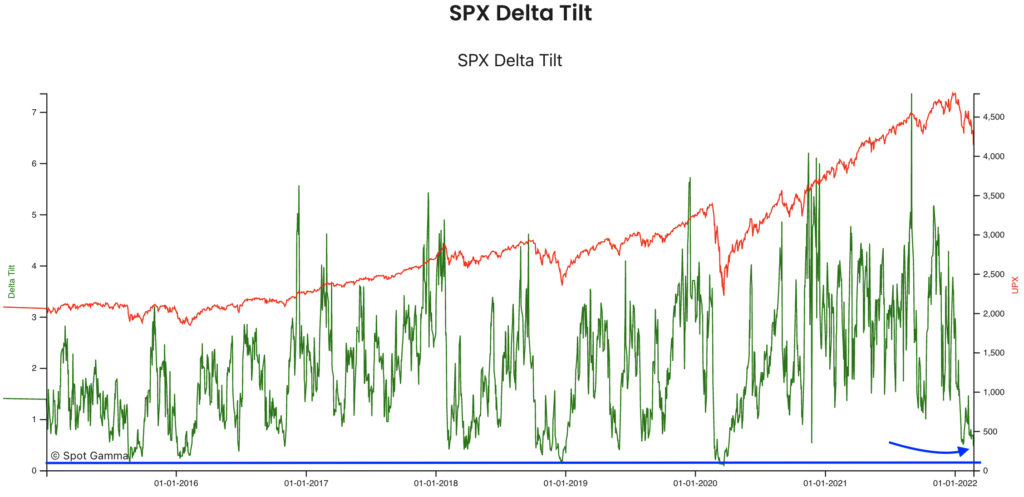 In summary, we'd be looking for a recovery in markets should there be a test of the 4050 area. This bounce would be based off of the options positioning in markets as outlined above, and we think last for a few sessions (we currently see hardly any resistance back up to 4300).
Ultimately any rally would be unstable until there is a major reduction in put positions – and we do not see that happening until March 16th-18th (FOMC & a large OPEX).
SpotGamma Proprietary Levels
Latest Data
Previous
SPY
NDX
QQQ
Ref Price:
4138
4226
422
13193
329
SpotGamma Imp. 1 Day Move:
1.6%,
Est 1 StdDev Open to Close Range (±pts): 66.0
SpotGamma Imp. 5 Day Move:
5.8%
4371 (Monday Ref Px)
Range: 4118.0 | 4625.0
SpotGamma Gamma Index™:
-1.79
-1.37
-0.43
-0.01
-0.18
Volatility Trigger™:
4520
4520
440
14050
355
SpotGamma Absolute Gamma Strike:
4000
4300
425
14075
330
Gamma Notional(MM):
$-1,038
$-912
$-1,872
$-2
$-1,044
Additional Key Levels
Latest Data
Previous
SPY
NDX
QQQ
Zero Gamma Level:
4423
4450
0
0
0
Put Wall Support:
4200
4200
420
13000
330
Call Wall Strike:
4600
4600
455
14075
400
CP Gam Tilt:
0.52
0.49
0.41
0.74
0.33
Delta Neutral Px:
4406
Net Delta(MM):
$1,524,196
$1,422,632
$188,081
$29,312
$101,804
25D Risk Reversal
-0.09
-0.08
-0.09
-0.08
-0.09
Key Support & Resistance Strikes:
SPX: [4400, 4300, 4200, 4000]
SPY: [430, 425, 420, 400]
QQQ: [350, 330, 325, 320]
NDX:[14075, 14000, 13500, 13000]
SPX Combo (strike, %ile): [(4064.0, 8.24)]
SPY Combo: [419.54, 429.67, 424.6, 420.38, 414.47]
NDX Combo: [13197.0, 12789.0, 12999.0, 13394.0, 13157.0]