Futures held flat overnight to 4263. Our volatility estimates and trading levels remain similar to yesterday. 4300 is first resistance, followed by 4350. To the downside we mark 4200 and 4155 as key support.
We stick to classifying yesterdays rally as short covering via put sellers, and that short covering fed back into a negative gamma environment. Our view is that feedback loop sparked that tremendous reversal. As we've stated many times over the past several weeks, these types of short cover rallies are fragile, and could easily mean revert.
Further we'd note that the key risk events (geopolitical, monetary) are still no more clear today then they were yesterday. As such, we anticipate the demand for downside protection to remain. This leads to unstable markets – no different that what we've had.
As stated above, our intraday options indicator showed heavy put selling yesterday in the SPY & QQQ, and this mornings open interest updates seem to read as "roll down" wherein traders net closed puts >=420/4200, and open interest down near 400/4000 moved higher.
Based on this updated positioning, we see the market remaining quite fluid from <4300 down into 4000. This suggests that a drop back lower could be rather swift. However, to the upside you can see that strikes above 4300 carry some positive gamma weight, and so we think that reduces the price range on a move higher (i.e. we have more downside exposure than upside).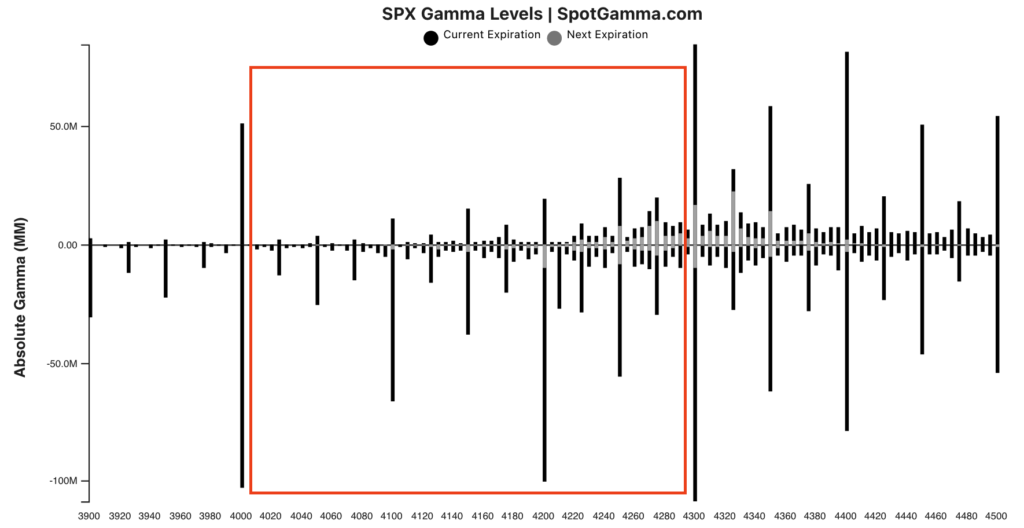 The 4000 strike is still the major downside support line, and we base that on the large open interest as shown below. As gamma is highest for short dated, at-the-money options, should the market decline the gamma at 4000 should increase significantly (note in the image above it appears to have similar size to other strikes because the S&P is near 4260).

SpotGamma Proprietary Levels
Latest Data
Previous
SPY
NDX
QQQ
Ref Price:
4262
4267
428
13857
340
SpotGamma Imp. 1 Day Move:
1.44%,
Est 1 StdDev Open to Close Range (±pts): 61.0
SpotGamma Imp. 5 Day Move:
5.8%
4371 (Monday Ref Px)
Range: 4118.0 | 4625.0
SpotGamma Gamma Index™:
-1.33
-1.90
-0.30
0.00
-0.14
Volatility Trigger™:
4530
4520
443
14050
352
SpotGamma Absolute Gamma Strike:
4300
4000
425
14075
350
Gamma Notional(MM):
$-803
$-688
$-1,318
$0
$-807
Additional Key Levels
Latest Data
Previous
SPY
NDX
QQQ
Zero Gamma Level:
4420
4426
0
0
0
Put Wall Support:
4200
4200
420
13000
325
Call Wall Strike:
4600
4600
460
14075
400
CP Gam Tilt:
0.69
0.62
0.59
1.0
0.51
Delta Neutral Px:
4470
Net Delta(MM):
$1,629,219
$1,571,893
$187,835
$37,997
$107,045
25D Risk Reversal
-0.11
-0.09
-0.11
-0.1
-0.1
Key Support & Resistance Strikes:
SPX: [4400, 4350, 4300, 4000]
SPY: [440, 430, 425, 420]
QQQ: [360, 350, 340, 325]
NDX:[14500, 14075, 14000, 13500]
SPX Combo (strike, %ile): [(4232.0, 9.23)]
SPY Combo: [419.31, 424.45, 420.59, 429.58, 421.88]
NDX Combo: [13958.0, 14249.0, 13639.0]