Futures have pulled back some to 4488, down from highs of 4513. Gamma remains very flat in the S&P, which leads to a 1 day estimated volatility level of 0.92% (open/close). 4500-4510 (SPY450) is resistance with support at 4476 and 4449. QQQ maintains a more material negative gamma position suggesting a bit more relative upside room to 360.
The 4510 area was resistance yesterday, which we'd note is the SPY 450 equivalent. 450 is the Call Wall in SPY which is the strike with the largest positive gamma. This, we view this as resistance (shown below).
The other interesting thing about 4510 is that its where the long put of the JPM Collar is struck. You may note that our Put Wall (the strike with largest negative gamma) is at 4510 – its due to this trade. There is also a decent amount of gamma at 4500 in general, and so this is why our models are showing 4500-4510(450 SPY) area resistance. We think this 4510 strike could be in play until 3/31 expiration.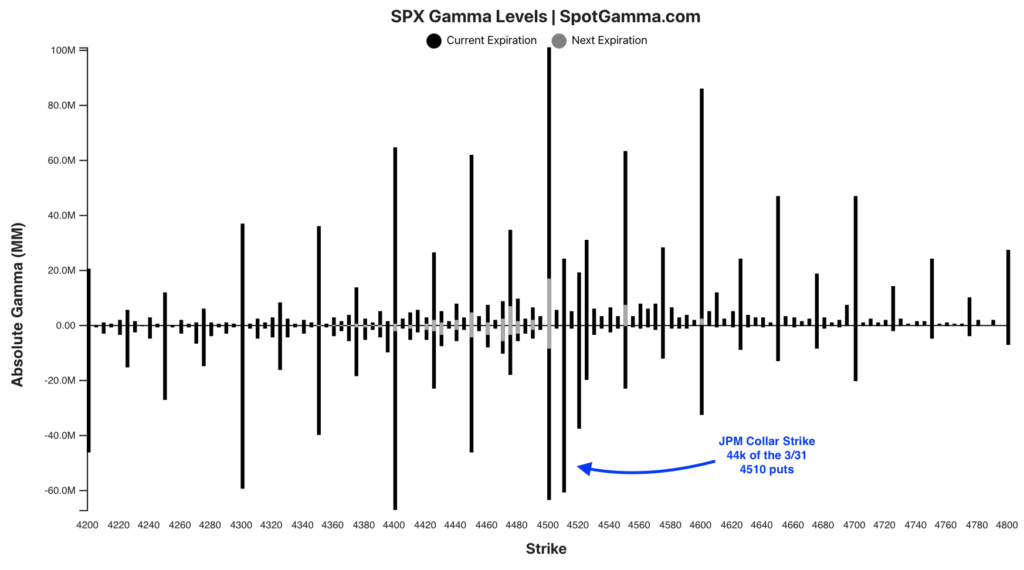 In the context of historical gamma levels, these SPX strikes are all decent in size but not statistically significant. As evidence, below we've plotted the percentile rankings for SPX gamma by strike. During the recent drawdown we saw several "100" rank put strikes, but those have expired and/or decayed away. Further we'd note these SPX call strikes are rather unimpressive, however the SPY call strikes rank >=98. The relatively higher SPY call rankings give more weight to the 450(4500 area).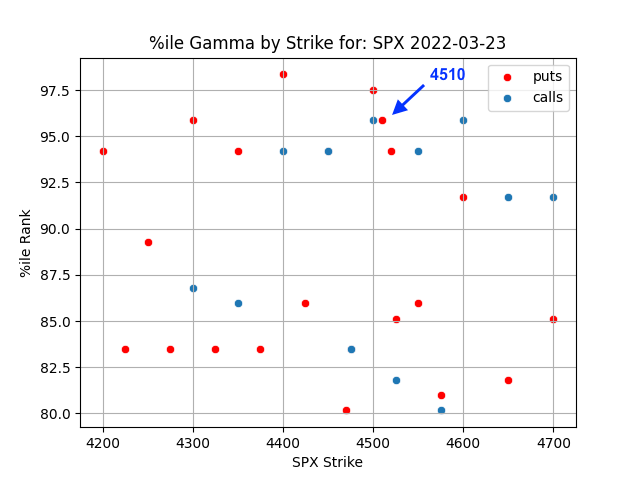 In summary, this data all suggests that there is a concentration of positions in the S&P complex which may maintain 4500-4510 resistance. Further, our vanna models have shifted more towards neutral suggesting that the last bit of implied volatility fuel has drained off (reference y'days note). QQQ still has a bit of vanna "skew" to it, which may keep a relative tailwind in tech.
Without some exogenous "non-options" conviction we give edge to markets pinning this 4500-4510 area. Calls added to strikes >=4500 would lead us to look for higher prices.
The air pocket remains below down to 4400 (Vol Trigger), but the market needs a reason to turn down. As we mentioned yesterday, if given a reason to sell, that selling could be met with put buying and a spike in implied volatility which would speed up or add force to the drawdown.
SpotGamma Proprietary Levels
Latest Data
Previous
SPY
NDX
QQQ
Ref Price:
4512
4505
449
14662
356
SpotGamma Imp. 1 Day Move:
0.92%,
Est 1 StdDev Open to Close Range (±pts): 42.0
SpotGamma Imp. 5 Day Move:
2.26%
4438 (Monday Ref Px)
Range: 4338.0 | 4539.0
SpotGamma Gamma Index™:
0.34
0.02
-0.04
0.03
-0.05
Volatility Trigger™:
4400
4400
449
14050
355
SpotGamma Absolute Gamma Strike:
4500
4400
450
14225
350
Gamma Notional(MM):
$0
$58
$-186
$4
$-314
Additional Key Levels
Latest Data
Previous
SPY
NDX
QQQ
Zero Gamma Level:
4510
4470
0
0
0
Put Wall Support:
4510
4100
440
13000
325
Call Wall Strike:
4600
4500
450
14225
360
CP Gam Tilt:
1.12
1.05
0.93
1.61
0.78
Delta Neutral Px:
4422
Net Delta(MM):
$1,344,075
$1,310,050
$152,045
$37,881
$92,463
25D Risk Reversal
-0.09
-0.09
-0.06
-0.05
-0.07
Key Support & Resistance Strikes:
SPX: [4600, 4500, 4450, 4400]
SPY: [455, 450, 445, 440]
QQQ: [360, 355, 350, 340]
NDX:[15000, 14500, 14225, 14000]
SPX Combo (strike, %ile): [(4625.0, 80.12), (4602.0, 94.4), (4575.0, 84.59), (4566.0, 79.65), (4553.0, 92.05), (4526.0, 80.08), (4517.0, 84.62), (4499.0, 89.86), (4476.0, 78.43), (4449.0, 78.86)]
SPY Combo: [458.53, 453.59, 449.54, 448.19, 449.99]
NDX Combo: [14242.0, 14799.0, 14829.0, 14755.0, 14389.0]