Futures are again holding just below that large 4200 line, which remains the key options level. Other levels are little changed with the Volatility Trigger at 4195 and major resistance at 4222 (Combo Strike).
While the SPX holds a fairly material set of positions from 4100-4200, the SPY does not. The total S&P 500 gamma profile is shown below. You can see that when we look at gamma from an SPX+SPY perspective there are no large positive gamma bars (ie bars to the right) anywhere below 4195.  Said another way: SPX seems stable but SPY does not. Additionally QQQ holds a flat to negative gamma position, which implies little support below.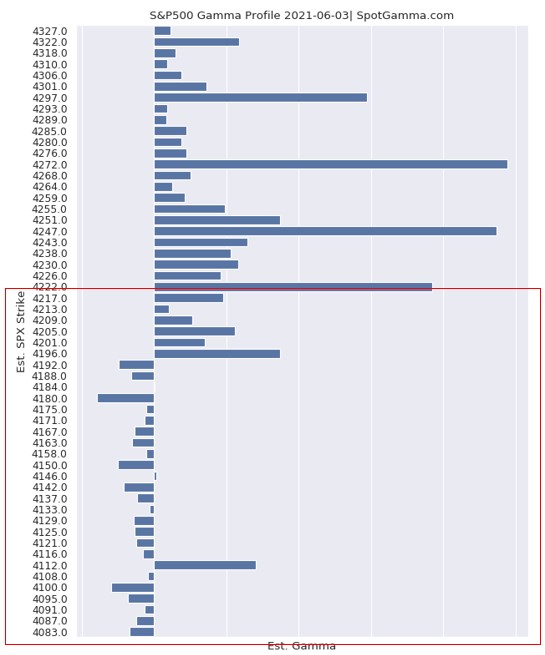 The bottom line is that we have a neutral view of markets below 4195, and high risk appears below 4160. We're primarily concerned about an exogenous shot to markets here due to all this meme stock mania.  These stocks are crashing higher and that liquidity vacuum can infect larger markets via margin calls and credit issues (like Robinhood).
Here is our chart from Jan 25th when Melvin Capital blew up. Note the correlation between the spike in GME and the drop in the SPX.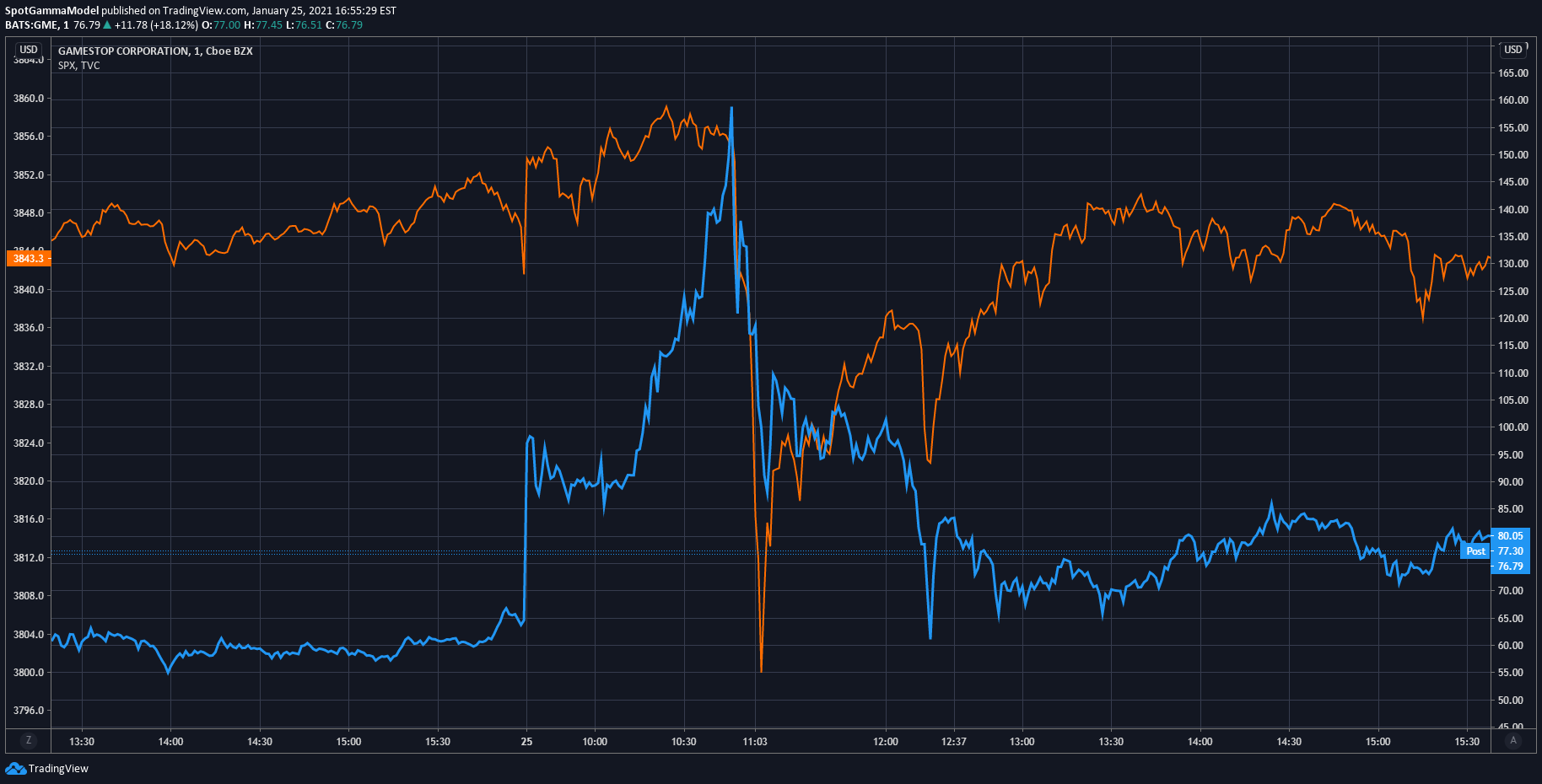 Model Overview:
While markets hold 4200 we look for a low volatility grind higher, with 4250 the overhead target. 4160 is the gamma flip line, and therefore critical support.
SpotGamma Proprietary Levels
Latest Data
Previous
SPY
NDX
QQQ
Ref Price:
4206
4205
420
13686
333
SpotGamma Imp. 1 Day Move:
0.91%,
38.0 pts
Range: 4168.0 | 4244.0
SpotGamma Imp. 5 Day Move:
4206
0.96%
Range: 4166.0 | 4246.0
SpotGamma Gamma Index™:
0.75
0.67
0.07
0.02
-0.04
Volatility Trigger™:
4195
4195
419
13480
333
SpotGamma Absolute Gamma Strike:
4200
4200
420
12850
330
Gamma Notional(MM):
$269
$218
$213
$2
$-277
Additional Key Levels
Latest Data
Previous
SPY
NDX
QQQ
Zero Gamma Level:
4168
4167
0
0
0
Put Wall Support:
4000
4000
418
13000
325
Call Wall Strike:
4250
4250
425
13500
340
CP Gam Tilt:
1.21
1.12
1.06
1.18
0.83
Delta Neutral Px:
4030
Net Delta(MM):
$1,406,344
$1,413,131
$196,226
$38,312
$74,926
25D Risk Reversal
-0.07
-0.07
-0.08
-0.06
-0.07
Top Absolute Gamma Strikes:
SPX: [4250, 4200, 4175, 4150]
SPY: [425, 420, 418, 415]
QQQ: [340, 335, 330, 325]
NDX:[14000, 13500, 13000, 12850]
SPX Combo: [4272.0, 4247.0, 4222.0, 4297.0, 4251.0]
NDX Combo: [13947.0, 13742.0, 13496.0, 13332.0, 13537.0]