Futures had a quiet overnight session and are sitting at 4190. The 420/4200 strike picked up in position size overnight yet overall gamma decreased. WIth lower gamma,  our models are starting to anticipate increased volatility with an estimated 1.19% max move today.  4180 is the official gamma flip line and critical support.
Our Volatility Trigger strike is at 4195, and if markets open below this level it is considered resistance.  We currently hold a neutral market view, and would not shift to a bullish stance until/unless markets can close >4200.
Our view is that this market is a bit like a rubber band. You can see below how large the 420 SPY gamma is in the graph below, and 4200 in the SPX chart here. If the markets don't receive real selling flow, then its likely that any downward pressure simply mean reverts back into 4200.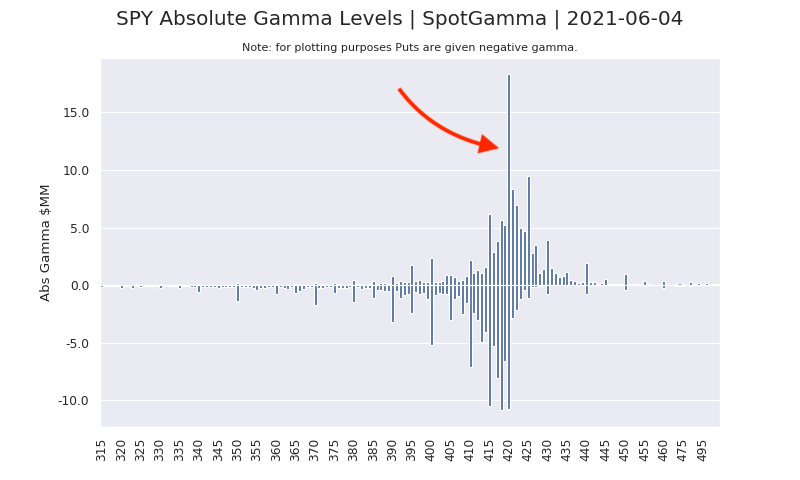 The line we're marking for that band to "snap" is 4160, which could then lead to a test of 4060. This is based off of our EquityHub model which is shown below. Our view is that when gamma changes significantly it initiates hedging, and that can lead to volatility. This is what's depicted in the chart below wherein the "SG Momentum Indicator" (ie change in gamma) drops sharply from 4160 to 4060.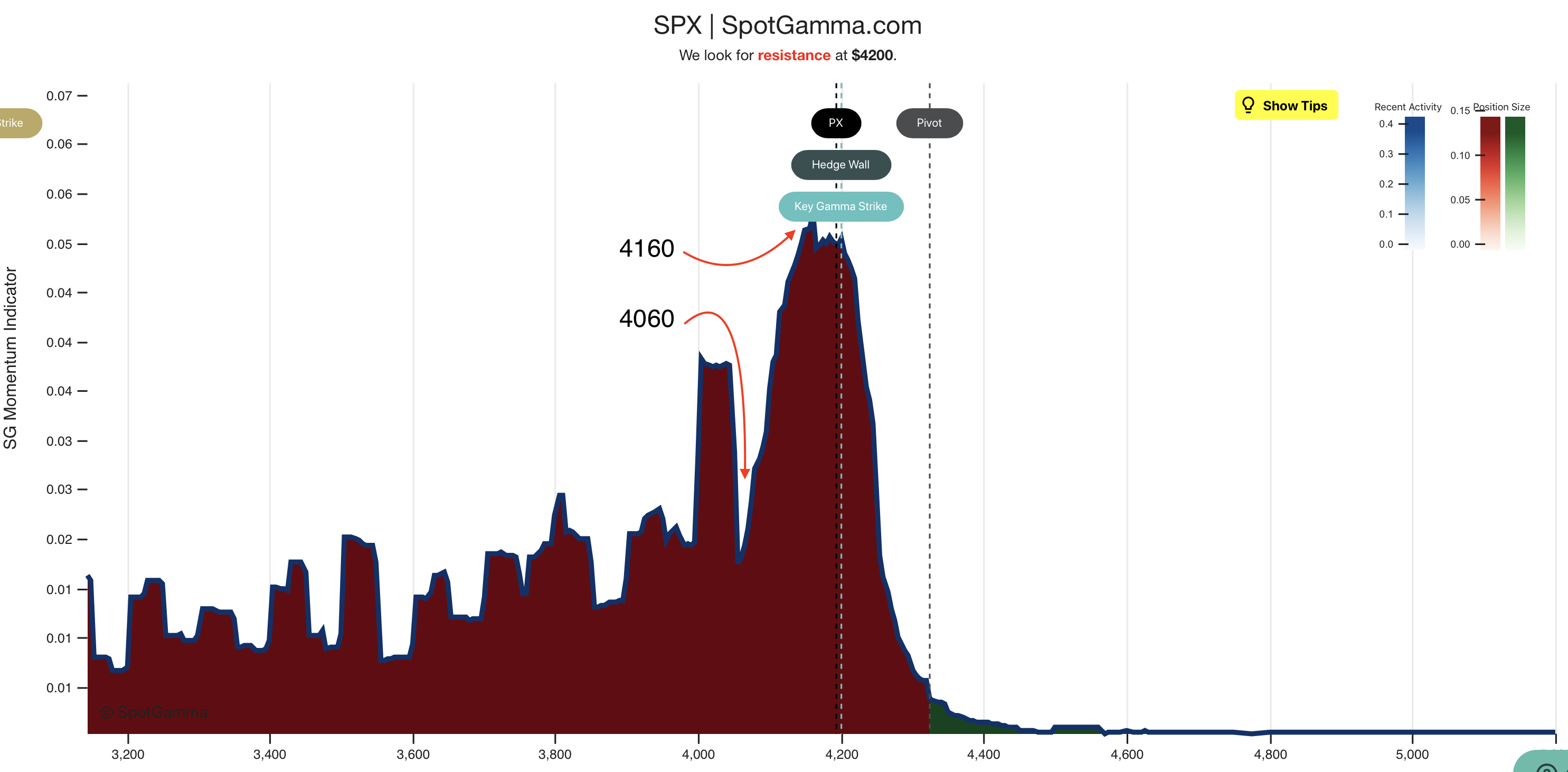 Model Overview:
While markets hold 4200 we look for a low volatility grind higher, with 4250 the overhead target. 4160 is the gamma flip line, and therefore critical support.
SpotGamma Proprietary Levels
Latest Data
Previous
SPY
NDX
QQQ
Ref Price:
4186
4189
418
13512
330
SpotGamma Imp. 1 Day Move:
1.19%,
50.0 pts
Range: 4136.0 | 4236.0
SpotGamma Imp. 5 Day Move:
4206
0.96%
Range: 4166.0 | 4246.0
SpotGamma Gamma Index™:
0.41
0.74
-0.06
0.00
-0.14
Volatility Trigger™:
4195
4195
419
13490
330
SpotGamma Absolute Gamma Strike:
4200
4200
420
13500
330
Gamma Notional(MM):
$11
$60
$-203
$0
$-768
Additional Key Levels
Latest Data
Previous
SPY
NDX
QQQ
Zero Gamma Level:
4180
4183
0
0
0
Put Wall Support:
4000
4000
418
13000
327
Call Wall Strike:
4250
4250
425
13500
335
CP Gam Tilt:
1.11
1.03
0.95
1.02
0.63
Delta Neutral Px:
4042
Net Delta(MM):
$1,374,816
$1,400,744
$199,097
$39,003
$77,598
25D Risk Reversal
-0.07
-0.07
-0.06
-0.07
-0.07
Top Absolute Gamma Strikes:
SPX: [4200, 4175, 4150, 4000]
SPY: [420, 418, 417, 415]
QQQ: [335, 330, 327, 325]
NDX:[14000, 13500, 13000, 12850]
SPX Combo: [4274.0, 4249.0, 4224.0, 4299.0, 4253.0]
NDX Combo: [13389.0, 13483.0, 13308.0, 13186.0, 13713.0]