Futures are….flat. 4235. Positive gamma grew a bit which pushes the estimated max move down to 34 pts. We see support at 4225 and resistance at the 4253 (large Combo strike). The 4250 line is also our Call Wall resistance, as that metric did not roll higher overnight.
You can see this resistance in the vanna model, note the change in "skewness" to the right from yesterday to today. This implies heavier upside resistance.

With that resistance, it seems as the bulk of options interest (OI) shifted up from 4200 to 4225 since yesterday, which aligns with some of the large OI changes we saw a day or two ago. The amount of gamma expiring for tonight also increased for SPX to 15% from %10 – with SPY & QQQ at ~20%. This means we should see a bit more volatility to start next week.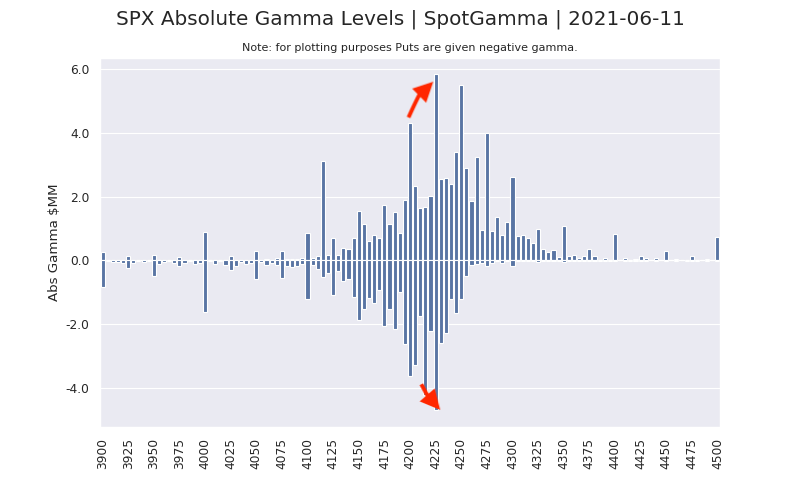 Finally – and this is something to mark for next week – the "shape" of the gamma distribution in our EquityHub model has changed significantly. This model had shown a flat (platykurtic) distribution with a support "inflection" point at 4160 for some time, indicating something of a void down to 4060. Those strikes are marked in the chart below.
As you can see below there is now a real peak 4225 (leptokurtic distribution). The sharp "drop" in the area plot (SG Momentum Indicator) to the left and right infer high volatility if markets break this current trading range. This is because of the fact that the rate of change of gamma ("SG Momentum") is very high.
It also implies that if this gamma is wiped out (ie through expiration) that there are not many positions in place to "catch" markets.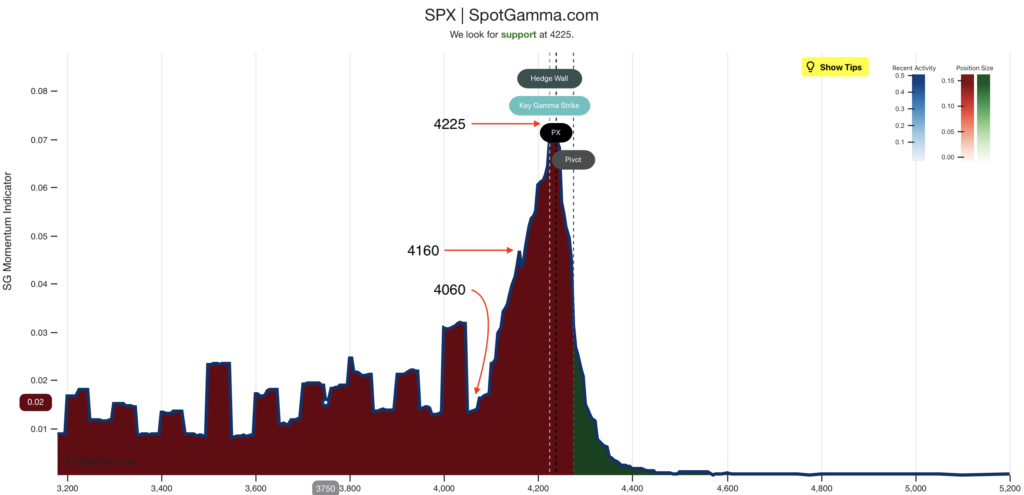 Model Overview:
While markets hold 4200 we look for a low volatility grind higher, with 4250 the overhead target. 4160 is the gamma flip line, and therefore critical support.
SpotGamma Proprietary Levels
Latest Data
Previous
SPY
NDX
QQQ
Ref Price:
4241
4238
423
13977
340
SpotGamma Imp. 1 Day Move:
0.8%,
34.0 pts
Range: 4207.0 | 4275.0
SpotGamma Imp. 5 Day Move:
4220
2.01%
Range: 4136.0 | 4306.0
SpotGamma Gamma Index™:
1.31
0.67
0.02
0.02
-0.04
Volatility Trigger™:
4220
4195
420
13490
334
SpotGamma Absolute Gamma Strike:
4225
4200
420
13500
330
Gamma Notional(MM):
$486
$428
$780
$5
$121
Additional Key Levels
Latest Data
Previous
SPY
NDX
QQQ
Zero Gamma Level:
4202
4200
0
0
0
Put Wall Support:
4000
4000
410
12500
333
Call Wall Strike:
4250
4250
425
13500
340
CP Gam Tilt:
1.33
1.24
1.23
1.4
1.09
Delta Neutral Px:
4033
Net Delta(MM):
$1,530,973
$1,499,002
$206,197
$42,917
$78,968
25D Risk Reversal
-0.06
-0.06
-0.06
-0.06
-0.06
Top Absolute Gamma Strikes:
SPX: [4275, 4250, 4225, 4200]
SPY: [425, 422, 420, 415]
QQQ: [340, 335, 330, 325]
NDX:[14000, 13900, 13500, 12850]
SPX Combo: [4275.0, 4253.0, 4300.0, 4326.0, 4266.0]
NDX Combo: [14101.0, 13654.0, 14311.0, 13822.0, 13696.0]