Futures are flat, holding the 4250 area. Today we forecast another tight trading range, with an SG Implied max move of only 31 pts (0.7%). The Call Wall has shifted up to 4275 which is now our overhead resistance line. 4225 is first support.
Currently the two dominant strikes are 4225 in the SPX and 425 in the SPY. This equates to a fairly heavy band of gamma from 4250-4275 in the S&P500. This range likely stays in play until 6/18.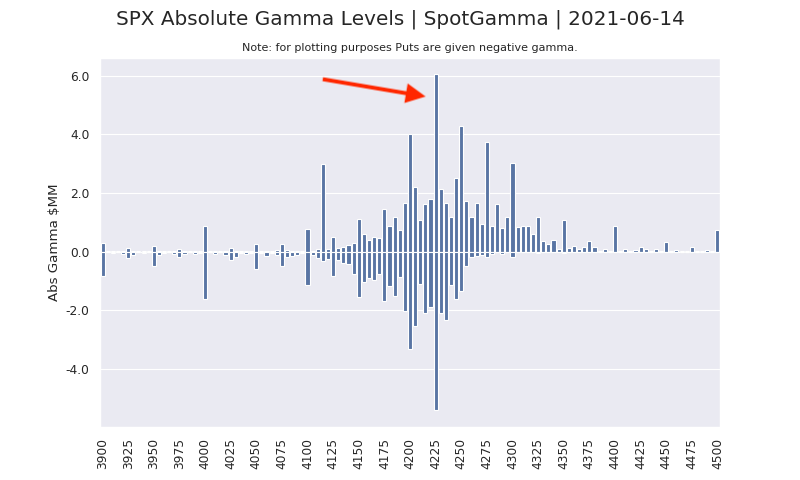 Along with that, we see 4200 as our critical support line. Beneath that level its likely that gamma flips negative which can cause a large spike in volatility. As long as the S&P holds that 4200 line, then we look for fairly low volatility & benign movement.
Because of the large amount of gamma expiring Friday we look for expanding volatility heading into next week. We think its a decent time to look at downside protection as puts seems cheap based on implied volatility levels and our Risk Reversal(RR) metric. The current RR reading of 0.05 is near 1 year highs, which infers that puts prices are near lows relative to calls.
Model Overview:
While markets hold 4200 we look for a low volatility grind higher, with 4250 the overhead target. 4160 is the gamma flip line, and therefore critical support.
SpotGamma Proprietary Levels
Latest Data
Previous
SPY
NDX
QQQ
Ref Price:
4248
4245
424
14015
341
SpotGamma Imp. 1 Day Move:
0.72%,
31.0 pts
Range: 4217.0 | 4279.0
SpotGamma Imp. 5 Day Move:
4248
2.05%
Range: 4161.0 | 4335.0
SpotGamma Gamma Index™:
1.04
1.31
0.23
0.04
0.02
Volatility Trigger™:
4195
4220
420
13490
339
SpotGamma Absolute Gamma Strike:
4225
4225
425
14000
340
Gamma Notional(MM):
$525
$576
$1,110
$5
$217
Additional Key Levels
Latest Data
Previous
SPY
NDX
QQQ
Zero Gamma Level:
4209
4205
0
0
0
Put Wall Support:
4000
4000
410
13200
320
Call Wall Strike:
4275
4250
425
14000
345
CP Gam Tilt:
1.29
1.29
1.32
1.4
1.17
Delta Neutral Px:
4040
Net Delta(MM):
$1,520,989
$1,532,688
$203,566
$38,251
$76,194
25D Risk Reversal
-0.05
-0.06
-0.06
-0.05
-0.05
Top Absolute Gamma Strikes:
SPX: [4275, 4250, 4225, 4200]
SPY: [425, 424, 423, 420]
QQQ: [345, 340, 335, 330]
NDX:[14000, 13900, 13800, 13500]
SPX Combo: [4273.0, 4252.0, 4298.0, 4256.0, 4324.0]
NDX Combo: [14165.0, 14375.0, 13955.0, 14039.0, 14011.0]