Futures tested 4190 (SPX 4200) overnight but recovered some to 4200. This level is critical support for markets, as gamma is negative under there. Simply put, a break of 4200 is risk off. For today, 4225 is the key overhead area due to the large amount of gamma at that strike.
Into tomorrow's large expiration the picture changes distinctly. We currently mark ~50% of SPX gamma, ~35% of SPY/QQQ gamma rolling off. This means that there should be a shift in the majority of our key levels for next week.
There are times wherein we mark risks as quite high, and we see this as one of them. This, of course, does not mean that markets decline sharply but our models see that as a distinct possibility and so we are lending a bit more focus to that "tail" in this note.
Our EquityHub view provides a great view of the possible downside risks. Sharp changes in the SG Momentum Index (Y axis) infer volatility, and you can see that we show 4160 as first support (based on that "node" as marked) and then 4050 area would be a reasonable stopping point given the massive amount of open interest that picks up into 4000.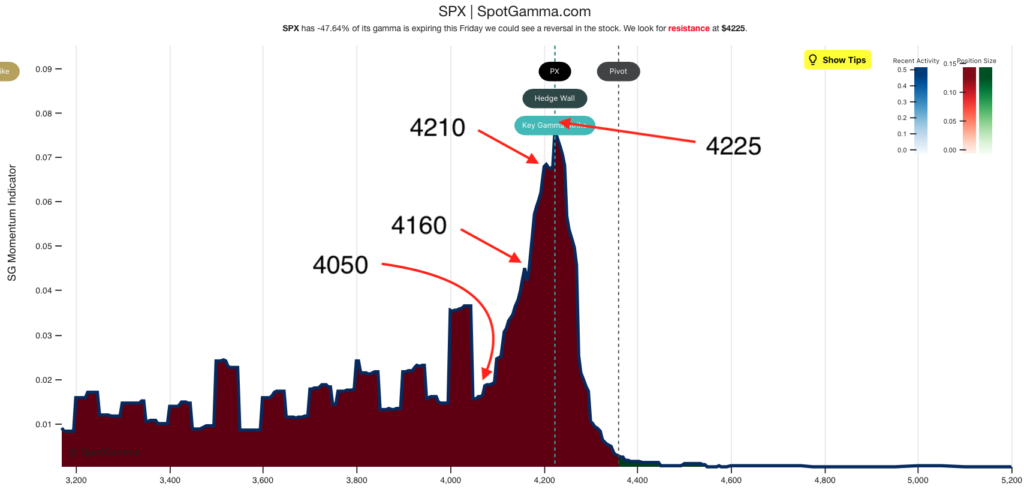 Model Overview:
While markets hold 4200 we look for a low volatility grind higher, with 4250 the overhead target. 4160 is the gamma flip line, and therefore critical support.
SpotGamma Proprietary Levels
Latest Data
Previous
SPY
NDX
QQQ
Ref Price:
4205
4217
422
13901
341
SpotGamma Imp. 1 Day Move:
0.92%,
39.0 pts
Range: 4166.0 | 4244.0
SpotGamma Imp. 5 Day Move:
4248
2.05%
Range: 4161.0 | 4335.0
SpotGamma Gamma Index™:
0.34
1.18
0.17
0.02
0.02
Volatility Trigger™:
4195
4220
417
13890
339
SpotGamma Absolute Gamma Strike:
4225
4225
425
14000
340
Gamma Notional(MM):
$-248
$-48
$759
$1
$38
Additional Key Levels
Latest Data
Previous
SPY
NDX
QQQ
Zero Gamma Level:
4206
4217
0
0
0
Put Wall Support:
4175
4000
410
13200
330
Call Wall Strike:
4275
4275
425
13500
345
CP Gam Tilt:
1.07
0.98
1.21
1.06
1.02
Delta Neutral Px:
4060
Net Delta(MM):
$1,583,106
$1,582,516
$205,918
$44,598
$82,560
25D Risk Reversal
-0.06
-0.06
-0.08
-0.06
-0.06
Top Absolute Gamma Strikes:
SPX: [4250, 4225, 4200, 4175]
SPY: [425, 424, 420, 415]
QQQ: [345, 340, 335, 330]
NDX:[14000, 13900, 13800, 13500]
SPX Combo: [4229.0, 4279.0, 4254.0, 4250.0, 4153.0]
NDX Combo: [14061.0, 14144.0, 14255.0, 13574.0, 13977.0]