Futures are flat to last nights close 4238, but did mark new highs at 4248. Positive gamma built significantly resulting in our models forecasting a small 75bps (30pts) max 1 day move in the SPX. 4275 is major overhead resistance, 4250 the "pivot" point, and 4225 support. We don't expect much movement today.
One thing to highlight this morning is the QQQ vanna model. For several months the "skew" of the vanna model has shown less upside resistance – meaning dealers would be buying QQQ/NDX if it went higher. This was the result of large put positions being unwound/expiring. This vanna model has now "flipped" to show that dealers are likely to be selling into tech rallies now. In other words: QQQ is more "call controlled" vs "put controlled" as in March through May (May example here). This should result in lower tech volatility (particularly to the upside) going forward.
For those of you new to this model, the chart depicts the dealer delta neutral point at the purple line. As the market goes higher, dealers options portfolios get longer delta (ie more upside exposure) and so they may need to sell QQQ/NDX futures to offset that exposure (red line) and get back to delta neutral.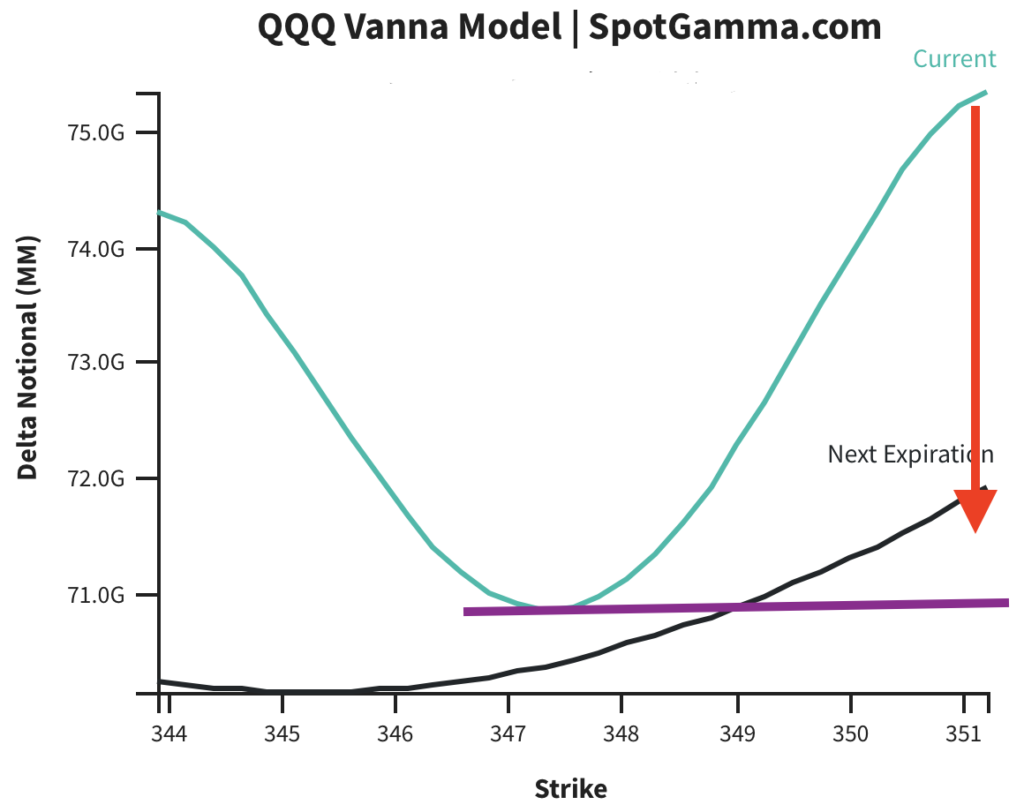 Eyes are likely to shift towards the very large Russell rebalance coming this Friday. The IWM index holds a small negative gamma position, which is normal to see, and we don't anticipate much movement in IWM itself. However, we're being told this is a sizable rebalance which mainly effects small/mid cap stocks "under the IWM hood". As a result please be aware that there are many names (particularly meme's like GME/AMC) that could see some strong flows off of this rebalance. We wrote a primer on how index rebalancing works here.
Model Overview:
4300 top, 4000 support into July OPEX.
SpotGamma Proprietary Levels
Latest Data
Previous
SPY
NDX
QQQ
Ref Price:
4237
4236
423
14262
347
SpotGamma Imp. 1 Day Move:
0.75%,
32.0 pts
Range: 4205.0 | 4269.0
SpotGamma Imp. 5 Day Move:
4147
2.97%
Range: 4024.0 | 4270.0
SpotGamma Gamma Index™:
1.16
0.23
-0.01
0.04
0.06
Volatility Trigger™:
4215
4215
423
13725
344
SpotGamma Absolute Gamma Strike:
4250
4200
425
14100
350
Gamma Notional(MM):
$245
$181
$633
$6
$298
Additional Key Levels
Latest Data
Previous
SPY
NDX
QQQ
Zero Gamma Level:
4206
4205
0
0
0
Put Wall Support:
4000
4000
420
12000
333
Call Wall Strike:
4275
4275
425
14100
350
CP Gam Tilt:
1.37
1.12
1.18
2.06
1.24
Delta Neutral Px:
4091
Net Delta(MM):
$1,142,380
$1,132,419
$151,056
$25,993
$69,898
25D Risk Reversal
-0.07
-0.07
-0.05
-0.06
-0.05
Top Absolute Gamma Strikes:
SPX: [4275, 4250, 4225, 4200]
SPY: [425, 423, 422, 420]
QQQ: [350, 347, 345, 340]
NDX:[15000, 14500, 14100, 14000]
SPX Combo: [4269.0, 4295.0, 4244.0, 4257.0, 4265.0]
NDX Combo: [14376.0, 14105.0, 14576.0, 14291.0, 14176.0]