Futures took a dip to 4375 overnight but have recovered to 4400. 4400 is the largest gamma strike on the board, and also remains the Call Wall resistance line.  We therefore see the options market pricing the SPX "fair value" at 4378 support to major resistance of 4404.
On Friday we had mentioned that it makes some sense to see some consolidation here, and that still holds. We do not see any sign of weakness in the options structure, but do think that the options market has to play some "catch up" to last weeks rapid shift higher.
If you run a basic map of gamma, you can see this quite clearly. We still hold a fairly wide distribution of gamma at strikes below which we see as support. This chart also reveals how large the position is at 4400 relative to other strikes. Finally you can also see that there are some positions building up at 4450 and 4500, and we anticipate the Call Wall resistance line shifting to one of those strikes in the coming days. This would "unlock" a higher range for the S&P.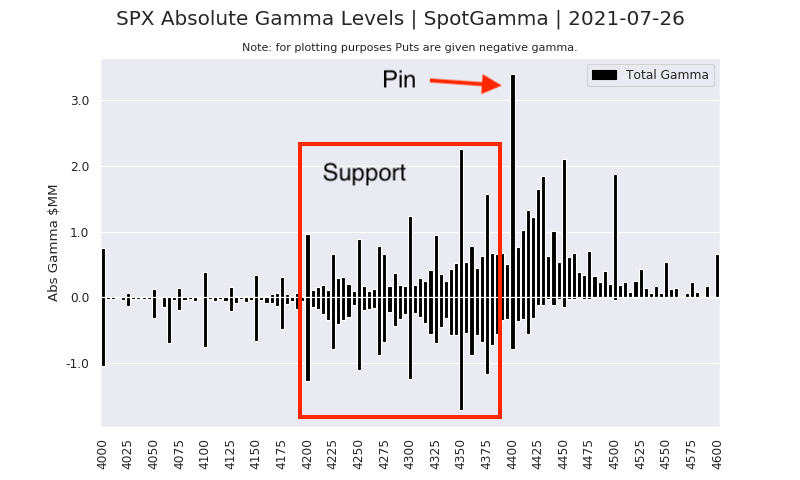 While we don't see a large move lower today, there is a "kink" in the structure that suggests should markets break 4378 we could see a test of the 4330 area. Due to the pull of 4400 we don't see the market revisiting this level today, however this 4330 line has shown as an inflection for several days. It's therefore worth noting as a key downside level for longer time frames.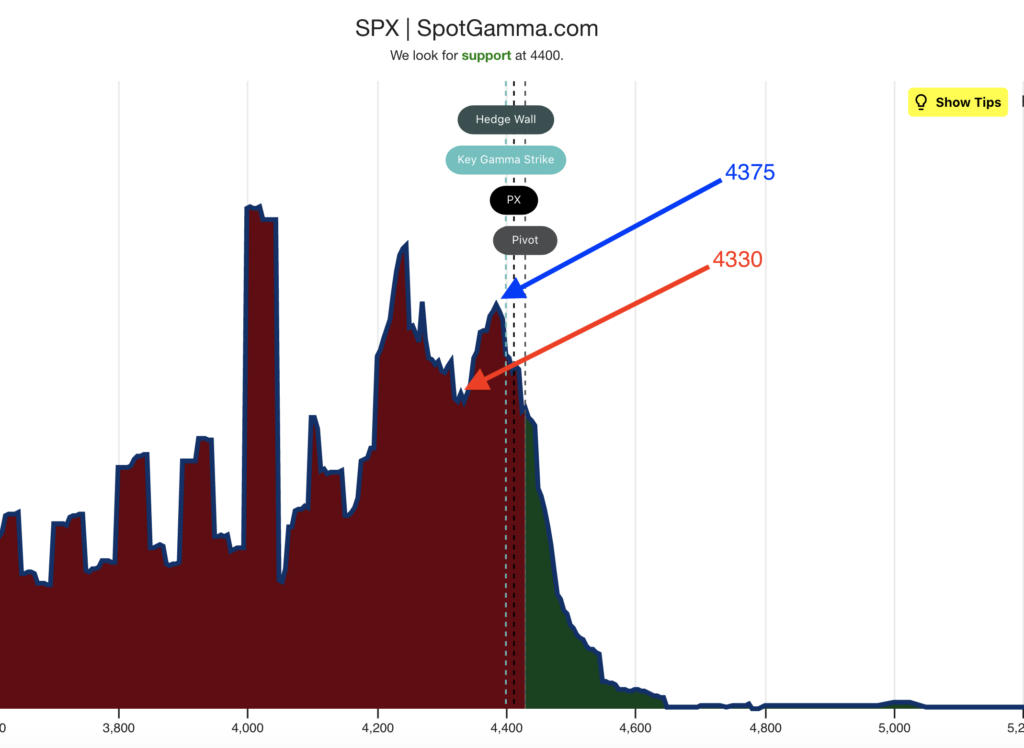 Model Overview:
4400 top of the range, 4330 critical support for August OPEX.
SpotGamma Proprietary Levels
Latest Data
Previous
SPY
NDX
QQQ
Ref Price:
4389
4399
439
15081
368
SpotGamma Imp. 1 Day Move:
1.34%,
59.0 pts
Range: 4330.0 | 4448.0
SpotGamma Imp. 5 Day Move:
4389
2.03%
Range: 4300.0 | 4478.0
SpotGamma Gamma Index™:
1.20
1.05
0.09
0.03
0.02
Volatility Trigger™:
4345
4345
432
14500
362
SpotGamma Absolute Gamma Strike:
4400
4350
440
14450
370
Gamma Notional(MM):
$338
$667
$511
$4
$74
Additional Key Levels
Latest Data
Previous
SPY
NDX
QQQ
Zero Gamma Level:
4354
4331
0
0
0
Put Wall Support:
4100
4200
430
13000
355
Call Wall Strike:
4400
4400
440
14775
370
CP Gam Tilt:
1.45
1.47
1.16
1.51
1.07
Delta Neutral Px:
4174
Net Delta(MM):
$1,366,088
$1,362,225
$185,965
$38,952
$79,616
25D Risk Reversal
-0.08
-0.06
-0.07
-0.06
-0.06
Top Absolute Gamma Strikes:
SPX: [4400, 4375, 4350, 4300]
SPY: [441, 440, 438, 436]
QQQ: [370, 368, 365, 360]
NDX:[15000, 14775, 14450, 14000]
SPX Combo: [4378.0, 4404.0, 4431.0, 4479.0, 4409.0]
NDX Combo: [15179.0, 14771.0, 15375.0, 15254.0, 15012.0]