Futures are at 4440 indicating an SPX opening at 4450. The Call Wall strike has shifted to 4500 which validates a move higher in the SPX. We do not see 4500 being achieved today, as our model forecasts another tight trading range of 0.71%.  We see bit of resistance at 4465, and larger resistance at 4494. To the downside support at 4440 and 4415.
With the break in VIX, the Risk Reversal figure saw a corresponding tick down 7. These measures of a decline in implied volatility signal a tail wind for equities.
Its likely that the S&P has now transitioned from the 4400-4450 range to the 4450-4500 range as shown below. There remains a lot of gamma at 4450 and at 445 in SPY which is why we don't see an "explosion" higher here, but instead consider the next leg a sticky sort of grind higher (recall how long it took for markets to digest the 4425 area).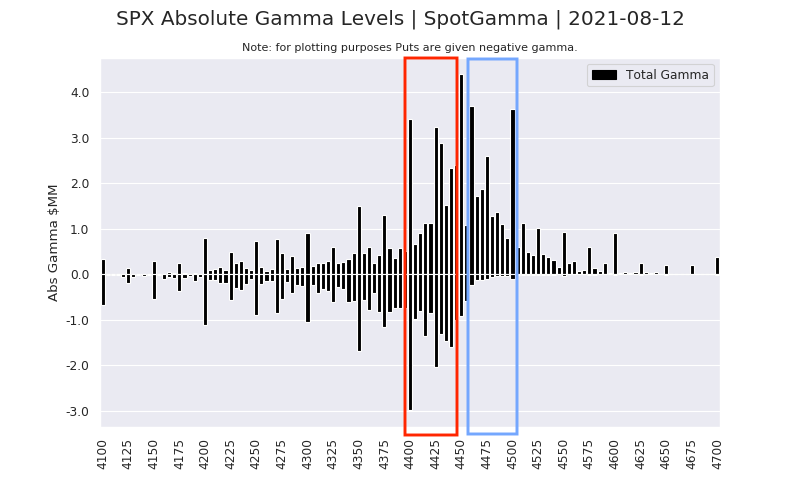 Traders looking for more volatility may want look at the Nasdaq. The QQQ has a lighter gamma position, with its major gamma levels showing up near 370 (~1%) overhead.
You can see that higher volatility modeled in the vanna charts which have a strong left skew in QQQ. This implies that dealers are light buyers up into the 370 area.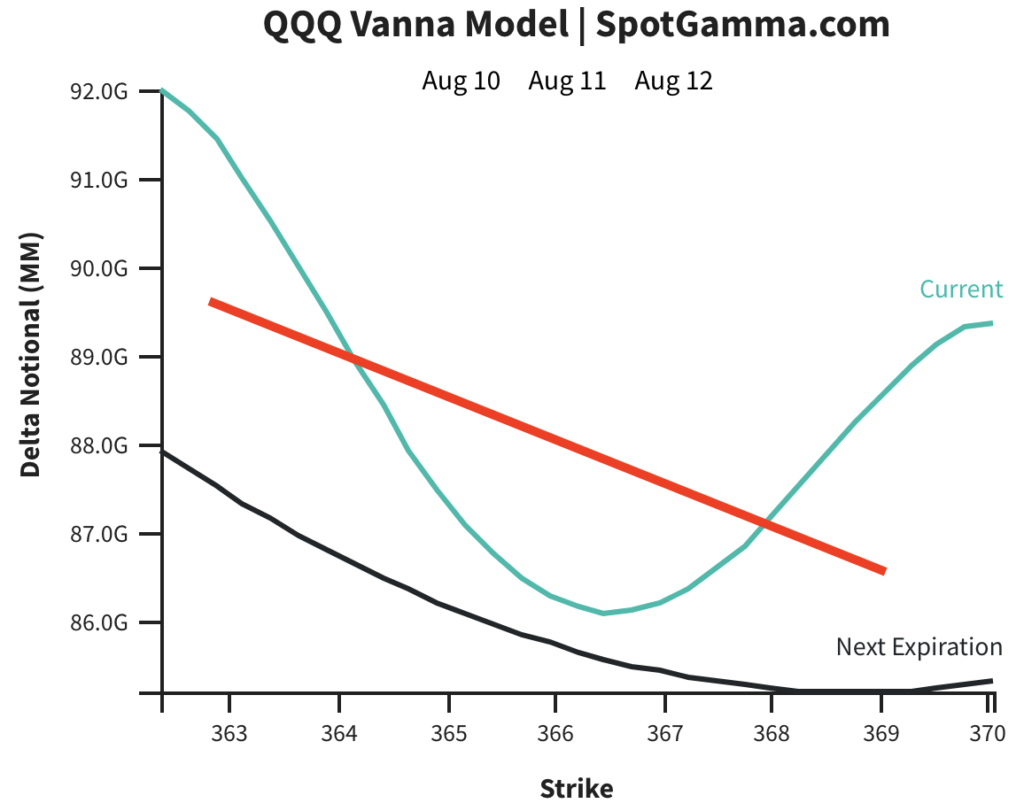 Model Overview:
4500 top, 4400 support into 8/20 OPEX.
SpotGamma Proprietary Levels
Latest Data
Previous
SPY
NDX
QQQ
Ref Price:
4400
4400
440
15000
366
SpotGamma Imp. 1 Day Move:
0.71%,
31.0 pts
Range: 4369.0 | 4431.0
SpotGamma Imp. 5 Day Move:
1.91%
4417 (Monday Ref Px)
Range: 4333.0 | 4501.0
SpotGamma Gamma Index™:
2.00
1.20
0.21
0.04
-0.07
Volatility Trigger™:
4395
4395
443
14740
366
SpotGamma Absolute Gamma Strike:
4400
4400
445
14775
368
Gamma Notional(MM):
$-1
$9
$-677
$5
$-302
Additional Key Levels
Latest Data
Previous
SPY
NDX
QQQ
Zero Gamma Level:
4398
4398
0
0
0
Put Wall Support:
4100
4395
435
14000
360
Call Wall Strike:
4500
4450
445
14775
370
CP Gam Tilt:
1.6
1.0
0.85
1.39
0.82
Delta Neutral Px:
4248
Net Delta(MM):
$1,477,335
$1,430,733
$189,899
$45,045
$84,672
25D Risk Reversal
-0.07
-0.08
-0.06
-0.06
-0.06
Top Absolute Gamma Strikes:
SPX: [4500, 4450, 4425, 4400]
SPY: [445, 443, 442, 440]
QQQ: [370, 368, 365, 360]
NDX:[15000, 14775, 14450, 14000]
SPX Combo: [4467.0, 4445.0, 4494.0, 4463.0, 4454.0]
SPY Combo: [445.11, 444.22, 449.11, 446.44, 446.0]
NDX Combo: [15140.0, 14826.0, 14946.0, 15065.0, 15350.0]