Futures have consolidated some of those gains from yesterday – back to 4450. The SG gamma index is quite high at 2.2, which leads to a very tight estimated range of 0.56% today.  We see resistance at 4477 and support at 4450.
The major range should hold as 4450-4500 into Fridays OPEX, as we see little to shift the major gamma positions before then. We now look for SPY traders to reload their options positions in the 445-450 range and "lock in" this area into Friday. Therefore we think the next several days will be a "snoozefest".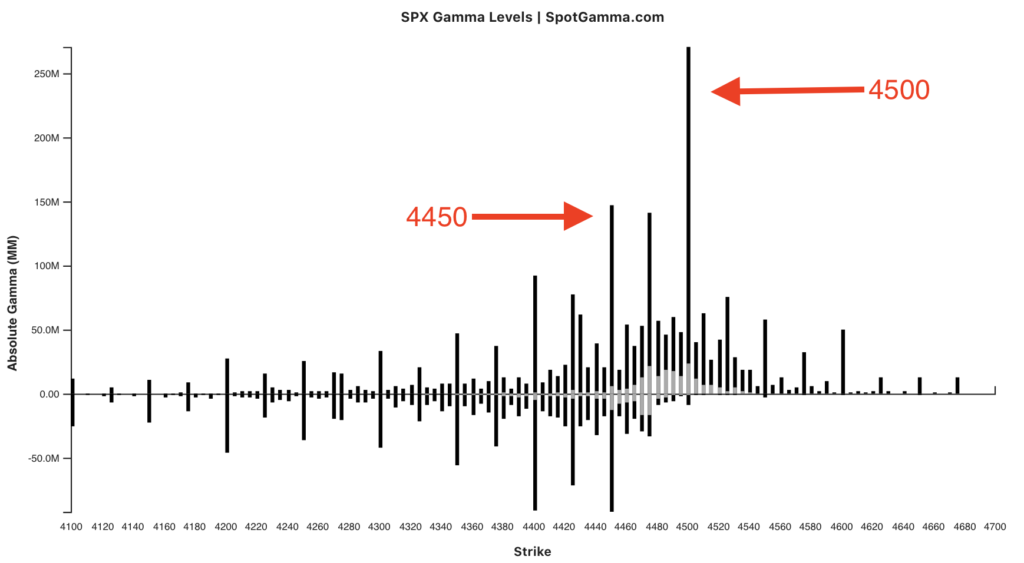 Model Overview:
4500 top, 4400 support into 8/20 OPEX.
SpotGamma Proprietary Levels
Latest Data
Previous
SPY
NDX
QQQ
Ref Price:
4454
4470
446
15077
368
SpotGamma Imp. 1 Day Move:
0.56%,
25.0 pts
Range: 4429.0 | 4479.0
SpotGamma Imp. 5 Day Move:
1.38%
4450 (Monday Ref Px)
Range: 4389.0 | 4512.0
SpotGamma Gamma Index™:
2.21
1.67
0.15
0.06
0.01
Volatility Trigger™:
4420
4420
445
14770
367
SpotGamma Absolute Gamma Strike:
4500
4450
440
14450
370
Gamma Notional(MM):
$410
$905
$687
$6
$52
Additional Key Levels
Latest Data
Previous
SPY
NDX
QQQ
Zero Gamma Level:
4418
4402
0
0
0
Put Wall Support:
4200
4200
435
14000
360
Call Wall Strike:
4500
4500
450
14775
370
CP Gam Tilt:
1.69
1.52
1.19
1.36
1.03
Delta Neutral Px:
4236
Net Delta(MM):
$1,559,578
$1,528,405
$201,104
$47,623
$85,169
25D Risk Reversal
-0.06
-0.05
-0.07
-0.06
-0.06
Top Absolute Gamma Strikes:
SPX: [4500, 4475, 4450, 4400]
SPY: [450, 446, 445, 440]
QQQ: [370, 368, 365, 360]
NDX:[15250, 15000, 14775, 14450]
SPX Combo: [4477.0, 4450.0, 4486.0, 4464.0, 4455.0]
SPY Combo: [449.2, 446.52, 450.1, 447.86, 446.97]
NDX Combo: [15124.0, 15320.0, 15290.0, 15185.0, 15200.0]